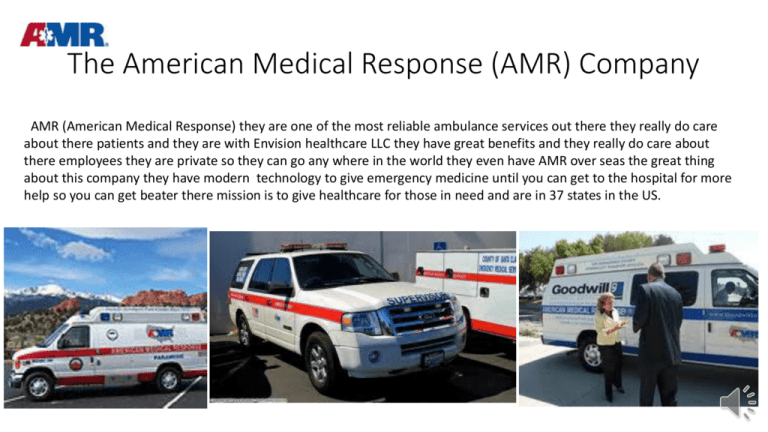 The American Medical Response (AMR) Company
AMR (American Medical Response) they are one of the most reliable ambulance services out there they really do care
about there patients and they are with Envision healthcare LLC they have great benefits and they really do care about
there employees they are private so they can go any where in the world they even have AMR over seas the great thing
about this company they have modern technology to give emergency medicine until you can get to the hospital for more
help so you can get beater there mission is to give healthcare for those in need and are in 37 states in the US.
Here is the AMR leadership team
Edward "Ted" Van Horne, President
Edward M. Racht, M.D., AMR Chief Medical Officer
Timothy J. Dorn, Chief
Financial Officer & Chief
Operating Officer
Ron Thackery, Senior Vice President, Professional
Services & Integration
Jeffery McCollom, Senior Vice President, Innovative Practices & Business Development
I would really like to work for them when I get older because they do care about there patients getting beater and they
do care about there employees look at all of the grate benefits you get.
Medical, Dental and Vision Care
Basic and Supplemental Employee Life Insurance
Supplemental Spouse and Dependent Life Insurance
Basic and Supplemental Accidental Death and Dismemberment Insurance
Flexible Spending Accounts
Short-Term and Long-Term Disability
Employee Assistance Program
401(k) Retirement Plan with a Company Match
Voluntary Benefits (Banking, Legal, Auto, Home, Cancer, Accident, Short-Term Disability and Hospital Confinement)
9% tuition discount through the University of Phoenix
Tuition Reimbursement (In Most Locations)
Paid Time Off
Holiday Pay
Employee Discount Programs
Career Development
Leadership Development
AMR is one of the leading provider for EMS services the reason is because they care so much about there patients.
Here is how they make there company so great.
AMR's Mission
Our mission is to make a difference by caring for people in need.
AMR's Vision of the Future
By following our mission and values, AMR envisions a future that includes the following:
AMR is one of America's most admired companies because of the pride of its employees, its loyal customers, its clinical
leadership, and its financial success.
AMR employees are trusted experts, empowered to serve people with compassionate care and innovative solutions.
AMR is a strong, dependable community partner. Our customers count on and appreciate our reliability, the quality of
medical care we provide, our dedication to relationships that benefit all and the efficiency with which we operate.
Patients, customers and communities experience peace of mind knowing
AMR VALUE- Customer Centered
AMR customers are the communities, hospitals and health care facilities we serve. AMR caregivers and support professionals
stay involved with our customers, contributing to the health and well-being of our patients and communities. Our efforts
have been recognized through professional accreditations, awards, and the variety of events and causes that we support.
These stories represent just a few of our many efforts to help support our customers:
Abbott Supplements 9-1-1 Services
Think Pink Raises Awareness, Dollars Nationwide
AMR Arlington Creates Speakers Bureau
AMR Wins Community Reinvestment Award
Here is how they make there company so great. continued
AMR VALUE- Patient Focused
Caring for people in need is at the heart of everything we do. Whether we are introducing new technologies to enhance
patient safety, leading the industry in evidence-based emergency care, or donating our time and skills to a worthy cause,
our patients come first. Read some examples of the stories of our patient focused approach:
Power Pro Rollout Accelerated
Leading Change with AMR Medicine
AMR Introduces Newest Concept Vehicle
Caregiver Saves His Partner's Life
Disaster Response Team Responds to Hurricane Irene
AMR Bozeman Partners with Community on HeartRescue Project
AMR Topeka Launches System to Help Improve Heart Attack Outcomes
AMR Operations Raise Money for Cancer Research
Man Thanks Rescuers
Here is how they make there company so great. continued
AMR VALUE- Caregiver Inspired
AMR has the honor of working with thousands of the best EMS caregivers in the nation. Across 150+ operations in 42
states, our highly skilled, compassionate caregivers make a difference for someone in need every 9-1/2 seconds. Often
unsung heroes, these dedicated men and women inspire us all through their selfless acts both on and off the job. Read
some of their stories here:
Rotary Club Honors EMT
Paramedics Honored for Service
Commissioners Honor EMS Week
Caregivers Compete in Denver
Caregivers Honored by County
Medic Receives Medic Alert Award
CPR While Seated
AMR Hartford Supports Troops and Veterans
AMR Busy Over the Holidays
AMR Philly Raises Money for Cancer Research
AMR Responds to Mass. Tornado
AMR Living the Mission: Caring for People in Need
AMR is the best company in EMS services and better then some hospitals and I do hope you will come and work for AMR
Senior transport van
Supply truck
Envision with AMR, Evolution healthcare and EmCare. AMR and the AMR emblem is a registered trade mark of the
AMR ambulance company. The Evolution health emblem is a registered trade mark of the Evolution hospitals and
ambulances . The EmCare and its emblem is a trade mark for there rehabilitation centers . Envision healthcare and the
Envision emblem are registered trade marks of the Envision payroll company © 2013.