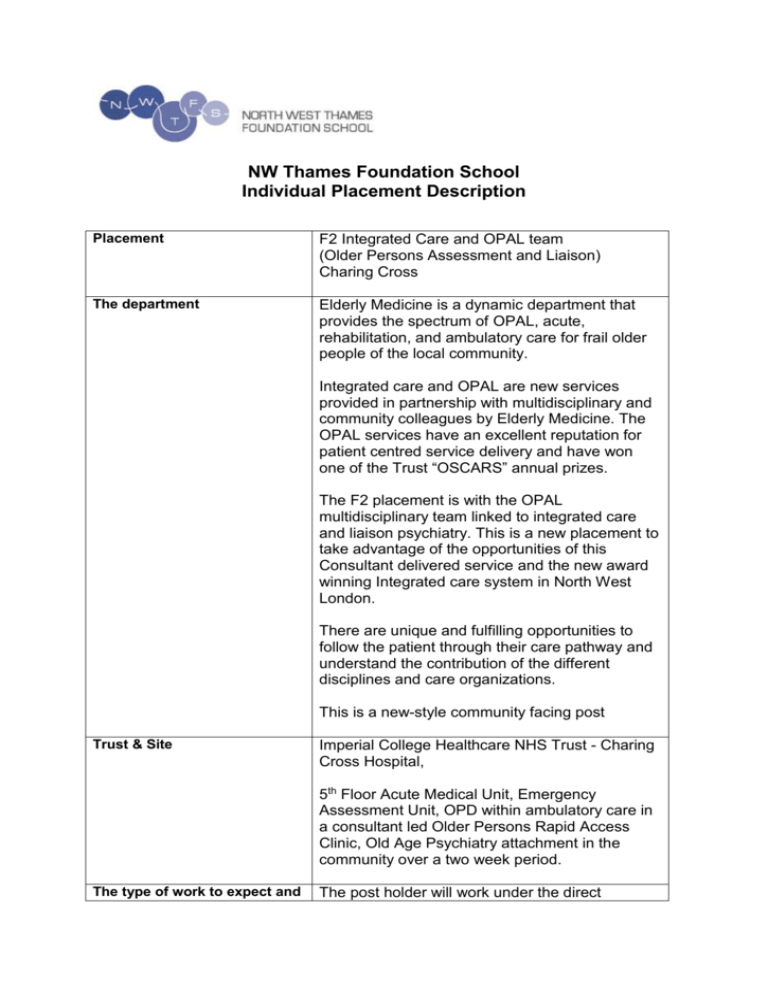 NW Thames Foundation School
Individual Placement Description
Placement
F2 Integrated Care and OPAL team
(Older Persons Assessment and Liaison)
Charing Cross
The department
Elderly Medicine is a dynamic department that
provides the spectrum of OPAL, acute,
rehabilitation, and ambulatory care for frail older
people of the local community.
Integrated care and OPAL are new services
provided in partnership with multidisciplinary and
community colleagues by Elderly Medicine. The
OPAL services have an excellent reputation for
patient centred service delivery and have won
one of the Trust "OSCARS" annual prizes.
The F2 placement is with the OPAL
multidisciplinary team linked to integrated care
and liaison psychiatry. This is a new placement to
take advantage of the opportunities of this
Consultant delivered service and the new award
winning Integrated care system in North West
London.
There are unique and fulfilling opportunities to
follow the patient through their care pathway and
understand the contribution of the different
disciplines and care organizations.
This is a new-style community facing post
Trust & Site
Imperial College Healthcare NHS Trust - Charing
Cross Hospital,
5th Floor Acute Medical Unit, Emergency
Assessment Unit, OPD within ambulatory care in
a consultant led Older Persons Rapid Access
Clinic, Old Age Psychiatry attachment in the
community over a two week period.
The type of work to expect and
The post holder will work under the direct
learning opportunities
supervision of the Consultant.
The post provides broad experience of acute
medicine, community orientated and integrated
care and liaison psychiatry/ Old Age Psychiatry.
The OPAL team takes an innovative approach to
assessing, streaming and early discharge of frail
older people, close liaison with community
healthcare teams.
The North West London Integrated Care
Organization (ICO) brings together all agencies
and professional in multidisciplinary groups
(MDGs) in primary care to enhance patient
management. The Older Persons Rapid Access
Clinic is commissioned by the ICO to support
admission avoidance.
The joint memory and falls clinics are staffed by
professionals from hospital and community
organizations, providing one stop initial
assessment.
Old Age Psychiatry in the community (2 week
attachment) provides experience of a consultant
led multidisciplinary memory clinic and day
services for community dwelling older people with
dementia and their carers.
The F2 will have the opportunity to work
alongside multiple professions, teams and
agencies as an exciting introduction to the health
system of the future.
The learning opportunities are wide and the
curriculum has been mapped to ensure the
trainee can acquire the majority of curriculum
competencies:








4 weekly teaching sessions
SIM and skills lab training
Experienced clinical supervisors
Supportive learning environment
Presentation skills practice with Consultant
and team
Access to leadership, patient safety and
prescribing safety projects is encouraged
Involvement with informal UG firm teaching
Opportunities to assess, examine and



formulate management plans under direct
consultant supervision, guided by
standardised assessments.
Participation in MDT and community MDGs.
Development of key non-clinical competencies
including teamwork, time management,
discharge planning, communication, ethics,
legal framework, outside bodies and
interfaces.
Opportunity to present at teaching sessions.
Clinical Supervisor(s) for the Dr Aglaja Dar, Dr Paul Edison and Dr Stephen
placement
Orleans-Foli
Main duties of the placement
Typical working pattern in this
placement
The F2 will participate in ward rounds, clinics and
community MDGs. They will present patients to
the Consultant, discuss future management and
assist with care co-ordination and communication.
Monday
09:00 Joint community dementia clinic (total 3.5
days psychiatry)
11:00 MDT
13:00 Acute Medicine teaching
15:00 OPAL ward work
Tuesday
09:00 OPAL consultant ward round or Older
Persons Rapid Access Clinic (total c. 6 days
community)
11:00 MDT
13:00 FY2 teaching
14:00 OPAL Ward work or monthly Integrated
care multi disciplinary group (MDG) for diabetes
and frail elderly (total 2 days community) meeting
or monthly Integrated Care MDG meeting
Wednesday
09:00 OPAL consultant ward round or Rapid
Access community clinic or monthly Integrated
care Clinical Governance
11:00 MDT
13:00 CXH Grand round
14:00 OPAL ward work
Thursday
09:00 OPAL consultant ward round or Rapid
Access community clinic
11:00 MDT
12:00 Imaging meeting
14:00 OPAL Ward work
Friday
09:00 Joint community falls clinic (total 7 days
Community)
11:00 MDT
13:00 Consultant led Medicine teaching
14:00 Opal Ward work
Plus
2 week attachment to Community Old Age
Psychiatry
On call requirements:
The Integrated Care & OPAL F2 covers the study
leave and sick leave of the other F2s/CTs in
Acute Medicine and this conforms to European
working hours.
Employer information
Imperial College Healthcare NHS Trust
It is important to note that this description is a typical example of your placement and may be
subject to change.