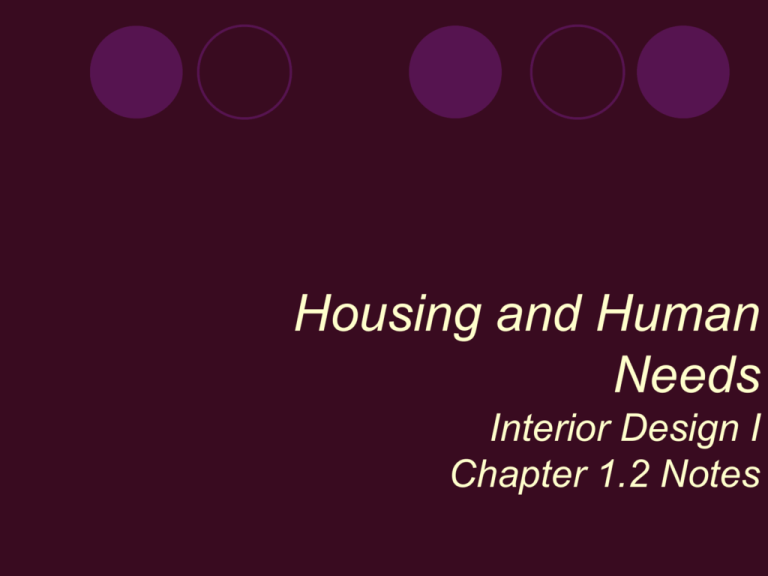 Housing and Human
Needs
Interior Design I
Chapter 1.2 Notes
Learning Targets
 I can define housing and briefly describe how it
has evolved.
 I can analyze the basic physical and
psychological needs that housing satisfies.
 I can compare and contrast housing needs
among people of different ages and life stages.
 I can assess the importance of building homes
that follow the concept of universal design.
Vocabulary
 Adaptable Design
 Archaeologist
 Barrier-Free Design
 Housing
 Lifestyles
 Nomads
 Physical Needs
 Psychological Needs
 Universal Design
Physical Needs
Physical needs include all the things the
body needs to survive: air, sunlight,
shelter, sleep and food.
Shelter (from nature's elements)
Sleep (comfort)
Food (to prepare and eat)
Safety and Security (from those who
might harm or steal)
Need for safety…
 Form first towns and villages
 Shelters into cliffs
 Pioneers built stockades
 Log-walled enclosures
Today…
 Fences
 Install locks
 Neighborhood watches
Psychological Needs
Needs related to thoughts, feelings and
emotions
Love and belonging
Identity
Creativity
Housing and Individual Needs (handout)
Special Housing Needs
Why has housing been modified?
Elderly (increase in older
population)
People with disabilities (wanting
independence and comfort)
Universal Design-- Designing interiors
and products to accommodate all people
with a variety of requirements, needs, and
abilities.
Barrier-free Design– Living spaces are
designed without structures that would
prevent access by people with special
needs.
Adaptable Design– Design features that
are temporary and can be easily changed.
(Ex. Temporary ramp/cabinets that can be
removed when the tenant moves out)
UNIVERSAL DESIGN
"Too often older or disabled people live limited lives or give up their
homes and neighborhoods prematurely because standard housing of
the past cannot meet their needs. While a truly universally usable house
is a goal for the future, many features in houses today already are or
easily can be made universally usable. The universal design concept
increases the supply of usable housing by including universal features in
as many houses as possible, and allows people to remain in their homes
as long as they like"
R o n a l d L . Ma c e , FA I A
Architect and Product Designer
UNIVERSAL DESIGN – a definition
The intent of the universal design concept is to
simplify life for everyone by making more
housing usable by more people at little or no
extra cost.
Universal design is an approach to design that:
• incorporates products as well as building features and
elements
• universal design concept targets all people of all ages,
sizes, and abilities and is applied to all buildings
UNIVERSAL DESIGN
What is a universal feature?
• Any component of a house that can be used
by everyone regardless of their level of
ability or disability.
• Universal features are generally standard
building products or features that have been
placed differently, selected carefully, or
omitted.
Entrance Features
Structural
• Accessible route from vehicle drop-off or parking places
• Covered entry
• Full-length side window at entry door
• Minimum maneuvering space of 5x5
Non-Structural
• Package shelf or bench to hold parcels, groceries,
and other items
• Movement-sensor light controls
• Ambient and focused lighting (at keyhole)
• High visible address numbers
BENEFITS OF UNIVERSAL DESIGN
Entrance Features
 Level and accessible entrances
 Covered entries
 Full-length side window at entry
door
EXTERIOR
Rather than steps, use a
ground-level entrance or a ramp
with non-skid surface.
The ramp should be wide
enough to accommodate a
wheelchair or baby stroller
easily with turn-around space.
Provide secure handrails for
both ramps and stairways.
INTERIOR
 Wide doorways, hallways and space
within each room accommodate
someone who uses a wheelchair,
walker or crutches. Thresholds
should be flush with the floor.
 Light switches and electrical outlets
should be mounted at levels easily
accessed from a wheelchair as for
people of different heights. They
should also contrast with the wall for
better visibility.
INTERIOR
Lever-type doorknobs are easier for
children and people with arthritis to use
than round ones, yet they cause no
inconvenience for others.
Built-in flexibility is another way to
achieve universal design. Instead of
having a fixed shelf and rod, a closet
can include adjustable shelving units
that are easy to adapt to the individual.
General Interior Features
Structural
 32-inch minimum clear door-opening
 Flush threshold (maximum of 1/2 –inch
rise)
 Light switches at 48-inch maximum
height
 Crank-operated (casement) windows
 Minimum maneuvering space of 5x5 foot
Non-Structural
 Maximum force of 5 pounds to open
doors
 Loop-handles pulls on drawers and
cabinets
 High-contrast, glare-free floor surfaces
and trim
BENEFITS OF UNIVERSAL DESIGN
General Interior Features
 Minimum door opening of 32
inches
 Lever-style door handles
 Adjustable-height closet rods
 Tall windows placed low on
the wall
 Electrical receptacles 18
inches from the floor
Kitchen Features
Structural
• Lever-type faucets
• Variable-height work surfaces
• Knee space under sink and near cook top
• Full-height pantry cabinets for up and
down storage
• Stretches of continuous counter for
sliding heavy objects
Non-Structural
• Pull-out shelves in base cabinets
• Full-extension pull-out drawers
• Adjustable-height shelves in wall
cabinets
• Contrasting border treatment on
countertops
BENEFITS OF UNIVERSAL DESIGN
Kitchen Features






Knee space under sink and cook top
Lever-type water controls
Variable-height work surfaces
Contrasting borders on countertops
Pull-out shelves in cabinets
Pantry cabinet with full-length shelves
Bathroom Features
Structural
 Mirror to backsplash at sink
 Toilet centered 18 inches from
side wall
 Grab bar in walls around toilet
 Knee space under sink
 Off-set controls in tub or shower
 Built-in transfer seat in tub or
shower
Non-Structural
 Adjustable-height shower head
 Grab bars in tub or shower
 Level type faucets
BENEFITS OF UNIVERSAL DESIGN
Bathroom Features
 Adjustable-height shower head
 Grab bars in tub or shower
 Over-sink mirror extending
down to backsplash
UNIVERSAL DESIGN – Demonstration
Home
Landscape
1st Floor
2nd Floor
UNIVERSAL DESIGN
"The universal design concept considers those
changes that are experienced by everyone as
they grow from infancy to old age. Problems
related to temporary or permanent disabilities
are incorporated into the concept as well.
Because all groups are placed within the
context of normal expectations of the human
condition, trying to justify the importance of
each vulnerable population group becomes
unnecessary."
Leon A. Pastalan, Ph.D.
Gerontologist and Urban Planner
UNIVERSAL DESIGN – Rationale
Living spaces have long been designed for use by one
"average" physical type – young, fit, male, and adult. The
fact is that only some of us fit that description, and none of
us can be described that way for a lifetime.
Group Work! Brainstorm a list of those people who don't
fit the "average" physical type. Utilize white butcher
paper and markers.
 Population is Changing
 Building & Design Industries Have Responded
Universal Design SUCCEEDS because it goes beyond
specialization!
Universal Design benefits ALL
people…with/without "special needs"
Families having changing needs
Fits people with a variety of physical
requirements and abilities.
Reduces need to adapt homes to
meet these changes.
UNIVERSAL DESIGN
"The overwhelming preference of older persons is
to age in place; that is, to remain in their homes
as they grow older. It is essential that residences
be designed to be safe, comfortable, and accommodating
to persons of all ages but particularly
to those who are faced with diminishing physical
abilities which make daily domestic routines difficult
to manage. Universal design is a concept that
will enable older people to remain in their homes
as they would wish"
Cyril F. Brickfield
Former Executive Director of AARP
UNIVERSAL DESIGN –
Simple Changes to an Already Existing Home
 Install handrails on both sides of all steps (inside and outside)
 Secure all carpets and area rugs with double-sided tape
 Install easy to grasp shaped handles for all drawers and cabinet
doors
 Use brighter bulbs in all settings
 Install nightlights in all areas of night activity
 Add reflective, non-slip tape on all non-carpeted stairs
 Install lever handles for all doors
 Place a bench near entrances for setting down purchases and
resting
 Install closet lights, as well as adjustable rods and shelves
 Install rocker light switches; consider illuminated ones in select
areas
UNIVERSAL DESIGN –
A Low Cost Solution
 Many universal features are no-cost options
 Others are low-cost solutions that can become no-cost
with widespread use
 In our society, mass production is used to keep costs
low and to produce products that are widely marketable
 Because universally designed products make as little as
possible "special"
 Make as much as possible "standard"
 Mass producing design that is both usable and attractive
to everyone
UNIVERSAL DESIGN
"Today's architects address the life cycle of
buildings. It is time that they began to address
the life cycle of people as well. Universal
design
is considerate of the human lifespan and the
continuum of abilities of all individuals."
Ruth Hall Lusher, D. Arch. Candidate
Find three examples where Universal
Design is not used. Paste the examples
on a sheet of paper and tell me what could
be different about the room to achieve
Universal Design.
SelfActualization
Esteem
Love and Acceptance
Security
Physical needs
Physical Needs
Your physical needs, such as food, water,
shelter, and clothing must be at least
partially satisfied before you can think
about anything else.
Security
Next, you need to feel safe in your
surroundings and know what to expect.
You need protection from physical harm
and economic disaster.
Love and Acceptance
At this point, you want to gain affection.
You need to be praised and accepted by
others.
A small failure can make you feel rejected
as a person.
You need much support, assurance, and
personal warmth.
Esteem
Not only do you want to be liked, but you
also want to be respected. In this way,
you gain confidence and feel necessary in
the world.
Self-Actualization
 To reach this level, all other needs
must be fulfilled to some degree.
You feel a need to develop your full
potential.
 You learn because you want to be
a "well-rounded" person. You have
pride and self-respect.
 You can show individuality despite
social pressures. You have your
own opinions and are able to
express them.
Challenges for Tomorrow
#1 Designing and building usable housing to meet
a variety of needs.
#2 Find ways to make better housing available to
low-and middle-income people and to improve
the social environment
#3 Conserve energy and natural resources.
*Every year in the U.S., homes account for more
than 30 percent of the total energy consumption
and produce nearly 20 percent of all air pollution
missions.
The Future of Housing???