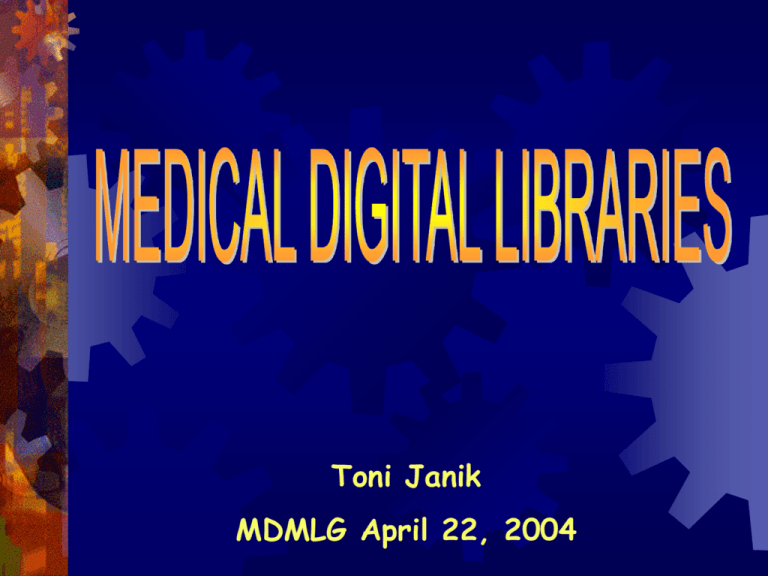 Toni Janik
MDMLG April 22, 2004
Why Medical Digital Libraries?
 24
hour access to collection
 Ability to access library from home,
office, patient bedside - not just within
the walls of the library
 Less space required
 Easier to search
 Most current edition always available
 Growing amount of medical information
and need to provide the best available
& this
Becomes….. this
How
 Review
of current issues, products and
trends using
 Medline
 Publisher
and Vendor web sites and
conference displays
 Professional library journals
 Web search using a variety of search
engines including Google, Metacrawler,
and Altavista.
 Vendor trials of a variety of digital products
Medical Digital Hospital Libraries
 Botsford
 Ottawa
 Allen
& Betty Taylor Library - UWO
Issues
& Connectivity – IP,
passwords, firewalls…
 Collection Development
 Licensing
 Managing Complexity
 Multi-sited Organizations, Partnerships
& Consortiums
 Accessibility
Accessibility
 Connectivity
– IP, passwords,
firewalls…
 User Group - Who….
 Physicians
 Nurses
 Allied
Health Care Staff
 Administration
 Students from local colleges, universities?
 Medical students from UWO?
 Patients, family members
 General public? ...
Collection Development
 Policy
 All
digital or combination of print and digital ?
 Where
to begin?
 Journal
subscriptions that include an online
edition
 Journals indexed in Medline or CINAHL
 Fulltext journals bundled with databases
currently subscribed to. ie. EbscoMed
 Fulltext books that are on the "Brandon and
Hill recommended list for small libraries".
 Consortium packages that are affordable and
meet our collection and users needs.
(MHSLA, MLC, SOHLIN)
Collection Development cont'd
 Inclusion
of trial packages of books and
journals for feedback from user group
 Selection of full text packages that
reflect information needs of health care
team
 Increased database selections that
include all/selected fulltext i.e..
Quicklaw, IPAB, E-Psyche ...
Budget
 Digital
collections are often priced higher
than their paper counter parts.
 Per year costs for digital compared to
per edition costs for paper
 Typical journal costs rise 18-23 % per
year and library budgets are fixed or
decreasing
 Ongoing technical hardware and
software costs to maintain access
 Increased or decreased Interlibrary Loan
costs due to growing digital collections?
Licensing
 Lack
of Standardization
 Same
product - different deals ?
 Often
changes during the license period
 Publisher,
 Not
third party vendor, direct
all e-products are available through
vendors only directly from publisher sites.
Licensing Cont'd
– per employee, annual patient
admissions, concurrent user, per
computer station
 Cost
 Who
does the negotiating?
 Librarian
 Computer
services (IS) department
 Hospital lawyers
Managing Complexity
 The
Complexity
 of
Systems
 of Resources
 of Users
 Users
Archive availability
 ILL's not always allowed by publisher

Systems
 CD-ROM
 Intranet
vs. Internet
 Servers
 Hospital
server
 Library server
 Vendor server
 Publisher server
 Platform
changes, migration, ...
Resources
 Changing
url's
 Authentication
 Publisher / vendor changes
 Devine
 Who
 Is
Ebsco
offers what your users want?
what you want available digitally
 Bundles
 Embargoes
Users
 Define
who are your library's users
 What are the information needs of the
various user groups
 Information
Sources
 Access Points
 Technological Expertise
 What
percentage of the collection's
budget will be allocated to each group
Multi-sited Organizations,
Partnerships & Consortiums

Benefits






Preferred pricing
ILL within group
Cooperative training
Resident "experts"
Users become
familiar with common
interface
Disadvantages





Everyone gets the same
package
Common renewal date
Tied to each other's
budgets
Must all choose IP or
password access
Concurrency is for all ~
not by institution
Our Collection
E - Books
Harrison's Internal Medicine
Statref! (MHSLA)
LWW Ovid
E - Journals
New England Journal of Medicine and
others through publisher sites
AtoZ
Proquest Nursing and Medical
OVID Journals
Science Direct
JAMA (through EbscoMed)
Access Points to E-Products
Bookmarks
EbscoMed fulltext links from
databases
Publisher site for individual titles
Directed study web site
Proquest site for Medical/Nursing
Science Direct
Ovid LWW site
AtoZ
OPAC – EOSi E-GLAS
HDGH Library intranet site
Where to go next...
 Create
a intranet site for all our digital
products – under construction
 Create library forms on our web site for
our patrons to use for Reference and
Interlibrary Loan
 Ongoing trials for e-products for our
health sciences collection
Suggestions, Comments …

Will the digital library
of tomorrow meet
your information
needs?