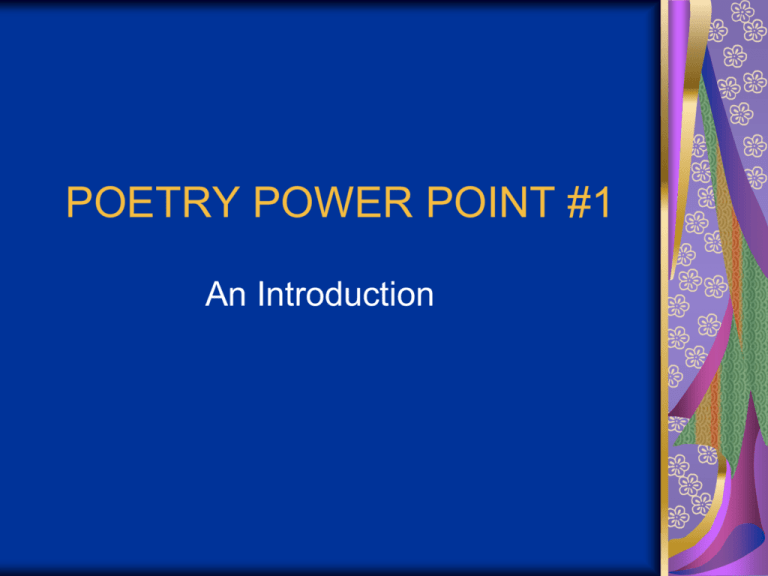 POETRY POWER POINT #1
An Introduction
POETRY BASICS
Poetry: A type of literature that
expresses ideas, feelings, or tells a
story in a specific form
Form: the appearance of the words
on the page
Line: a group of words together on
one line of the poem
Stanza: a group of lines arranged
together
Identify…
"A Word is Dead"
By Emily Dickenson
STANZA 1
How many lines?
A word is dead
When it is said,
Some say.
I say it just
Begins to live
That day.
Stanza 2
KINDS OF STANZAS
Couplet
=
Triplet (Tercet) =
Quatrain
=
Quintet
=
Sestet (Sextet) =
Septet
=
Octave
=
a two line stanza
a three line stanza
a four line stanza
a five line stanza
a six line stanza
a seven line stanza
an eight line stanza
POINT OF VIEW IN POETRY
Poet
The author of the poem
Speaker
The "narrator" of the poem
Addressee
Person or thing the speaker is
addressing
Reader
Person reading the poem aloud
SOUND EFFECTS
RHYTHM
The beat created by
the sounds of the
word in a poem
Rhythm can be
created by using:
Meter
Rhyme
Alliteration
Refrain
METER
A pattern of stressed and unstressed syllables
Meter occurs when the stressed and unstressed
syllables of the words in a poem are arranged in a
repeating pattern
When poets write in meter, they count out the
number of stressed (strong) syllables and
unstressed (weak) syllables for each line. They
then repeat the pattern throughout the poem.
Example:
I sit and stare at my computer screen.
METER cont.
Foot – unit of
Types of feet
meter
The types of feet are
determined by the
A foot can have
arrangement of
two or three
stressed and
syllables
unstressed syllables
Usually consists of
one stressed and
one unstressed
Example:
syllables
Little | drops of | water
METER cont.
TYPES OF FEET
Iambic – unstressed, stressed
Example:
But not | a thought | reveals | itself | to me.
Trochaic – stressed, unstressed
Anapestic – unstressed, unstressed, stressed
Dactylic – stressed, unstressed, unstressed
FREE VERSE POETRY
Unlike metered
poetry, free verse
poetry does NOT
have any repeating
patterns of
stressed and
unstressed
syllables
It usually does
NOT have rhyme
Free verse poetry
is very
conversationalsounds like
someone talking to
with you.
A more modern
type of poetry.
FREE VERSE - EXAMPLES
Washed Away
by Katherine Foreman
Nothing's changed except me and the facts
And the sadness I didn't mean to start.
But it feels different now you've said
It's wrong, and I still can't see your point.
And I think as water runs over my hands that
That's really all there is or can be.
The gold is wearing off the infamous ring
And something wears away from around my
heart.
Fog by Carl Sandburg
The fog comes
on little cat feet.
It sits looking
over harbor and city
on silent haunches
and then moves on.
After the Sea-Ship
by Walt Whitman
After the Sea-Ship—after the whistling winds;
After the white-gray sails, taut to their spars and ropes,
Below, a myriad, myriad waves, hastening, lifting up their necks,
Tending in ceaseless flow toward the track of the ship.
BLANK VERSE POETRY
Written in lines of iambic pentameter, but
does NOT use end rhyme.
Furball Friend
Excerpt from Macbeth
by William Shakespeare
Tomorrow, and tomorrow, and tomorrow,
Creeps in this petty pace from day to day,
To the last syllable of recorded time;
And all our yesterdays have lighted fools
The way to dusty death. Out, out, brief candle!
Life's but a walking shadow, a poor player
That struts and frets his hour upon the stage
And then is heard no more: it is a tale
Told by an idiot, full of sound and fury,
Signifying nothing.
Sweet pet by day, hunter by night. She sleeps,
she eats, she plays. My feet, caught in white paws.
She's up the fence, watching her prey - a bird.
Poor thing, better run quick, 'cause watch, she'll pounce!
She'll sweetly beg for fuss, but don't be fooled.
'Cause one minute she'll purr and smile, then snap!
She'll spit and hiss - and oh - surprise! A mouse.
He's dead. A gift. Retracts her claws. Miaow!
Figure of eight between my legs, looks up
at me and purrs. The sound pulls my heartstrings.
Her big blue eyes like dinner plates - so cute.
Cunning she is, she knows I can't resist.
Curling up tight, we sleep entwined as one.
Despite her quirks, I would not change a claw
of her. Cheeky Sammy: my snow-white queen.
RHYME
Words sound alike
because they
share the same
ending vowel and
consonant sounds
A word always
rhymes with itself
LAMP
STAMP
 Share the same
short "a" vowel
sound
 Share the
combined "mp"
consonant sound
END RHYME
A word at the end of one line rhymes with
a word at the end of another line.
Hector the collector
Collected bits of string.
Collected dolls with broken heads
And rusty bells that would not ring.
INTERNAL RHYME
A word inside a line rhymes with another word
on the same line.
From "The Raven"
By Edgar Allan Poe
Once upon a midnight dreary, while I pondered weak and weary.
NEAR RHYME or EYE RHYME
An "imperfect" rhyme or close rhyme.
 The words
EITHER share the
same vowel sound or
consonant sound
BUT NOT BOTH
ROSE
LOSE
 Different vowel
sounds (long "o" and
"oo" sound)
 Share the same
consonant sound
RHYME SCHEME
 A rhyme scheme is a pattern of rhyme (usually end rhyme
but not always)
Use the letters of the alphabet to represent different rhyme
sounds so that you can visually see the pattern.
"The Germ"
By Ogden Nash
A mighty creature is the germ,
A
Though smaller than the pachyderm
A
His customary dwelling place
B
Is deep within the human race.
B
His childish pride he often pleases
C
By giving people strange diseases.
C
Do you, my poppet, feel infirm?
A
You probably contain a germ.
A
ONOMATOPOEIA
Words that imitate the sound they are making.
The rusty spigot
sputters
utters
a splutter,
spatters,
scatters,
spurts,
finally stops sputtering
and splash!
gushes rushes splashes
clear water dashes.
Match the line to its sound
A plate being dropped on the floor
A balloon being burst
A gun being shot
Someone eating crisps
A light being switched on
A fierce dog
A small bell being rung
TINKLE
BANG
POP
SMASH
CRUNCH
GROWL
CLICK
ALLITERATION
Consonant sounds repeated at the beginning of
words.
Consonance
 Think tongue twisters
 The repeating consonant sounds
If Peter Piper picked
a peck of pickled
peppers, how many
pickled peppers did
Peter Piper pick?
in a line or lines of poetry (can be
anywhere in the words)
"Silken, sad, uncertain,
rustling"
Assonance
 The repeating vowel sound in a
line or lines of poetry
Lake, fate, base, fade (all
share the long "a" sound)
I am the shadow
REPETITION
By the classroom wall,
I am watching you,
And I know it all.
Using the same word or
phrase more than once in a
poem.
 Does not include
pronouns or conjunctions
Don't try to run
Or hide from me.
There isn't a thing
I cannot see.
Don't cheat on a test,
Or lie to a friend,
 Can sometimes be called
the refrain if it's a stanza
that repeats
I know the truth
From beginning to end.
I am the shadow
By the classroom wall,
I am watching you,
And I know it all . . .
And I know it all.
And I know it all.
I'm watching you,
And I know it all.