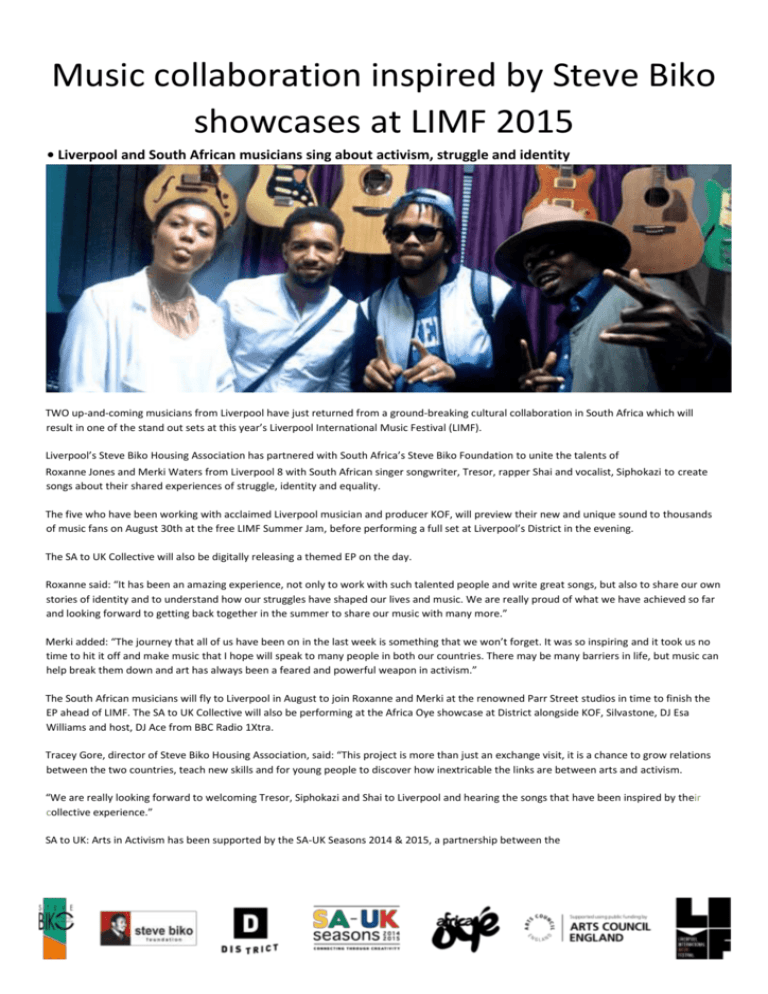 Music collaboration inspired by Steve Biko
showcases at LIMF 2015
• Liverpool and South African musicians sing about activism, struggle and identity
TWO up-and-coming musicians from Liverpool have just returned from a ground-breaking cultural collaboration in South Africa which will
result in one of the stand out sets at this year's Liverpool International Music Festival (LIMF).
Liverpool's Steve Biko Housing Association has partnered with South Africa's Steve Biko Foundation to unite the talents of
Roxanne Jones and Merki Waters from Liverpool 8 with South African singer songwriter, Tresor, rapper Shai and vocalist, Siphokazi to create
songs about their shared experiences of struggle, identity and equality.
The five who have been working with acclaimed Liverpool musician and producer KOF, will preview their new and unique sound to thousands
of music fans on August 30th at the free LIMF Summer Jam, before performing a full set at Liverpool's District in the evening.
The SA to UK Collective will also be digitally releasing a themed EP on the day.
Roxanne said: "It has been an amazing experience, not only to work with such talented people and write great songs, but also to share our own
stories of identity and to understand how our struggles have shaped our lives and music. We are really proud of what we have achieved so far
and looking forward to getting back together in the summer to share our music with many more."
Merki added: "The journey that all of us have been on in the last week is something that we won't forget. It was so inspiring and it took us no
time to hit it off and make music that I hope will speak to many people in both our countries. There may be many barriers in life, but music can
help break them down and art has always been a feared and powerful weapon in activism."
The South African musicians will fly to Liverpool in August to join Roxanne and Merki at the renowned Parr Street studios in time to finish the
EP ahead of LIMF. The SA to UK Collective will also be performing at the Africa Oye showcase at District alongside KOF, Silvastone, DJ Esa
Williams and host, DJ Ace from BBC Radio 1Xtra.
Tracey Gore, director of Steve Biko Housing Association, said: "This project is more than just an exchange visit, it is a chance to grow relations
between the two countries, teach new skills and for young people to discover how inextricable the links are between arts and activism.
"We are really looking forward to welcoming Tresor, Siphokazi and Shai to Liverpool and hearing the songs that have been inspired by their
collective experience."
SA to UK: Arts in Activism has been supported by the SA-UK Seasons 2014 & 2015, a partnership between the
Department of Arts and Culture, South Africa and the British Council, the Arts Council England and Liverpool International Music Festival. The
project partners are Steve Biko Housing Association, Steve Biko Association, Liverpool International Music Festival and Nothing but the Music.
LIMF's five-day programme (27-31 August) encompasses commissions, partnerships and the grand finale, LIMF Summer Jam, and will take
place over several iconic Liverpool venues including the city's historic Sefton Park. For more information visit: www.limfestival.com
Ends
For further information please contact Yaw Owusu, LIMF curator on 0797 011 0709, yaw@nbtm.agency or Jonathan Caswell
on 07515 999 422, joncaz@hotmail.co.uk
Notes to editors:
SA to UK: Activism In Arts – Live (as part of Liverpool International Music Festival) presented by Africa Oye at District, Liverpool, Sunday 30th
August,19.30 - 01.00.
Performances By: SA to UK Collective, Tresor, Merki Waters, Roxanne Jones, Siphokazi & Shai. Guest Performers:
Silvastone and KOF
DJ Set By: DJ Esa Williams
Hosted By: DJ Ace (BBC Radio 1Xtra)
The SA to UK EP will be released on Sunday 30th August at 19.00.
Steve Biko Housing Association (SBHA) was first established in 1982 when it was then named Liverpool 8 Housing Group. In 1989 a refreshed
Board named the Association after the late anti-apartheid activist, Steve Biko. Over the years links have strengthened and grown, with SBHA
enabling partnerships with National Museums Liverpool, attending annual memorial lectures in London, and visiting South Africa for the
opening of the Steve Biko Foundation Centre in 2012. In 2014 Steve Biko Foundation visited the UK to deliver their annual lectures, have been
partners in delivery of SBHA's Young Persons Achievers Annual awards and provided keynote speakers at Merseyside Black History Month
Festival.
Merki Waters, a 25-year-old singer/songwriter/rapper and producer is regarded as one of the UK's outstanding up and-coming artists, noted
for his creative lyricism and superb vocal delivery. In 2011, Merki worked with CHIILDLINE and performed on a video with UK rap star
Devlin and the following year he was chosen by Bafta award-winning actor Adam Deacon to perform at the "Somewhere To" showcase at
London's Olympic Park bandstand. In 2013 Merki performed at the Liverpool International Music Festival headlined by Damian Marley and
in 2014, with support from Arts Council England, he performed alongside African High Life Band "Sa Mon Di" on a UK tour. Merki is also a
founder of the Lab Music Foundation which has been providing services to meet some of the needs of underprivileged acts in Liverpool
including music workshops, performance training, audio/video recording and showcase events. It also provides 'Lab TV', a YouTube
platform for rappers, singers and musicians, and has become the largest urban media broadcaster in the North West, with more than 6.8m
views.
Roxanne Jones, 22, has been singing for as long as she can remember and has overcome serious health issues to establish herself as an exciting
new prospect in the R&B music scene. In 2013 she began recording her debut album In My Own Words, a mix of old school R&B, jazz and soul
inspired by personal experiences. By the end of the year she'd released her first track 'Living a Lie' that racked up radio spins nationwide and
published an accompanying video that turned heads on both sides of the Atlantic, gaining her recognition and a brief stint with RSG Media in
London. She returned to Liverpool to finish recording her album and her recently-released debut single 'I am a Woman' has already attracted
interest from major labels across the globe. This year she was nominated for a Getintothis (GIT) award, the annual competition that
recognises burgeoning popular musical talent in Liverpool.
KOF is an acclaimed alt-soul singer-songwriter and producer and has been described by MOBO founder Kanya King as "one of the future voices
of soul" who is challenging the status quo with his thought-provoking, genre-shifting sound-beds that effortlessly & experimentally blend the
essence of roots soul, reggae and jazz. In 2012, KOF independently released his debut EP "An Alternative Soul". The seven track collection,
penned and produced by KOF, resulted in four records play-listed on national radio, two national headline tours, a number of synchs on top
rated TV shows, tens of thousands of singles sold and performances at a number of top shows and festivals in UK, Europe & US. In 2015, KOF
will release his anticipated debut album "The Beautiful Struggle".