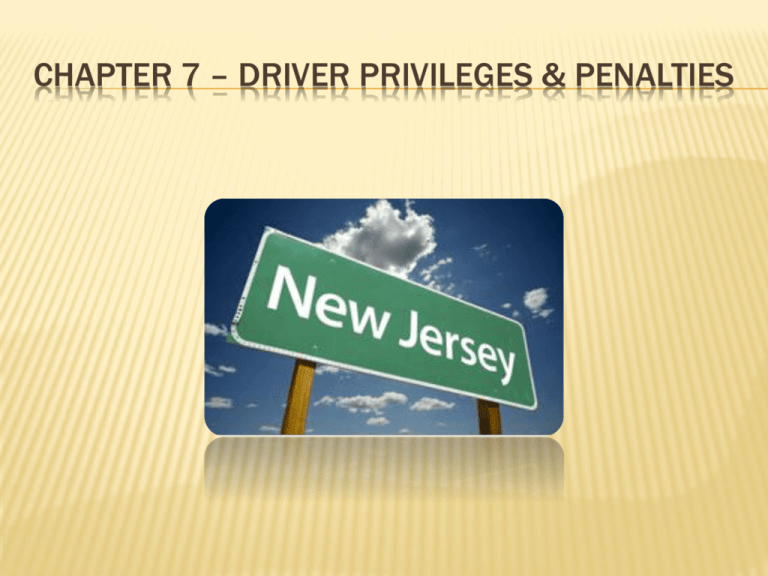 CHAPTER 7 – DRIVER PRIVILEGES & PENALTIES
DRIVING UNDER THE INFLUENCE
1st Offense/BAC .10% or more
7 Month to 1 Year suspension of Driving Privilege
 $300-$500 Fine


12-48 Hour participation in Intoxicated Driver Class
Up to 30 days imprisonment
 $1,000 annual surcharge for 3 years ($3,00 Total)

UNDERAGE DUI
Underage 1st Offense/BAC .01% - 08%
30-90 day suspension of driving privilege
 15-30 days community service
 Participation in an intoxicated Driver Resource
class or alcohol education and highway safety
program as prescribed b the MVC.

DRIVING UNDER THE INFLUENCE
The courts may require DUI offenders to use
ignition interlock devices on their motor
vehicles.
 An interlock device is attached to a vehicle to
prevent it from being started when the alcohol
level of the motorist's breath exceeds a
predetermined amount.

https://www.youtube.com/watch?v=XKG3oHaxXCY
BREATH TEST

NJ has an implied consent law. This means that
motorist on NJ roadway have agreed, simply by
using NJ roadways, to submit to a breath test given
by law enforcement or hospital staff following an
arrest for a drinking and driving offense.

Motorist who refuse, will be detained and brought
to a hospital, where hospital staff may draw blood.
MOTOR VEHICLE VIOLATIONS

Lying on Applications – Lying when applying for
a license or registration will result in a fine of
$200-$500 or up to 6 months imprisonment.

A motorist will also lose their driving privileges
for 6 months to 2 years
DRIVING WHILE SUSPENDED
1st Offense
$500 Fine
 6 months additional license and or registration
suspension

ADDITONAL PENALTIIES

Driving while a license and/or registration is
suspended for a drug or alcohol offense,
refusal to take a breath test or if the motorist is
a habitual offender, will result in a fine of $500
and an additional license suspension of one to
two years and or possible court ordered
imprisonment for 10-90 days.
DRIVER PROGRAMS

After completion of a Driver Improvement
Program or after restoration of a motorist's
driving privilege, he/she will be in a
probationary period for one year.
PROBATIONARY DRIVER PROGRAM

A motorist begins a two year probationary driver
period after receiving a special learner or
examination permit. During this probationary
period, a motorist convicted of two ore more
moving violations totaling four or more points
must enroll in the probationary driver program ,
which is administered by the MVC.
POINT SYSTEM

MVC keeps track of driving records by adding
points to the record when motorist is convicted
of a moving violation.

Up to 3 points will be subtracted from a
motorist's point total for every year that the
motorist goes without a violation or
suspension, but the point total will never be
reduced below zero.
http://www.newjerseytraffictickets.com/new-jersey-point-system.asp
POINT SYSTEM EXAMPLES
Failure to yield to a pedestrian in a crosswalk
 6 months suspension
 2 Points
 $500 Fine
 Up to 25 Days Jail
 Community Service
POINT SYSTEM EXAMPLES
Operating a motor vehicle on a private property to
avoid a sign/signal
 2 points
NON DRIVING OFFENSES (13-18 YEARS OLD)
Buying Alcoholic Beverages
 Setting False Alarms
 Graffiti

HABITUAL OFFENDER

A habitual offender is a motorist whose driver
license has been suspended three times in
three years.