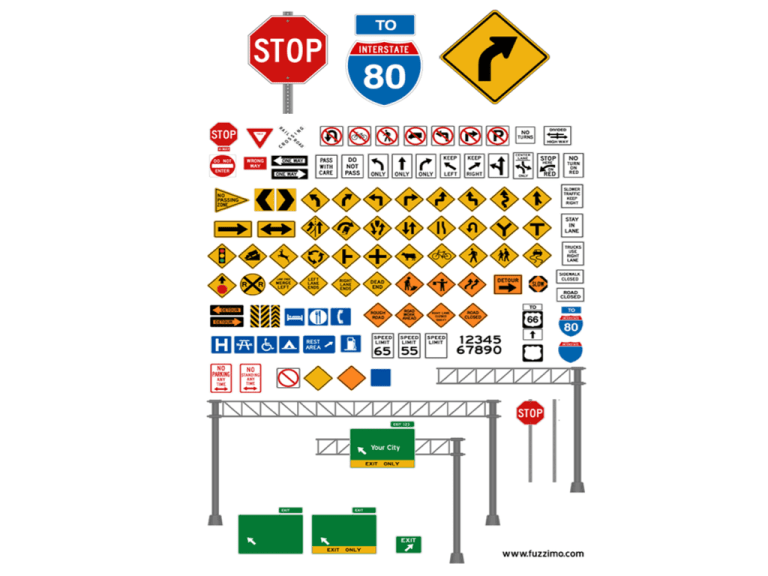 Three Types of Road Signs
Regulatory signs
Warning signs
Guidance signs
Regulatory Signs
Regulate traffic speed and movement.
Color : White with Black wording & borders
White with Red wording
Shape: Mostly rectangular
more Regulatory Signs
(Regulate traffic speed and movement)
STOP SIGN
Octagon
Red & white
YIELD
▼ Inverted triangle
▼ Red & white
DO NOT ENTER
Square with a red circle
WRONG WAY
▄ Rectangle
▄ Red & white
Regulatory sign; Speed Limit
School zones, business or residential districts
example- center of Westfield, Somerville
Suburban business and residential districts
example-center of Warren, Valley Road in Long Hill.
Non-posted rural roadways
example- open space, Flemington area, Clinton area
Certain state highways (as posted) and interstates
example- Route 22, certain sections of Route 78
Certain interstate highways
(as posted)
NOTEMotorists pay double fines for exceeding the 65 mph limit
by 10 mph (75 mph)
Double fines also apply to most other moving violations committed
in a 65 mph zone.
Warning
Warn a motorist of
1. Road conditions
2. School crossings
3. Curved roadways
4. Intersections
School crossing
Pentagon
Signs
Color
yellow & black
wording or symbol
Shape
Most diamond
Railroad crossing
Round
All others
Diamond
Road Work Signs
(Warning Sign)
Alerts motorists to a variety of temporary
roadway conditions
Lane closings
Lane shifts
Flaggers
Uneven pavement
Detours
Changing traffic patterns
Color:
Shape:
Orange
Diamond-shaped signs
*****In New Jersey, all traffic fines are doubled in work zones*****
Guidance Signs
Type 1
Identify destinations
Guidance Signs
Interstate
County Route
Marker
Type 2
IDENTIFY
ROUTES
US Route Marker
State Route
Marker
# 3 Motorist
Service Signs
provides information about
#4
Recreational Signs
motorist services.
Public recreation and scenic
guidance.
Color
Color
Blue with white letters/symbols
Brown with white letters/symbols
Slow Moving Vehicle sign
• Alert motorists to slow-moving vehicles.
• Fluorescent and reflective orange triangular
sign
• Farm and construction equipment operating on
public highways.
The operators must obey all
traffic rules and place a slow-moving vehicle sign
on the back of their vehicles to
warn approaching motorists.
Traffic Signals
Red Light- A motorist must stop
Yellow Light- A motorist should stop before
entering the intersection or crosswalk, unless
their vehicle is so close to the intersection
that it cannot be stopped safely.
Green Light- A motorist should proceed
through the intersection.
Flashing Yellow Light-- Slow down and proceed
with care.
Flashing Red Light-- Stop.
https://www.youtube.com/watch?v=TW0Eq2Q-9Ac&feature=youtu.be
Pedestrian Signals
Orange, Raised Palm Symbol
Pedestrians must not leave the
sidewalk or enter the roadway
White, Pedestrian Silhouette
Pedestrians may cross the roadway
Pavement Markings
Yellow center lines:
Separate traffic flow going in opposite
directions
White lines:
Separate traffic going the same way
when there is more than one lane;
show edges of roads (shoulder)
Dashed lines: - - - - - - - - - - - - - On a motorist's side of the center line of the
road mean that passing is permitted when safe
Solid line:
On a motorist's side of the center line means
do not pass
Road arrows: Used with other signs, show the
correct direction a motorist must make in that
particular lane.
White stop lines: Show where to stop at stop
signs or traffic signals
Edge lines: Separates the shoulder from
the travel lane and show the edges of
highways
White crosswalks: Pedestrian crossing.
At intersections where stop lines are
Missing, stop before the crosswalk NOT in
the crosswalk.
White special markings:
STOP AHEAD, SCHOOL and R X R, are used to alert a motorist to special situations.
White diamonds:
High occupancy vehicle (HOV) lanes
For vehicles carrying multiple riders.
Marked with white diamonds
S.I.P.D.E.
Using the S.I.P.D.E. Process
S= SEARCH for possible hazards or risks
I= IDENTIFY objects or conditions ahead that
could interfere with your planned path of
travel (look "12-15 seconds" ahead)
P= PREDICT what the risk/hazard may do or
how it will affect your path of driving
D= DECIDE your safest plan of action
E= EXECUTE your plan
How would you use the SIPDE process to
navigate through this traffic scene?