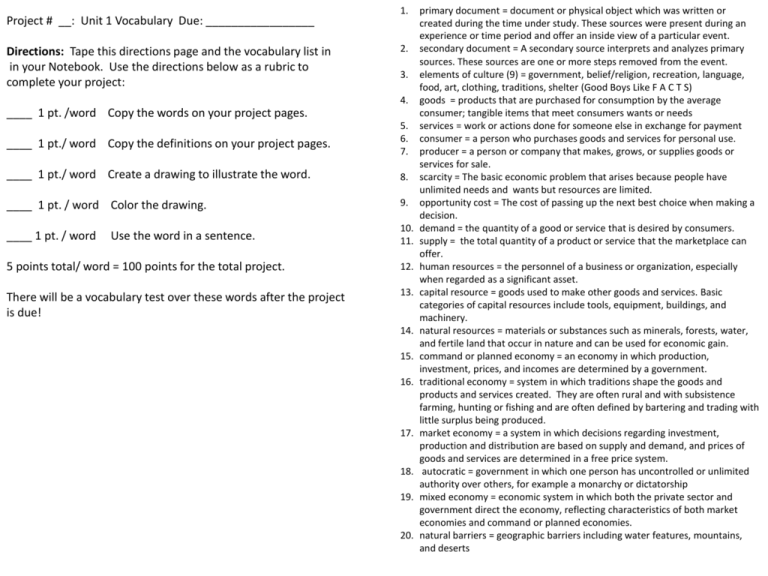 Project # __: Unit 1 Vocabulary Due: _________________
Directions: Tape this directions page and the vocabulary list in
in your Notebook. Use the directions below as a rubric to
complete your project:
1.
2.
3.
4.
____ 1 pt. /word Copy the words on your project pages.
____ 1 pt./ word Copy the definitions on your project pages.
5.
6.
7.
____ 1 pt./ word Create a drawing to illustrate the word.
8.
____ 1 pt. / word Color the drawing.
9.
____ 1 pt. / word
10.
11.
Use the word in a sentence.
5 points total/ word = 100 points for the total project.
12.
There will be a vocabulary test over these words after the project
is due!
13.
14.
15.
16.
17.
18.
19.
20.
primary document = document or physical object which was written or
created during the time under study. These sources were present during an
experience or time period and offer an inside view of a particular event.
secondary document = A secondary source interprets and analyzes primary
sources. These sources are one or more steps removed from the event.
elements of culture (9) = government​, belief/religion, recreation, language,
food, art, clothing, traditions, shelter (Good Boys Like F A C T S)
goods = products that are purchased for consumption by the average
consumer; tangible items that meet consumers wants or needs
services = work or actions done for someone else in exchange for payment
consumer = a person who purchases goods and services for personal use.
producer = a person or company that makes, grows, or supplies goods or
services for sale.
scarcity = The basic economic problem that arises because people have
unlimited needs and wants but resources are limited.
opportunity cost = The cost of passing up the next best choice when making a
decision.
demand = the quantity of a good or service that is desired by consumers.
supply = the total quantity of a product or service that the marketplace can
offer.
human resources = the personnel of a business or organization, especially
when regarded as a significant asset.
capital resource = goods used to make other goods and services. Basic
categories of capital resources include tools, equipment, buildings, and
machinery.
natural resources = materials or substances such as minerals, forests, water,
and fertile land that occur in nature and can be used for economic gain.
command or planned economy = an economy in which production,
investment, prices, and incomes are determined by a government.
traditional economy = system in which traditions shape the goods and
products and services created. They are often rural and with subsistence
farming, hunting or fishing and are often defined by bartering and trading with
little surplus being produced.
market economy = a system in which decisions regarding investment,
production and distribution are based on supply and demand, and prices of
goods and services are determined in a free price system.
autocratic = government in which one person has uncontrolled or unlimited
authority over others, for example a monarchy or dictatorship
mixed economy = economic system in which both the private sector and
government direct the economy, reflecting characteristics of both market
economies and command or planned economies.
natural barriers = geographic barriers including water features, mountains,
and deserts
Project # ___: ___ Unit ___ Vocab. Name __________________________
Word = Definition
1.
2.
3.
4.
5.
Illustration
Core 1 2 3
Score ____/ 100
Word used in a sentence.
Word = Definition
6.
7.
8.
9.
10.
Illustration
Word used in a sentence.
Word = Definition
11.
12.
13.
14.
15.
Illustration
Word used in a sentence.
Word = Definition
16.
17.
18.
19.
20.
Illustration
Word used in a sentence.