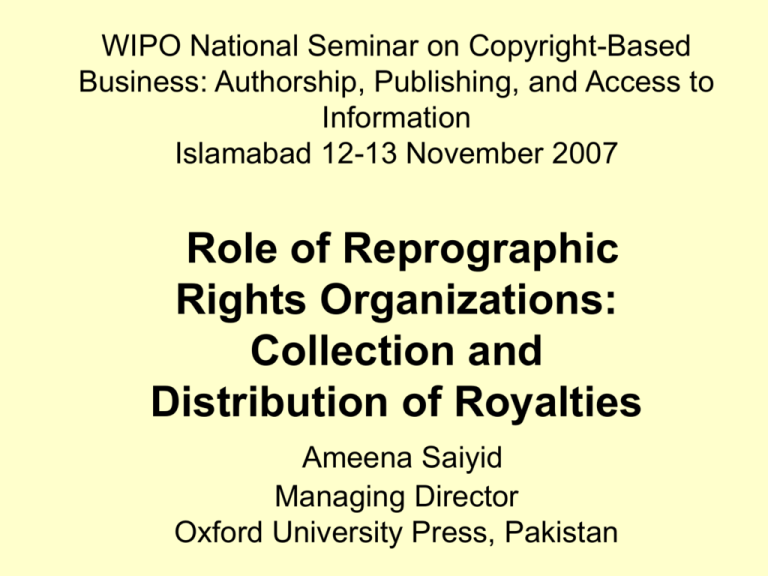 WIPO National Seminar on Copyright-Based
Business: Authorship, Publishing, and Access to
Information
Islamabad 12-13 November 2007
Role of Reprographic
Rights Organizations:
Collection and
Distribution of Royalties
Ameena Saiyid
Managing Director
Oxford University Press, Pakistan
AIM
Copyright protection and
prevention of piracy, respect for
Intellectual Property Rights and
accessibility of protected works
THE ISSUES
• Rampant and growing book piracy
• Inadequate laws: Cognizable and nonbailable but …
• Weak enforcement
• The mindset
• Lack of awareness and knowledge
among the public, government, and
judiciary
THE ISSUES (CONT.)
• Corruption
• Smuggling from
Iran/Afghanistan/India
• Piracy of holograms/watermarked
paper
IMPROVEMENT
NEEDED IN LAWS
Section 36 (3) of the Copyright Ordinance reads as follows:
"(3) The Federal Government or the Board may, upon
an application by any governmental or statutory
institution, in the public interest, grant a license to
reprint, translate, adapt or publish any text book on
non-profit basis"
No minimum punishment
CONSEQUENCES
•
•
•
•
Brand image diminished
Legitimate publishers withdrawal
Authors deprived/impoverished
Creative output reduced
FORMS OF PIRACY
Major
• Production
• Smuggling
Minor
• Copying
• Plagiarism
UNAUTHORIZED REPRINT
• Microelectronic Circuits –
Sedra and Smith
• Pirated copies are
available in the market at
retail Rs 650, which is
more expensive than the
OUP book
• Piracy of 4th edition,
while OUP has published
5th edition
UNAUTHORIZED REPRINT
Pirated
Original
PLAGIARISM
Sindh Textbook Board – pub. April 04
OUP – pub. Feb 02
FORMS OF PIRACY (CONT.)
• Single copies are obtained from Amazon and
used for production
• Pirated books are smuggled from Iran and
Afghanistan overland
• Market rights are infringed by importing books
into Pakistan from India for which there are no
market rights for Pakistan
• Run-ons are produced for pirates by printers
• Photocopies are made in the market
MYTHS & FALLACIES
• Only foreign publishers and authors
from the first world are affected …
• Pirates make books cheaper
• Only expensive, imported books are
pirated
MYTHS & FALLACIES (CONT.)
• Pirates would stop if reprint/
reprographic rights are given
• Pirates work for the social good
• Pirates provide cheap books
• Pirates facilitate availability of books
• Poor countries have no choice
PITFALLS OF PASSING
REPRODUCTION RIGHTS
Difficulties in Checking and Monitoring
Production, Warehousing, and Sales:
• Film makers make additional set of films
• Printers produce run-on copies without the
knowledge and consent of the publisher
• Publishers print more copies than they declare
• Supplementary warehousing done in unmarked
stores
• Checking of sales records and other related
documents to determine sales quantities and
terms of sales
PITFALLS (CONT.)
Mindset and Practice
• Copyright is not taken seriously and its
infringement is shrugged off lightly
• Any specific or limited approval is abused
by using it a blanket approval
• Reproduction is done in excess of
approved quantities, editions, territorial
rights, or time-frame
PITFALLS (CONT.)
Calculations and Payments of Royalties
• Royalties are miscalculated by suppressing print
runs and sales quantities
• The maintenance of records is poor and authors are
denied access to records related to their books
• Royalty statements are generally not provided and,
when they are, they are not audited. In rare cases
when they are, the audit companies are not
reputable
• Even the incorrect royalties are not paid as a matter
of course
PITFALLS (CONT.)
Quality of Reproduction
• The quality of reproduction is so poor that the
image of the original publisher is adversely
affected
RROs
Basis of Operations of Reproduction Rights
Organization in other Countries
• Most RROs work on the basis or presumption
that content users will proactively contact
copyright owners for permission
• RROs are effective when it is impossible for
rights holders to exercise their exclusive rights
individually and they turn to a collective system
RROs (CONT.)
Individual or Collective Management of the
Collection and Distribution of Royalties in
Pakistan.
• Possible for rights holders in Pakistan to act
individually if they are publishers
• Most local publishers have their own
infrastructure for paying royalties
• Most foreign publishers have agents or
representatives in Pakistan who protect their
copyright
RROs (CONT.)
Proposed establishment of an RRO in Pakistan
• This could work only if the RRO extends the scope of
their work from the administration of collective collection
and distribution of royalties to investigation, litigation,
and enforcement.
• The establishment of an RRO in Pakistan should be
preceded by:
• Reducing the large scale, rampant, and growing piracy
• Awareness raising campaign for the public, government
authorities, and lawmakers
• Training sessions to change mindset of government
officials and decision makers to the importance of
effective IPR legislation and its enforcement
• Dissemination of lessons and best practices from RRO
initiatives in other countries
RROs (CONT.)
Not the right time
• Culture of copyright does not exist
• Even low-priced books published by various textbook
boards are pirated
• Low-priced books developed and produced locally by
Oxford University Press are pirated
• The price paid by students and parents for pirated
books are the same as of original books. The middle
man gets a higher discount. End users are cheated
into thinking they are buying original books
RROs (CONT.)
Not the right time
• Books pirates are not small traders, schools,
or universities. Photocopying done there is
miniscule
• Book pirates are powerful and dangerous
criminals with deep pockets with strong links
to the drugs and extremists' mafia
• Would the RRO like to enter into an
arrangement with them and try to collect
royalties
THE WAY FORWARD
• Amend laws
• Strengthen enforcement
• Undertake a media campaign aimed at raising
the public profile of the issue
• Raise consumer awareness of the disadvantage
indeed dangers of using pirated books
• Mobilize public opinion to pressure policy and
law makers to review and strengthen laws and
their enforcement.
• Ask celebrities to join the campaign and mention
the issue at performances and any other forum.
THE WAY FORWARD (CONT.)
• Passing reprographic rights or the
collective collection of royalties is not the
solution as the problem has gone far
beyond that stage.