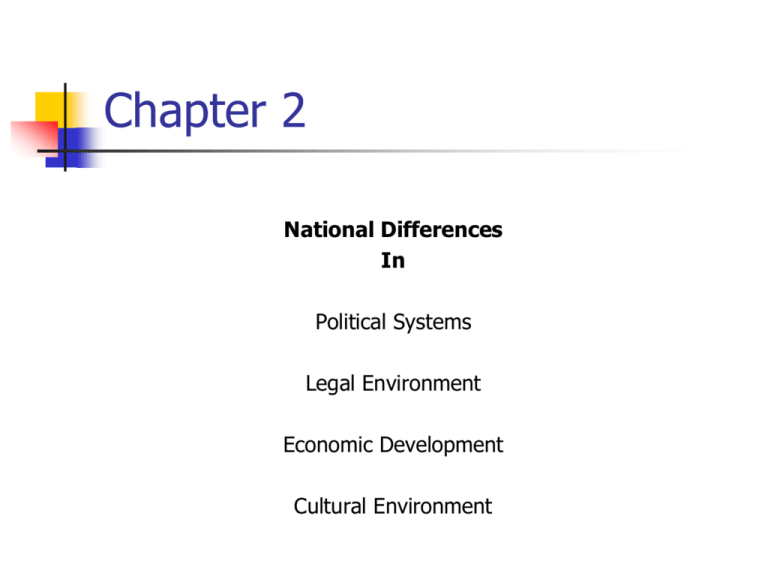 Chapter 2
National Differences
In
Political Systems
Legal Environment
Economic Development
Cultural Environment
Learning Objectives

Deregulation, Privatization

Country Attractiveness
Benefits
 Costs
First Mover vs. Last Mover Advantages

Learning Objectives

Business Environment




Political
Economic
Legal
Cultural
Chapter Focus
The term Political Economy is used to stress
that the political, economic, and legal systems
of a country are not independent of each other.
This chapter will review these systems and explore
how differences in political economy influence the
benefits, costs, and risks associated with doing
business in different countries.
Political Systems
Collectivism vs Individualism
Totalitarianism vs Democracy
Economic/Political Systems
Market Economy
Command Economy
Mixed Economy
State Directed Economy
Command
Economy
Mixed
Economy
Market
Economy
Market economy encourages innovation and economic growth.
Current trend is toward marketization.
Legal Environment
Provides a structure for laws and regulations for
business transactions.
Private Actions:
bribes, piracy
Public Actions:
taxes, incentives,
licensing, permits, fees,
protection of intellectual
property rights, product safety,
product liability
Intellectual Property Rights



Patents, Trademarks, Copyrights
New products, new ideas, new process or technology.
Original works: music, plays, books
Software
Paris Convention for the Protection of Industrial Property
Weak implementation is costly
Pirated copies of software, Rolex watches, Levi Blue Jeans, etc.
China, Thailand
Violations cost computer software industry $11.2 billion in 1996,
43% of the software applications are pirated. China's piracy rate
is 96% and cost the industry $704 million in lost sales (1996)
GATT, WTO enforce stricter regulations.
Implications for Business
National differences can affect the
attractiveness of the country as an investment
site. The overall attractiveness is determined
by the benefits, costs, and risks of doing
business.
National differences also raise some ethical
issues.