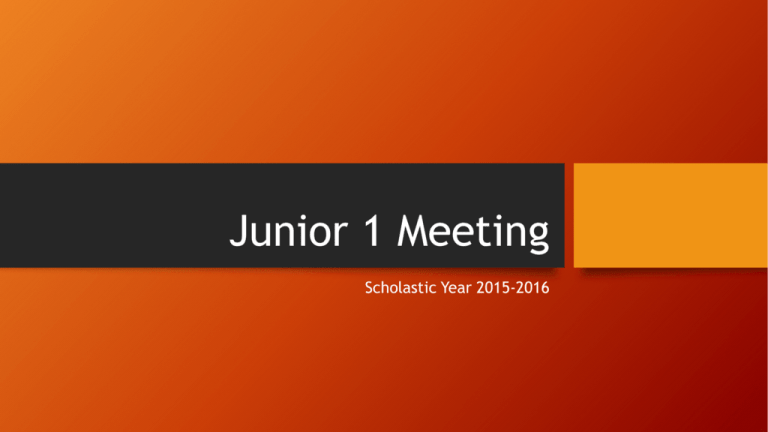 Junior 1 Meeting
Scholastic Year 2015-2016
Topic-Based Approach
• Each topic lasts for approximately 6 weeks
• Topics are linked with all the other subjects.
• Will use different authors to enhance the topics.
• This year's topics include:
•
•
•
•
•
The world around us
Recycling at Christmas
Dino Era
Exploring with food
Spring and Garden Life
Show and Tell
• Held towards end of each topic.
• Children are asked to prepare something at home which links with
the current topic and then present it in class.
• Important to check blog for information about the show and tell.
• Very important to stick to the day given.
Languages - English
• Use of Jolly Phonics System.
• We start with revising sounds.
• We take a group at a time and open up new concepts (blending,
reading, writing simple words).
• Very important to stress proper formation at home.
Spelling Game
• After last year's success these will be held as of second term.
• More information to be handed out closer to start of Spelling
games.
• We use the look, take a picture, cover and write method.
• All words and related games will be posted on blog.
Languages - Maltese
• We start by using letters which have the same sound as those in English.
• We mainly focus on vocabulary; we introduce lots of vocabulary for each
letter. Flashcards will be sent home periodically to help with this.
• Important to point at things and encourage children to use the Maltese
vocabulary at home as well.
• Dettatura (Maltese Spelling Game) is held once a week, starting during
second term.
• Extra English Booklet for foreign children who do not take Maltese.
Reading
• Will start with borrowing a book from our classroom library (to be
read to).
• Later on will have a library card and children will borrow books
from school (graded reader technique). The children will read
these to you with some help.
• Very important to instil the love for books through example and to
read a little bit everyday. 5 to 10 minutes everyday.
Maths
• Use of visual aids and manipulatives (including charts, props,
number lines).
• We will expose children to different ways to work out sums and
then each child is allowed to choose his/her preferred method.
• Concept explanation and methodology will be found on the blog
and in Reference Book.
Booklets from School
•
•
•
•
•
•
•
Items which will be bought from school:
Numbers, letters, word laminates,
Maltese flashcards,
Number lines and number grids,
Reference book handouts,
English, Maths, Malti, Science and Religion booklets.
These will be charged separately and the payment will be per
term.
Reference Book
• Used for ideas, 'tricks' and methodologies.
• Should be in children's bag everyday.
• Do use this to help children with their work at home.
Assessments
• Carried out in February and June.
• They will be very similar to the revision packs we work together in class.
• The children will be asked to choose which page they want to work on, read the
title, understand what needs to be done and carry out the task on their own.
• At this stage, assessments are NOT EXAMS; the children will be allowed to ask for
help and they will be guided where needed.
• Assessments are only intended to show us clearly where each child still needs
further help.
Blogs and E-mail
• Blog addresses: Junior 1A - www.msingridgera.wordpress.com
Junior 1B – stcathjunior1b2015.wordpress.com
Junior 1C - stcathjun1c.wordpress.com
E-mail addresses: Junior 1A – stcatherinesjunior1a@gmail.com
Junior 1B – stcathjunior1b@gmail.com
Junior 1C- stcathjunior1c@gmail.com
• Weekly curriculum forecasts and frequent updates are to be
posted on the blog. It is very important to register to the blog so
you receive frequent updates in your emails.
Practical Matters
•
Punctuality – we start at 8.00.
•
Notebook – as of term 2.
First term H.W. – pgs will be marked on the front of booklet.
•
No money is allowed for canteen.
•
Organized school bags – check everyday.
•
No toys allowed.
•
Very Important to label ALL items which are sent to school
•
Pencil case will remain in class so another will be needed for home.
Orientation Days
• Monday 28th and Tuesday 29th are orientation days, children only.
• Getting familiar with our classroom – areas, teachers, rules, junior
1 books and fun stuff to use in class.
• Also guided to go and use bathroom on their own.
• Party: Monday 28th – please send some yummy stuff to share
amongst all children. Nothing with nuts or Nutella.
Thank you
• Thank you for your attention…See you all on the 28th.
• May we face the year positively by working together,so as to make
each and every day a meaningful one for the children.