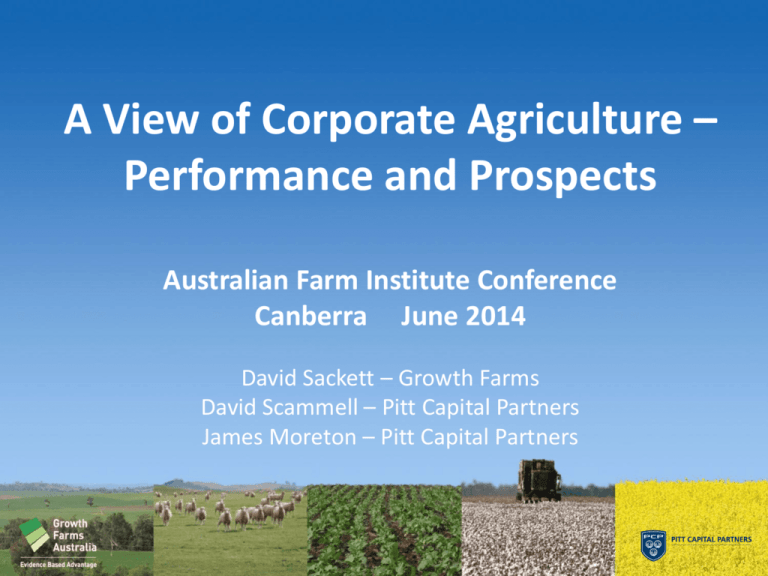 A View of Corporate Agriculture –
Performance and Prospects
Australian Farm Institute Conference
Canberra June 2014
David Sackett – Growth Farms
David Scammell – Pitt Capital Partners
James Moreton – Pitt Capital Partners
What is "corporate" agriculture?
Agriculture where the capital is provided by
someone other than the operator.
A range of models…….
•
•
•
•
•
Listed v unlisted
Retail v wholesale
Direct v fund
Operate v lease
Wholly owned v J-V
A range of motivations…….
• Financial
o
o
o
•
•
•
•
returns
inflation hedge
low correlation with equities
Food security
Low risk (capital preservation)
Marketing
Romance/ego/emotion
Advantages of corporate
agriculture……
• Access to capital
• Access to expertise (specialisation)
What is the track record?
Entity
1
2
3
4
5
6
7
8
9
Operating Return
% p.a.
5.8%
* From commencement or 1st of January 2000.
Total Investor Return
% p.a. (*)
5.4%
-3.2%
20.7%
-5.4%
-3.1%
-0.6%
0.5%
~6.0%
Good performance of any
investment requires:
• To buy well
• To manage well
The successful family farm (culture)
• Long term view
• Flexible, adaptable and responsive
• Flat management and accountable
• Lean and mean
Why have results been so
variable?
• 0veremphasis on size to bring cost
reduction & efficiencies
o
o
o
Scale benefits are mythical at farm level
Often compromises portfolio diversity (sector & regional)
Makes it harder to buy well
Variable results (cont)……
• Poor alignment between managers and investors
• Fee structures not appropriate
o
Returns typically 4-6% EBIT, 6-8% capital appreciation
• Conflicts such as rolling assets in.
Variable results (cont)……..
• Time frames are too short
o Short time frame to deploy large amounts
o Year to year variability
o Lumpy capital appreciation
Variable results (cont)…….
•A tendency to take on new and often
unproven opportunities:
o New industries
o Tax driven (forestry, vineyards, sandalwood etc)
Key issues for the future…..
• Thematic of food is widely accepted
o
Must work at current prices
• Capital is mobile so we need to compete
o
o
Sovereign risk (Aust, NZ, Nth America)
Productivity (at farm level and to port)
• Sources of capital
o
o
o
o
High net worth individuals
Family offices
Institutions ($1,800 B in super funds)
Retail v wholesale?
Key issues for the future…..
• A range of models
o
o
Large scale investors preferring direct v funds
Operate v lease v hybrid
• Lift the knowledge in both agriculture and
the investment communities.
• Better performance and transparency
o
Index?