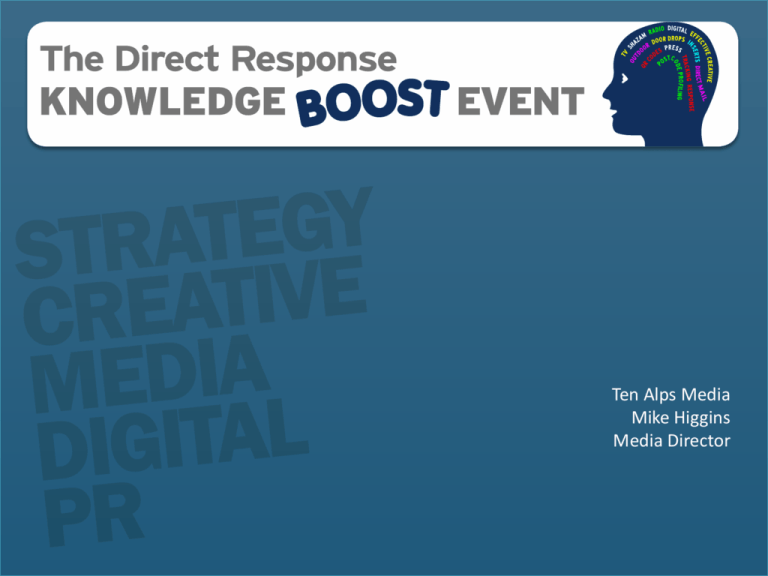 Ten Alps Media
Mike Higgins
Media Director
INTEGRATED MARKETING
INTRODUCTION
What is Direct Response Marketing
"Direct-Response Marketing is a type of marketing designed to generate an immediate response from consumers,
where each consumer response (and purchase) can be measured, and attributed to individual advertisements. [1] This
form of marketing is differentiated from other marketing approaches, primarily because there are no intermediaries
such as retailers between the buyer and seller, and therefore the buyer must contact the seller directly to purchase
products or services. Direct-response marketing is delivered through a wide variety of media, including DRTV, radio, mail,
print advertising, telemarketing, catalogues, and the Internet" – Wikipedia
"You know, in the advertising community today, there are two worlds — your
world of direct response advertising, and that other world, the world of
general advertising.
These two worlds are on a collision course. You direct response people know
what kind of advertising works and what doesn't work. You know it to a dollar.
The general advertising people don't know." - David Olgivy
INTEGRATED MARKETING
CHANGING MEDIA LANDSCAPE
INTEGRATED MARKETING
INTERNET
The Return Path for Everything
TV
Press
PR
Viral
Email
SEO
PPC
Outdoor
Website
Cinema
Social
Display
IPTV
Radio
DM
Door
Drop
INTEGRATED MARKETING
RESPONSE AND TRACKING
Informed Decision Making – what should we track?
Impressions, Impacts, Visits, Likes, Entries
Footfall, Leads, Appointments, Sales
Media Channel
Media Format
Time of day
Media Cost
Position
Day of Week
Media Eyeballs
Message
Time of Year
•
Lead timing
•
Conversion timeline
•
Lifetime value
•
Environmental factors
INTEGRATED MARKETING
THE RESPONSE FUNNEL
What Should be Tracked?
Awareness
Consideration
Action
Purchase
Broadcast Impacts
Readership
Print Runs
Leads
Appointment
Site Views
PPC Clicks
Brochure D'load
Search Results
Web Visits
Social Follow
Display
Impressions
Order / Sale
INTEGRATED MARKETING
RESPONSE AND TRACKING
Informed Decision Making – How do we track it?
Text
"win" to
88810
QUOTE: 1234
www.clickhere.co.uk/offer
0800 11 11 11
INTEGRATED MARKETING
RESPONSE AND TRACKING
Informed Decision Making – Environmental
INTEGRATED MARKETING
RESPONSE AND TRACKING
Informed Decision Making – what we do with the information
External Factors
Media
Channel
Why did
it?
Did it
Work?
Creative
Could it
work
better?
Timing
Why did it
not?
Cost
Offering
Are there
better
options?
Retest or
new
INTEGRATED MARKETING
ADALYSER
Broadcast and On-line tracking
One solution to understanding the on-line effect of offline advertising is via software tools. Ten Alps have
invested in a bespoke piece of software which looks to
overlay the visits to a website against a TV or Radio
schedule and look for statistical correlations between
spots and web visits.
INTEGRATED MARKETING
DR IN MEDIA CHANNELS
INTEGRATED MARKETING
TELEVISION
What Works
The world of TV is changing, time lapse viewing, hundreds of different channels and PVR's to name a few, but there are
methods to maximise your return from a DR strategy:•
Reduced costs – less fashionable day-parts
•
Targeted channels
•
Smaller rating spots
•
Web link - special relationship between TV and online – up to 64% surf while watching TV
•
A clear call to action and easy return path
•
Consider call handling capabilities and plan accordingly
INTEGRATED MARKETING
TELEVISION
Rules for DRTV
Thinkbox have released a number of "new" rules for DRTV that should be considered:1.
Weekends can be just as responsive as weekdays – particularly via the web
2.
DR campaigns can run into later day-parts particularly for high interest categories
3.
CB and EB can both be effective
4.
1st, 2nd and last in break are most responsive
5.
Longer time lengths can work well for DR campaigns
6.
Creative copy with compelling call to action
Full report can be viewed at http://www.thinkbox.tv/server/show/nav.1245
INTEGRATED MARKETING
TAKING TV FURTHER
Creative Solutions for 2012
Introducing Nik Wheatley From ITV
INTEGRATED MARKETING
RADIO
Response through awareness
Nearly 75% of all Radio ads contain some form of response mechanism, but how do you improve response?
•
Memorable numbers
•
Tell caller the call is free
•
Strong offer – call to action
•
Establish with at least 4 OTH
•
Spread campaign to include evenings and weekends
•
Use of different second lengths
INTEGRATED MARKETING
TAKING RADIO FURTHER
Creative Solutions for 2012
Introducing Janet Jones from Global Radio
INTEGRATED MARKETING
PRESS
Position is King
Shorter lead times and comparatively low entry costs makes press an easy starting point for any DR campaign.
•
Right context – supported by editorial if possible
•
Frequency – be there when people are ready to respond
•
Size vs. cost efficiency
•
Long Copy - readers respond to more information
•
Test copy alternatives
•
Day of week, time of year
•
Reactive messaging, fast results
INTEGRATED MARKETING
INSERTS
Targeted and Responsive
There are 2 main insert routes to market:1.
Publication – national or regional, specialist or broad
2.
3rd Party – distributed in share schemes, catalogues, product dispatch etc
There are several different types, the main ones being:1.
Loose – look for poly bagging
2.
Bound in – additional cost, specification restrictions
3.
Tip-ons – appears on advertising page site , sampling.
4.
Post-its – quick and easy reminder execution
INTEGRATED MARKETING
DOOR DROPS
Direct to the Door
There are 3 main routes direct into the home via door drops
1.
Newshare Distribution
2.
Team Distribution
3.
Royal Mail Distribution
All 3 distribution methods can be use various different postcode targeting, for example Acorn
INTEGRATED MARKETING
DOOR DROPS – THE TARGETING
Direct to the Door
Introducing Mr Stu Pickup from The Insert Company
INTEGRATED MARKETING
DIRECT MAIL
Direct and Personal
The ultimate targeting tool, identifying individuals via profiling or previous purchase, building your brand data base is a
powerful tool.
1.
Internal lists, purchasers or enquirers – 90% of consumers are more likely to open mail if they are already a
customer of the company
2.
Profiled cold lists
3.
3rd Party share programmes
4.
Survey results
INTEGRATED MARKETING
DIRECTORIES
The Paper Search Engine
From a regional listings point of view, whether online or via
the traditional paper method, directories still generate
thousands of searches a day
1.
People don't browse directories they have a need, leads
here are generally very high quality
2.
Older age groups are still big users of the print version,
but this is bound to change
INTEGRATED MARKETING
OUTDOOR
Mass Media with a Response?
Not traditionally seen as a direct response medium, research proving the DR case for outdoor is very thin on the
ground, although some of the more modern techniques may well change this.
•
QR Codes
•
Text short codes
•
Proximity Marketing
•
Wireless
•
Bluetooth
•
NFC – Near Field Communications
INTEGRATED MARKETING
SUMMARY
By Media
Television
Inserts and Door Drops
• Lots of opportunities for targeting
• Difficult to track directly
• Longer lead times
• Targeted & trackable, easy tests
• National and Regional
Direct Mail
Radio
• Drives efficient response via awareness
• A secondary medium can be difficult to
track
Press
• Fits in with DR planning, generally trackable
• Consider positioning, DoW, Messaging
• Tactical media short lead times
• Very targeted, high response rates
• Postage costs can make expensive
Directories
• Good quality responses
• Usage eroded by web searches
Outdoor
• Not recognised as DR Route
• New technology might change this
INTEGRATED MARKETING
SUMMARY
Direct Response is Alive and Kicking – but changing
At any level of direct response the key is to understand your objectives and how you are going to measure and track
against these:1.
Consider objectives and make measurable and realistic
2.
Understand tracking process and any influences there might be on these
3.
Test and re-assess
INTEGRATED MARKETING
THANK YOU
?