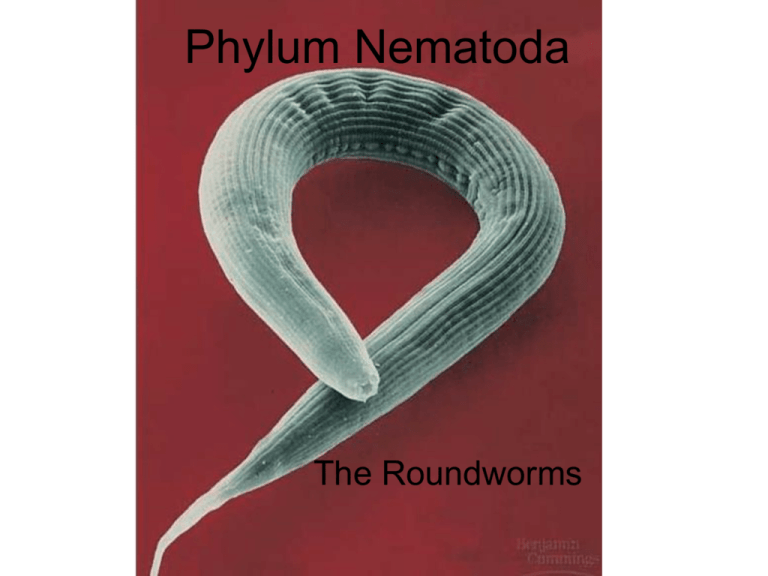 Phylum Nematoda
The Roundworms
Phylum Level Characteristics
• round, not flattened
• no segmentation
• complete digestive system
– (2 openings: mouth and anus)
• -soft bodied, hydrostatic skeleton
• -bilateral symmetry
• No circulatory system
– Nutrients and wastes diffuse through body cells
Nervous System
• Exhibit cephalization as they have a
"head" end
• In head are several ganglia or nerve
bundles, no real "brain"
• Have sense organs that detect chemicals
given off by prey or hosts
• Longitudinal muscles so movement is
"snake-like"
Reproduction
• Sexual
• Most species have separate males and
females, a few are hermaphroditic
• Fertilization occurs within the female
• Parasitic life cycles can involve many
hosts
Diversity
• most are free-living
• found in all habitats
• very successful (high # of species and
large #'s of them)
Diversity
• parasitic round worms also infect most
kinds of animals and plants
• -i.e. Ascaris infects
humans
Ascaris Life Cycle
• Adult worms live in intestines
– Produce many eggs that leave in hosts feces
• Feces contaminated food or water eaten by
another host
– Eggs hatch in intestine of new host
– Young worms burrow into the walls of the intestine
and enter surrounding blood vessels
– Carried by blood, worms end up in lungs
– Travel up air passage into throat then are swallowed
– Carried back to intestines where process begins
again!
ascaris animation
Diversity
• -i.e. hookworm can enter body through
bare feet
Hookworm Life Cycle
• Hookworm eggs hatch and develop in soil
• Use sharp teeth and hooks to burrow into feet
• Continue burrowing until they enter the
bloodstream
• Travel to lungs, coughed up and swallowed to
eventually reach intestines
• Adult worms dig into intestinal wall and suck
blood of host
http://www.youtube.com/watch?v=tGHAlmCj3DM
Assignment:
1. Watch Nematoda video
2. Complete nematoda worksheet
3. Complete nematoda flash cards!
Please remind me that we need to catch up
on the "ecological significance" notes for
the last 2 phyla!!