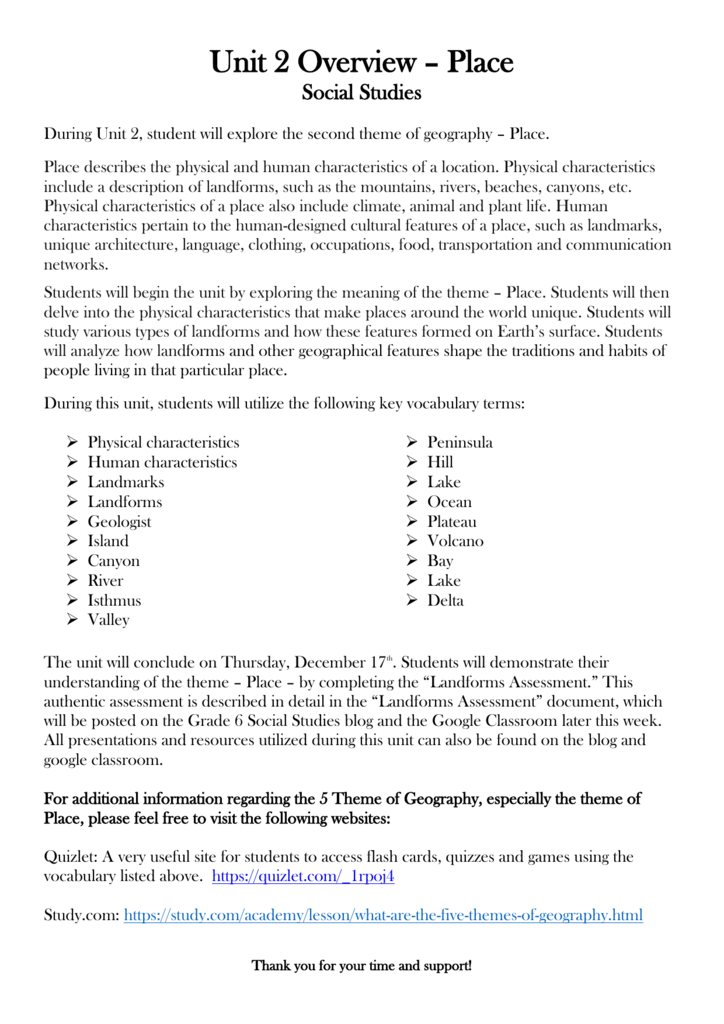 Unit 2 Overview – Place
Social Studies
During Unit 2, student will explore the second theme of geography – Place.
Place describes the physical and human characteristics of a location. Physical characteristics
include a description of landforms, such as the mountains, rivers, beaches, canyons, etc.
Physical characteristics of a place also include climate, animal and plant life. Human
characteristics pertain to the human-designed cultural features of a place, such as landmarks,
unique architecture, language, clothing, occupations, food, transportation and communication
networks.
Students will begin the unit by exploring the meaning of the theme – Place. Students will then
delve into the physical characteristics that make places around the world unique. Students will
study various types of landforms and how these features formed on Earth's surface. Students
will analyze how landforms and other geographical features shape the traditions and habits of
people living in that particular place.
During this unit, students will utilize the following key vocabulary terms:










Physical characteristics
Human characteristics
Landmarks
Landforms
Geologist
Island
Canyon
River
Isthmus
Valley









Peninsula
Hill
Lake
Ocean
Plateau
Volcano
Bay
Lake
Delta
The unit will conclude on Thursday, December 17th. Students will demonstrate their
understanding of the theme – Place – by completing the "Landforms Assessment." This
authentic assessment is described in detail in the "Landforms Assessment" document, which
will be posted on the Grade 6 Social Studies blog and the Google Classroom later this week.
All presentations and resources utilized during this unit can also be found on the blog and
google classroom.
For additional information regarding the 5 Theme of Geography, especially the theme of
Place, please feel free to visit the following websites:
Quizlet: A very useful site for students to access flash cards, quizzes and games using the
vocabulary listed above. https://quizlet.com/_1rpoj4
Study.com: https://study.com/academy/lesson/what-are-the-five-themes-of-geography.html
Thank you for your time and support!