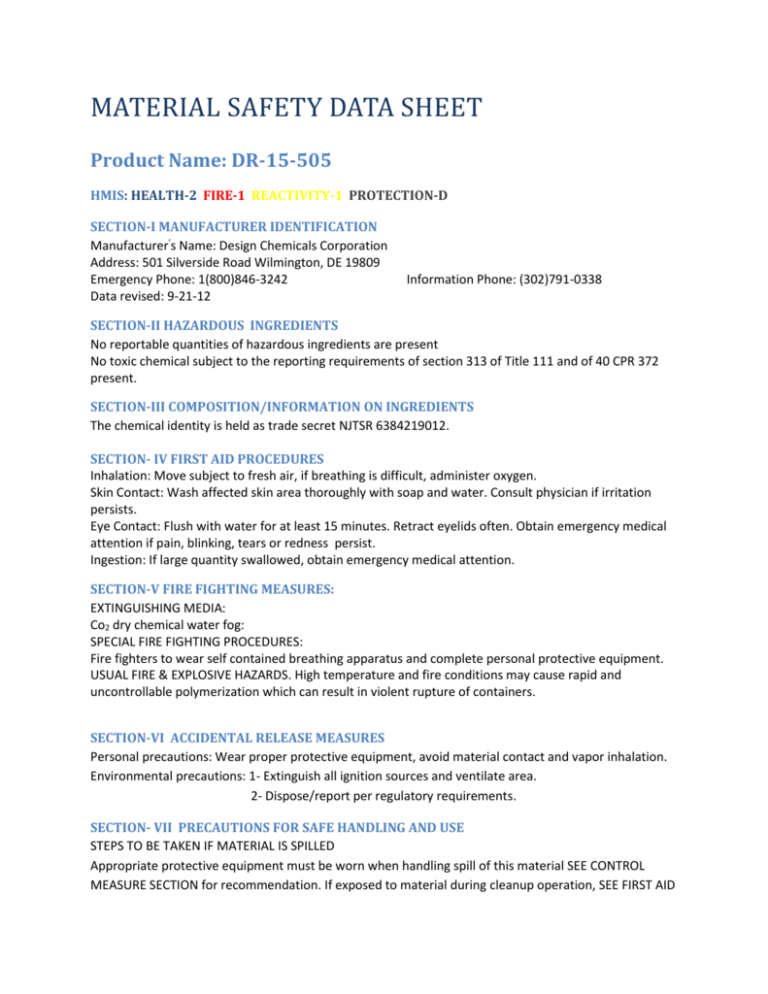 MATERIAL SAFETY DATA SHEET
Product Name: DR-15-505
HMIS: HEALTH-2 FIRE-1 REACTIVITY-1 PROTECTION-D
SECTION-I MANUFACTURER IDENTIFICATION
Manufacturer's Name: Design Chemicals Corporation
Address: 501 Silverside Road Wilmington, DE 19809
Emergency Phone: 1(800)846-3242
Data revised: 9-21-12
Information Phone: (302)791-0338
SECTION-II HAZARDOUS INGREDIENTS
No reportable quantities of hazardous ingredients are present
No toxic chemical subject to the reporting requirements of section 313 of Title 111 and of 40 CPR 372
present.
SECTION-III COMPOSITION/INFORMATION ON INGREDIENTS
The chemical identity is held as trade secret NJTSR 6384219012.
SECTION- IV FIRST AID PROCEDURES
Inhalation: Move subject to fresh air, if breathing is difficult, administer oxygen.
Skin Contact: Wash affected skin area thoroughly with soap and water. Consult physician if irritation
persists.
Eye Contact: Flush with water for at least 15 minutes. Retract eyelids often. Obtain emergency medical
attention if pain, blinking, tears or redness persist.
Ingestion: If large quantity swallowed, obtain emergency medical attention.
SECTION-V FIRE FIGHTING MEASURES:
EXTINGUISHING MEDIA:
Co2 dry chemical water fog:
SPECIAL FIRE FIGHTING PROCEDURES:
Fire fighters to wear self contained breathing apparatus and complete personal protective equipment.
USUAL FIRE & EXPLOSIVE HAZARDS. High temperature and fire conditions may cause rapid and
uncontrollable polymerization which can result in violent rupture of containers.
SECTION-VI ACCIDENTAL RELEASE MEASURES
Personal precautions: Wear proper protective equipment, avoid material contact and vapor inhalation.
Environmental precautions: 1- Extinguish all ignition sources and ventilate area.
2- Dispose/report per regulatory requirements.
SECTION- VII PRECAUTIONS FOR SAFE HANDLING AND USE
STEPS TO BE TAKEN IF MATERIAL IS SPILLED
Appropriate protective equipment must be worn when handling spill of this material SEE CONTROL
MEASURE SECTION for recommendation. If exposed to material during cleanup operation, SEE FIRST AID
PROCEDURES SECTION for actions to follows. Absorb with inert material. Keep spills and runoffs out of
municipal sewers and open bodies of water.
SECTION- VIII EXPOSURE CONTROLS MEASURES:
RESPORATORY PROTECTION
None required if used at room temperature. If material is heated, wear MSHA/NIOSH approved full
mask air purifying respirator. Air purifying respirators should be equipped with particulate pre filters.
VENTILATION
Use local exhaust ventilation.
PROTECTIVE GLOVES
Gloves made of neoprene provide adequate protection against permeation
OTHER PROTECTIVE CLOTHING OR EQUIPMENT
Facilities storing or utilizing material should be equipped with eyewash station and safety shower
WORK/HYGIENIC PRACTICES:
Work in well ventilated area. Wash skin thoroughly with soap and water use.
SECTION- IX PHYSICAL AND CHEMICAL PROPERTIES:
BOLING RANGE: N/A
VAPOR DENSITY (AIR = 1) : <1
SOLUBILITY IN WATER: NONE
Flash Point: > 2120F
SPECIFIC GRAVITY (H20=10): 1.1
EVAPORATION RATE (Bac =10) <1
APPEARANCE & ODOR: liquid, acryl ate odor
SECTION- X CHEMICAL STABILITY AND REACTIVITY INFORMATION:
STABILITY: Stable on normal condition.
CONDITION TO AVOID:
Don't expose to temperature above 100oF or light
INCOMPATABILITY (MATERIAL TO AVOID)
oxidizing agents, peroxides copper, high temperature, localized heat sources (i.e drum or band heaters)
freezing conditions, direct sunlight.
HAZARDOUS POLYMERIZATION
Product will not go polymerization under normal conditions.
SECTION- XI TOXICOLOGICAL INFORMATION:
Inhalation: Mildly irritating chest pains.
SKIN & EYE CONTACT HEALTH SYMPTOMS OF EXPOSURE
Skin contact: Prolong or repeated skin contact can cause skin irritation and may cause dermatitis
eye contact: irritation may aggravate exiting conditions.
INDESTION HEALTH RISKS AND SYMPTOMS OF EXPOSURE
Do not induce vomiting. Consult a physician.
Never give anything by mouth to an unconscious person
INHALATION HEALTH RISKS AND SYMPTOMS OF EXPOSURE
Inhalation: Mildly irritating chest pains.
MEDICAL CONDIITON GENERALLY AGGRAVATED BY EXPOSURE.
ON prolonged contact some people can get allergic reaction or sanitization may occur.
SECTION-XII ECOLOGICAL INFORMATION
Ecological toxicity: Harmful to fish
Persistence and degradability: No relative information available
Bio-accumulative potential: No adverse effects expected.
Mobility in soil: Insoluble in water No relative information .
Other adverse effects: none known
SECTION XIII WASTE DISPOSAL METHOD
Incinerate or use biological treatment in accordance with Federal and local regulation.
PRECAUTIONS TO BE TAKEN IN HANDLING AND STORAGE
Store at temperature below 900F. Do not expose to light for extended period of time.
SECTION XIV TRANSPOTATION INFORMATION
Not classified as dangerous in meaning of transportation regulations.
SECTION XV REGULATORY INFORMATION
U.S Federal regulations
TSCA Inventory Status and TSCA information
This material or its components are listed on or in compliance with the requirements of the TSCA
Substance inventory.
TSCA 12(b) Export Notification:
This material does not contain any TSCA 12(b) regulated chemicals.
CERCLA Regulated Chemicals:
This material does not contain any CERCLA regulated chemicals.
SARA 302 EHS Chemicals:
This material does not contain any SARA extremely hazardous substances.
SARA 311/312 Hazard Class:
This product does not present any SARA 311/312 hazards.
California proposition 65 carcinogens
Benzophenone Cas #119-61-9
3% to 8%
DISCLAIMER: This information contained herein is based on data considered accurate. However, no
warranty is expressed or implied regarding the accuracy of these data or results to be obtained from the
use thereof. We assume no responsibility for any loss, damage direct or implied arising from the use of
material.