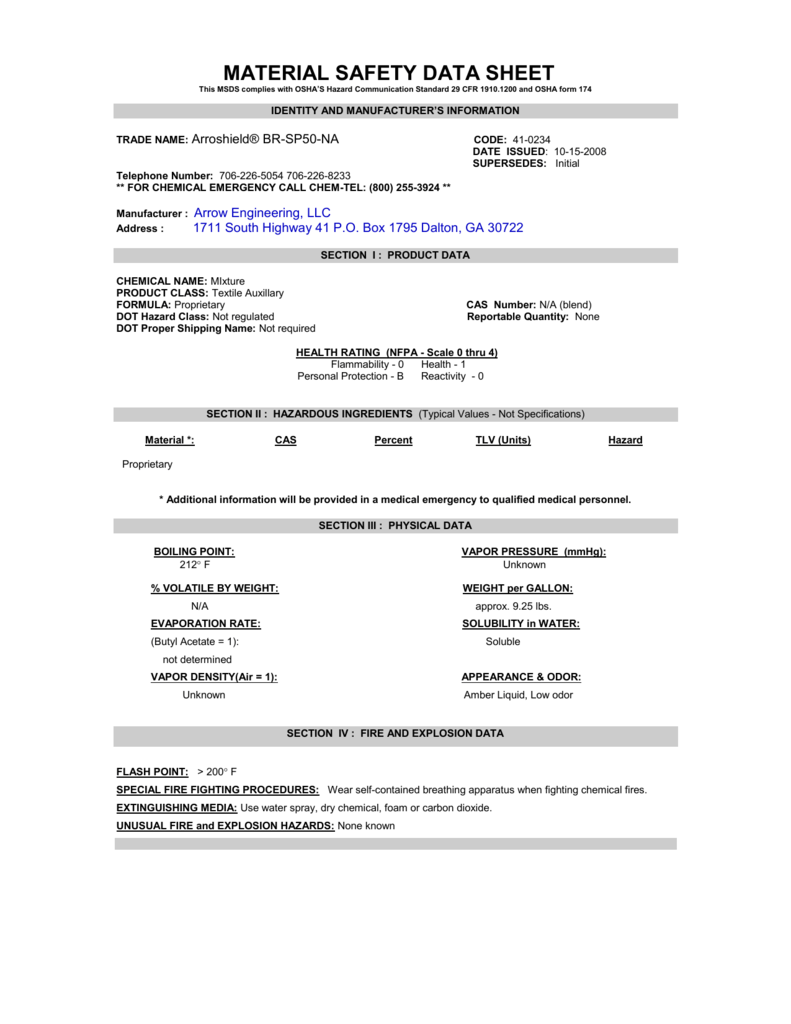 MATERIAL SAFETY DATA SHEET
This MSDS complies with OSHA'S Hazard Communication Standard 29 CFR 1910.1200 and OSHA form 174
IDENTITY AND MANUFACTURER'S INFORMATION
TRADE NAME: Arroshield®
BR-SP50-NA
CODE: 41-0234
DATE ISSUED: 10-15-2008
SUPERSEDES: Initial
Telephone Number: 706-226-5054 706-226-8233
** FOR CHEMICAL EMERGENCY CALL CHEM-TEL: (800) 255-3924 **
Manufacturer :
Address :
Arrow Engineering, LLC
1711 South Highway 41 P.O. Box 1795 Dalton, GA 30722
SECTION I : PRODUCT DATA
CHEMICAL NAME: MIxture
PRODUCT CLASS: Textile Auxillary
FORMULA: Proprietary
DOT Hazard Class: Not regulated
DOT Proper Shipping Name: Not required
CAS Number: N/A (blend)
Reportable Quantity: None
HEALTH RATING (NFPA - Scale 0 thru 4)
Flammability - 0
Health - 1
Personal Protection - B
Reactivity - 0
SECTION II : HAZARDOUS INGREDIENTS (Typical Values - Not Specifications)
Material *:
CAS
Percent
TLV (Units)
Hazard
Proprietary
* Additional information will be provided in a medical emergency to qualified medical personnel.
SECTION III : PHYSICAL DATA
BOILING POINT:
212 F
VAPOR PRESSURE (mmHg):
Unknown
% VOLATILE BY WEIGHT:
WEIGHT per GALLON:
N/A
approx. 9.25 lbs.
EVAPORATION RATE:
SOLUBILITY in WATER:
(Butyl Acetate = 1):
Soluble
not determined
VAPOR DENSITY(Air = 1):
APPEARANCE & ODOR:
Unknown
Amber Liquid, Low odor
SECTION IV : FIRE AND EXPLOSION DATA
FLASH POINT: > 200 F
SPECIAL FIRE FIGHTING PROCEDURES: Wear self-contained breathing apparatus when fighting chemical fires.
EXTINGUISHING MEDIA: Use water spray, dry chemical, foam or carbon dioxide.
UNUSUAL FIRE and EXPLOSION HAZARDS: None known
SECTION V : HEALTH HAZARD DATA
Threshold Limit Value: See section II: Hazardous Ingredients.
EFFECTS OF OVER EXPOSURE
Route of Entry: Inhalation, skin, ingestion and eyes.
Target Organs: Not Determined
Inhalation: Minimal respiratory tract irritation may occur with exposure to a large amount of material.
Skin Contact: Prolonged or repeated contact may cause skin dryness or irritation.
Eye Contact: Will cause irritation.
Ingestion: Swallowing this product may cause gastrointestinal irritation, diarrhea, nausea and vomiting.
EMERGENCY AND FIRST AID PROCEDURES
Inhalation: Remove to fresh air, if breathing is difficult administer oxygen. Contact a physician
Skin Contact: Wash exposed area with soap and water, remove contaminated clothing and launder before reuse. If
irritation develops contact a physician.
Eye Contact: Flush eyes with water, seek medical attention if eye irritation exists.
Ingestion: Do not induce vomiting, dilute by drinking water, if vomiting occurs, administer more water. Never give fluids
or induce vomiting if patient is unconscious. Seek immediate medical attention.
SECTION VI : REACTIVITY DATA
STABILITY:
Stable
HAZARDOUS DECOMPOSITION PRODUCTS:
Combustion may produce CO2 and CO.
HAZARDOUS POLYMERIZATION:
Will not occur
INCOMPATIBILITY( MATERIALS TO AVOID ):
Strong oxidizing agents
SECTION VII : SPILL OR LEAK PROCEDURES
ACCIDENTAL RELEASE MEASURES
Small Spill: Soak up with absorbent medium and transfer into suitable container.
Large Spill: Get protective equipment. Contain spill and pump into metal drums. Notify appropriate governmental
authorities if spill enters sewer or regulated water.
Waste Disposal Method
Dispose of contaminated absorbent material in accordance with local, State and Federal regulations.
SECTION VIII : SPECIAL PROTECTION INFORMATION
Engineering Controls:
Local ventilation recommended, mechanical ventilation may be used.
Protective Equipment:
Respiratory Protection: None normally required.
Protective Gloves: Rubber or neoprene gloves.
Eye Protection: Chemical safety glasses
Other: Good housekeeping practices should include making sure all containers are kept closed and properly stored.
Properly maintain an eyewash facility in the work area.
SECTION IX : SPECIAL PRECAUTIONS
Handling and Storage: Handle with due care and avoid personal contact. Since emptied containers retain product
residues (vapor, liquid and/or solid), all hazard precautions given in this MSDS must be observed.
Other Precautions: Store at normal temperatures and conditions of warehousing. Keep container closed when not in
use. Avoid allowing product to freeze.
SECTION X : MISCELLANEOUS
US FEDERAL REGULATIONS
TSCA (Toxic Substances Control Act) Status: This product and/or all of its components are included on the TSCA
Inventory of Chemical Substances.
SARA 311/312 Hazard Class - 40 CFR 370.2: NONE
SARA 313 Components - 40 CFR 372.65: NONE
SARA 302 Extremely Hazardous Substances: NONE
CERCLA Hazardous Substances:
NONE
STATE AND LOCAL REGULATIONS
Disclaimer: Although reasonable care has been taken in the preparation of this document, we extend no warranties and
make no representations as to the accuracy or completeness of the information contained herein, and assume no
responsibility regarding the suitability of this information for the user's intended purposes or for the consequences of its
use. Individuals should make a determination as to the suitability of the information for their particular purpose(s).