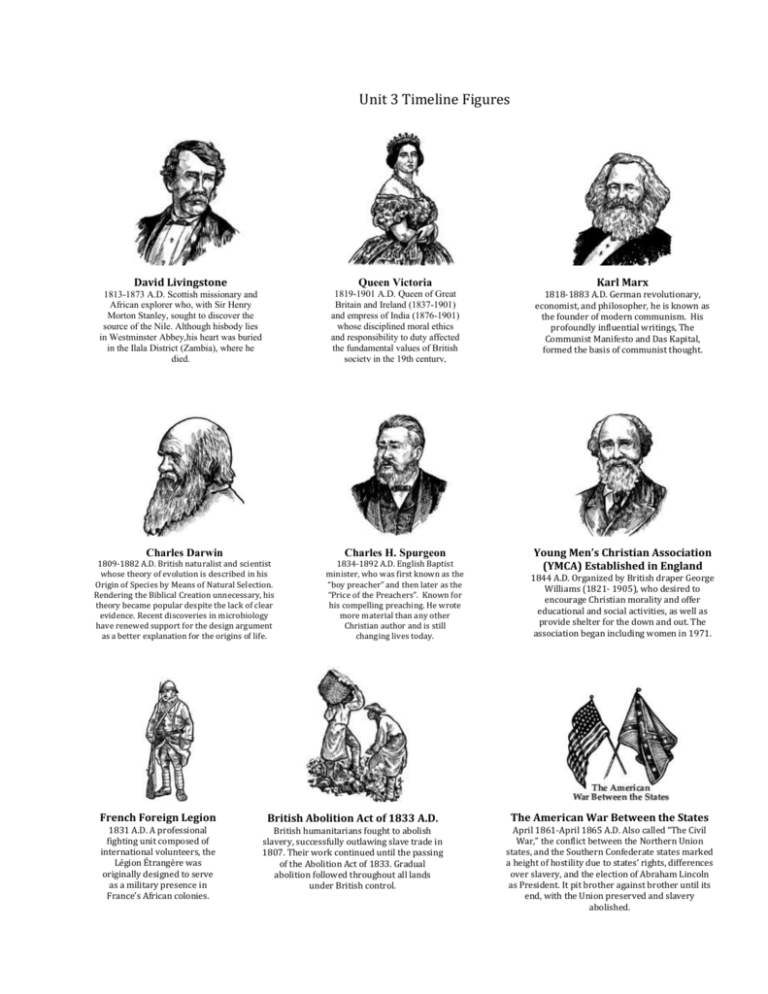 Unit 3 Timeline Figures
David Livingstone
Queen Victoria
Karl Marx
1813-1873 A.D. Scottish missionary and
African explorer who, with Sir Henry
Morton Stanley, sought to discover the
source of the Nile. Although hisbody lies
in Westminster Abbey,his heart was buried
in the Ilala District (Zambia), where he
died.
1819-1901 A.D. Queen of Great
Britain and Ireland (1837-1901)
and empress of India (1876-1901)
whose disciplined moral ethics
and responsibility to duty affected
the fundamental values of British
society in the 19th century,
1818-1883 A.D. German revolutionary,
economist, and philosopher, he is known as
the founder of modern communism. His
profoundly influential writings, The
Communist Manifesto and Das Kapital,
formed the basis of communist thought.
giving rise to the term
"Victorian England."
Charles Darwin
1809-1882 A.D. British naturalist and scientist
whose theory of evolution is described in his
Origin of Species by Means of Natural Selection.
Rendering the Biblical Creation unnecessary, his
theory became popular despite the lack of clear
evidence. Recent discoveries in microbiology
have renewed support for the design argument
as a better explanation for the origins of life.
French Foreign Legion
1831 A.D. A professional
fighting unit composed of
international volunteers, the
Légion Étrangère was
originally designed to serve
as a military presence in
France's African colonies.
Charles H. Spurgeon
1834-1892 A.D. English Baptist
minister, who was first known as the
"boy preacher" and then later as the
"Price of the Preachers". Known for
his compelling preaching. He wrote
more material than any other
Christian author and is still
changing lives today.
British Abolition Act of 1833 A.D.
British humanitarians fought to abolish
slavery, successfully outlawing slave trade in
1807. Their work continued until the passing
of the Abolition Act of 1833. Gradual
abolition followed throughout all lands
under British control.
Young Men's Christian Association
(YMCA) Established in England
1844 A.D. Organized by British draper George
Williams (1821- 1905), who desired to
encourage Christian morality and offer
educational and social activities, as well as
provide shelter for the down and out. The
association began including women in 1971.
The American War Between the States
April 1861-April 1865 A.D. Also called "The Civil
War," the conflict between the Northern Union
states, and the Southern Confederate states marked
a height of hostility due to states' rights, differences
over slavery, and the election of Abraham Lincoln
as President. It pit brother against brother until its
end, with the Union preserved and slavery
abolished.
Andrew Murray
1828-1917 A.D. Born in Graaff Reinet,
South Africa, his Scottish family had
emigrated to Africa, where his father
pastored a church. Becoming a pastor
himself, his prayers for revival were
answered in 1860 with a physical
manifestation of the Holy Spirit and
many conversions.
Samuel Morris 1872-1893 A.D.
Born in Liberia as Prince Kaboo of the
Kru tribe, he was surrendered to the
Grebos to pay for "war taxes." While
being tortured, a blinding light from
heaven told him to "Rise up and run." He
was led to missionaries who shared the
gospel with him. He studied the Bible at
Taylor University in the U.S. and revival
spread wherever he shared his testimony.
Scramble for Africa
The Suez Canal Built in 1869
1877-1914 A.D. A rivalry of
European powers to rapidly
colonize Africa. Led by
Britain and France, it
included Belgium,
Germany, and Italy.
A ship canal in Egypt linking the
Mediterranean Sea to the Gulf of Suez,
and then to the Red Sea. Designed and
built by French engineer Ferdinand de
Lesseps, it was under British control
from 1875 until 1956, when Egyptian
President Nasser nationalized it. In
connection with the Six- Day War, Egypt
blocked the canal in 1967, forcing its
shut-down until 1975.
Mary Slessor
1848-1919 A.D. Scottish
missionary, whose calling led her
to the Calabar coast of Africa and
eventually to the Okoyong tribe,
where she brought many to faith
and drew them out of isolation.
She rescued many twins from
infanticide and became known as
"Ma Slessor".
1867 A.D. An act in which British parliament established the self-governing
Dominion of Canada, uniting Canada East and West (now Quebec and
Ontario), New Brunswick, and Nova Scotia. The federation was later joined
by territories of the Hudson's Bay Company, British Columbia, Prince
Edward Island, and Newfoundland.
Sir Henry Stanley
1841-1904 A.D. Welsh-born American
journalist and explorer who traveled to
Africa to find Dr. Livingstone. He then
accompanied Livingstone on an
expedition to find the source of the Nile.
His greatest journey trailed the Congo's
course across Africa from Zanzibar to
the Atlantic. He was influential in the
establishment of the Congo Free State
for Belgium.
1853-1856 A.D. A conflict between Russia
and a group of nations, which included
Britain, France, Sardinia, and the Ottoman
Empire. Caused by Russia's wishes to
institute a protectorate over Orthodox
Christians in the Ottoman Empire, its
occupation of Moldavia and Walachia led
to Turkey declaring war. With over
650,000 lives lost, hostilities ended with
the Treaty of Paris.
Anglo-Zulu War
1879 A.D. Cetshwayo (c. 18261884), King of the Zulus, led the
Zulu army in a decisive victory
over the British army, but was later
defeated at Ulundi and captured.
He was restored to central
Zululand in 1883.