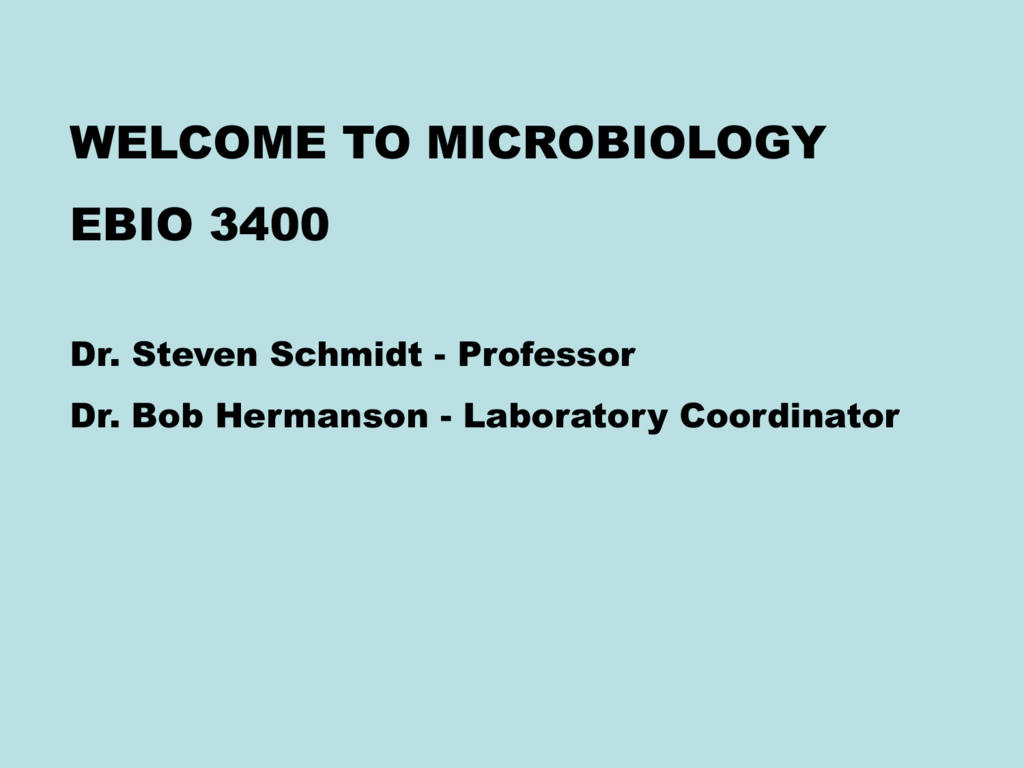 WELCOME TO MICROBIOLOGY
EBIO 3400
Dr. Steven Schmidt - Professor
Dr. Bob Hermanson - Laboratory Coordinator
Texts
Lecture:
Nester, E.W. et al. 2004. Microbiology,
A Human Perspective. 4th ed. McGraw-Hill.
Lab:
Basey, J.M. & S. Perkins. 2004. Microbiology Lab.
The Robin Works.
Class Outlines etc:
Go to:
http://www.colorado.edu/eeb/EEBprojects/schmidtlab/studentres/EBIO3400/index.htm
Or
http://www.colorado.edu/eeb/EEBprojects/schmidtlab/
And follow the links
Or
the EE Biology site and follow the links…..
I'll post outlined notes, usually the night before class…
WHAT IS MICROBIOLOGY?
The study of small organisms.
Viruses, Viroids & Prions
(not really "organisms")
Prokaryotes:
Bacteria & Archaea
Eukaryotic Microbes:
Algae
Fungi
"Protozoa"
LIFE IS DIVIDED INTO 3 DOMAINS
Table 1.2
Table 1.3
How small is small?
MICRON or MICROMETER
- 1 millionth of a meter (10-6 meters)
- symbol is µ
NANOMETER
- 1 billionth of a meter (10-9
meters)
Bacteria are usually several micrometers in diameter.
Fungi are about 10+ micrometers in diameter
Fig. 1.13
THE HISTORY OF MICROBIOLOGY
We will look at natural history and
human history
MICROBES ARE EVERYWHERE!
• earliest life - 3.8 billion years old
• represent more than half of the biomass
(animals <15%)
• almost every natural surface
• important symbionts
• vital to the ecosystem
BACTERIAL SYMBIONTS
MICROORGANISMS ARE VITAL TO NUTRIENT
CYCLING
MICROBIAL GENETICS
MICROBIAL GENOMICS
FOOD MICROBIOLOGY
Bread
Cheese
Wine
Yogurt
Beer
Sauerkraut
BACTERIAL PATHOGENS
OTHER BACTERIAL PATHOGENS
Y. pestis
N. meningitis
B. burgdorferi
VIRAL PATHOGENS
HIV
Ebola
Smallpox
EUKARYOTIC PATHOGENS
Plasmodium
Giardia
Entamoeba
Fig. 1.3. Emerging infectious diseases
Make sure that you are
registered for a lab section
LABS START TOMORROW!!