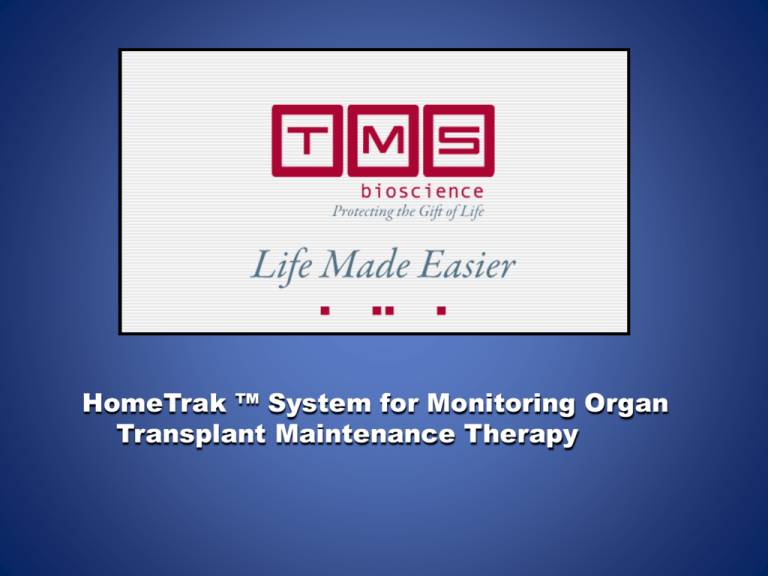 HomeTrak ™ System for Monitoring Organ
Transplant Maintenance Therapy
HomeTrak™ System
Outline of Presentation
HomeTrak™ System
Therapeutic Drug Monitoring of Immunosuppressants (TDM-IS)
The Overall Process
HomeTrak™ System
Equivalence to Venous Samples
Tacrolimus
n=161 tests
1.8% mean
absolute
difference
Rapamycin
n= 67 tests
2.9% mean
absolute
difference
Altman-Bland Analysis – demonstrates
Equivalence of capillary to venous blood
in testing
Cyclosporin
n=70 tests
1.2% mean
absolute
difference
NOTE: current ongoing data
comparison shows capillary vs.
venous Everolimus correlation
exceeds Sirolimus correspondence
Example Comparisons in Consecutive Individual Patient Tests
Tacrolimus - Venous vs.
Capillary
Sirolimus - Venous vs. Capillary
30
20
25
15
20
Cap TAC pt2
10
Venous TAC pt2
Venous
SIRO pt7
Cap SIRO
pt7
15
10
5
5
0
1
2
3
4
5
6
0
1
2
3
4
5
6
Cyclosporine A - Venous vs.
Capillary
290
270
250
230
Cap CsA pt12
210
Venous CsA pt12
190
170
150
1
2
3
4
5
6
7
8
9
LC-MS/MS analysis with Waters Acquity / Quattro
Micro system – TMS BioScience in collaboration with
Tulane Abdominal Transplant Program 2007 IRB Study
HomeTrak™ System
Advantages
HomeTrak Advantages
At-home sampling allows frequent monitoring - cases of
noncompliance or difficulty in achieving proper drug levels
Frequent monitoring of
immunosuppressant drugs levels is
essential for proper transplant care
Emerging Goals in Transplantation
Drug Levels must be CLOSELY monitored - Frequent and Flexible Testing is absolutely
necessary - TMS BioScience Labs HomeTrak ™ accomplishes this Critical Goal
Reduce Side Effects of
Immunosuppressant
Medication Therapy
Decrease Risk of
Cardiovascular
Disease & Diabetes
Preservation of
Kidney Function
With recently improved short-term outcomes, emerging long-term goals in organ transplantation
include minimization of CNI immunosuppressant (IS) drug toxicities, with special emphasis on
reducing nephrotoxicity and other direct cardiovascular effects of currently used agents
BY TRANSITIONING THERAPY to mTOR INHIBITORS such as EVEROLIMUS.
Emerging Goals in Transplantation
Secondary Diseases are Major Causes of Death in Transplant Patients
HomeTrak™ System
Use for Emerging Goals in Transplantation Therapy
• HomeTrak facilitates frequent drug monitoring
assists low dose CNI treatment (minimization)
• Surveillance of patient medication adherence
• Transition to mTOR therapy in chronic
allograft nephropathy from CNI treatment
• The addition of creatinine & BUN renal profile
assists team in monitoring kidney function
• Liver enzymes can detect hepatic injury
HomeTrak™ System
Special Utility of HomeTrak
Tandem Mass Spectrometry Instrument (MS/MS)
• Most Accurate Analytic Method - lowest limit of detection
• Most Specific Method – no metabolite interference
Alternative Sampling Strategy
• Allows analysis of small blood sample volumes
• Small sample volumes allow at-home fingerstick sampling
Timely Results Reporting
• High through-put platform – hundreds of tests / 24 hours
• 2 minute / test produces rapid results for clinicians
HomeTrak™ System
Additional Tests to TDM-IS
• Serum is separated by a proprietary process in
TMS BioScience Labs
• Creatinine & BUN – renal profile and
adjustment of medication dosage (clearance)
• Liver Enzymes – SGOT & SGPT liver injury
• Other serum tests can be performed (custom)
• Serum Biomarkers (research) may be assayed
Equivalence of HomeTrak Venous vs Capillary samples in Renal Tests
CREAT
2.00
BUN
25
1.50
20
1.00
15
10
0.50
5
0.00
0
1
2
3
--- Venous
--- Capillary
4
5
6
1
2
3
4
5
6
--- Venous
--- Capillary
Venous vs. Capillary Samples – Clinical Chemistry – Creatinine & BUN
•
•
•
Normal volunteers – NaEDTA collection simultaneous venous & capillary
Alfa-Wassermann - ACE Alera Clinical Chemistry Analyzer
TMS BioScience Labs - internal data on file
Venous vs Capillary Samples for Renal Profile Tests
CREAT
1.6
1.4
1.2
1
Venuos
0.8
Capillary
0.6
0.4
0.2
0
BUN
25
20
15
10
Venuos
Capillary
•
5
•
0
•
Normal volunteers – NaEDTA
collection simultaneous venous
& capillary
Alfa-Wassermann - ACE Alera
Clinical Chemistry Analyzer
–TMS BioScience internal data
on file
HomeTrak™ System
Additional Tests
• CBC with differential (complete blood count)
done by desk-top flow cytometry –provides
anemia analysis, white cell count & automatic
differential, and platelet count – monitor
blood system effects of immunosuppressants
• BK viral load copy # in blood by qRT-PCR (AB
7500) to screen for viral nephropathy – (CMV,
EB, JC, other screens in development)
At-Home Sample Collection
a simple & straightforward process
> 98.6% success in patient performance
in 80+ patients evaluated
Micro Collection Tubes
Patients provided
adequate volume
sample without
clots in 99.4% of
260 HomeTrak
samples sent in
~ 6 drops of Blood
Serum Separation for Clinical Chemistry
microcentrifuge technique with proprietary cell collection method
Serum assayed for Creatinine, BUN, SGOT, SGPT, ALP, others
HomeTrak ™ Optional Test Menu
• Hgb A1C, cholesterol & triglycerides HDL, LDL, and
other clinical chemistries
• Other serum enzymes: Alkaline Phophatase, etc.
• Therapeutic levels of numerous drugs, antifungals,
antivirals, neuroleptics, etc.
• Biomarkers and DNA tests of interest
• Optional testing included in patent application
HomeTrak™ System Patent Applied For
Includes Additional tests and Optional tests
Patent assignment to inventor: Pleasant F. Hooper, MD
HomeTrak ™ Sample Stability
• Temperature exposure of whole blood samples
• Immunosuppressants -stabile in blood 25° C for 7 days –
confirmed in other published studies
• IS withstand 35° C for 48 hours no loss of test accuracy –
this is also demonstrated in the literature.
• Shipping of blood samples without cooling packs is
appropriate and functional – proven in practice
• Serum based clinical test stability for 48 hours at normal
and elevated temps. - HomeTrak results mirror clinic results
• Shipping of blood samples without cooling packs is
appropriate and functional – proven in HomeTrak history
HomeTrak ™ Sample Stability at Temperatures 25-35° C for 48 Hours
Creatinine Stability
3
2.5
35 C #1
2
30 C #2
1.5
30 C # 3
1
25 C # 4
25 C # 5
0.5
0
0 Hours
12 hours
24 hours
48 Hours
BUN Stability
30
25
35 C #1
20
30 C #2
15
30 C # 3
10
25 C # 4
25 C # 5
5
0
0 Hours
12 hours
24 hours
48 Hours
Liver enzyme tests
– minimal loss at 24
hours 25° C - less
accurate at 48 hours
or elevated temps
HomeTrak ™ Experience
• IRB - 33 patients (> 98% participation of clinic and
in hospital patients asked) 97% completed study95.7% of samples adequate – improved over study
• 42 patients monitored in demonstration project
over 18 months – included tacrolimus, cyclosporin,
and sirolimus therapy (prior to US approval of
everolimus) 97.4% completed the monitoring
course – many reports of preference of fingerstick
(patients with history of dialysis have poor veins)
HomeTrak ™ Experience
• Current HomeTrak utilization has increased
dramatically over last 6 months due to Zortress®
(everolimus) prescribing for CNI transition and
CRAD study of diabetes in everolimus + low dose
CNI (cyclosporin) protocol
• Currently no widely available immunoassay for
Zortress (everolimus) – mass spectrometry
reference testing is the method in place
• Send out to reference labs by patients discharged
to home reveals problems with results reporting
HomeTrak ™ Experience
• Similar problem existed for Rapamune (sirolimus) in
2008 – mass spectrometry only available test
method – 7 day turn around time for send outs
• Very low utilization of Rapamune at Tulane
• TMS BioScience began providing rapid results for
Rapamune testing Jan. 2008
• June 2008 – Rapamune utilization increased by
72.6% over use in Jan. A six month increase driven
by rapid results reporting = practical dosing !!
HomeTrak ™ Experience
• Currently monitoring 12 patients on Zortress – 5
are post-surgery dose titrations – length of
monitoring as far as 4 months postop – all patients
have successfully performed HomeTrak and are still
being monitored by HomeTrak – initial sampling is
bi-weekly, then weekly, then twice monthly.
• 7 patients have been transitioned to Zortress after
CNI therapy – they are 1 to 2 years post-transplant
• Patients' homes are from 60 miles to 134 miles
from transplant center – 2 state distribution
HomeTrak ™ Experience
• HomeTrak is targeted service to transplant
programs – the patient's sample is sent directly to
testing facility (TMS lab) – the samples are
immediately tested due to priority in work load
(dedicated monitoring laboratory) – results are
reported directly to transplant team by secure
email and fax transmission (nurses request) and are
now being posted to a secure website for review.
• Avoids the delay in having results entered into
hospital LIMS systems – internal delays, lost reports
Website Results Reporting – Smart phone and iPad accessible
HomeTrak ™ Experience – Potential Difficulties
• Potential Problem solutions:
• Patient education to correct collection method,
adequate sample volume and proper time of
collection (trough level critical) – this is a minimal
incidence issue (< 3.6% of samples) and less than
1% of patients experience problems. Video training
DVD helps and direct teaching during clinic visits
• Home Health visiting nurse programs are under
development to aid in patient teaching
HomeTrak ™ Experience – Potential Difficulties
• Problem areas:
• Missed delivery or delayed delivery of samples –
this occurs infrequently (< 2.6% of samples) and
patient education and carrier consultation are
effective corrections
• Exposure of samples to temperature extremes – we
have high temperature summer months and
potential for high temperature exposure – using
"thermal strip" indicators in 10 samples sent during
midsummer = no sample > 30°C encountered
Clinical Interest in HomeTrak™
Fingerstick monitoring has attracted attention by clinicians
We have received many inquires and correspondence about HomeTrak
HomeTrak ™ Summary
• HomeTrak is a novel method to monitor transplant
therapy – initial dosing or transition to new therapy
• Convenient, no extra patient cost, with high patient
preference and healthcare team acceptance &
proven performance in use at Tulane transplant
• Can be deployed anywhere in the nation
• Addresses the problem of Zortress monitoring –
proven effective in Tulane experience (Rapamune
testing scenario from 2008)
• Central dedicated laboratory with rapid reporting
and internet access for healthcare team.