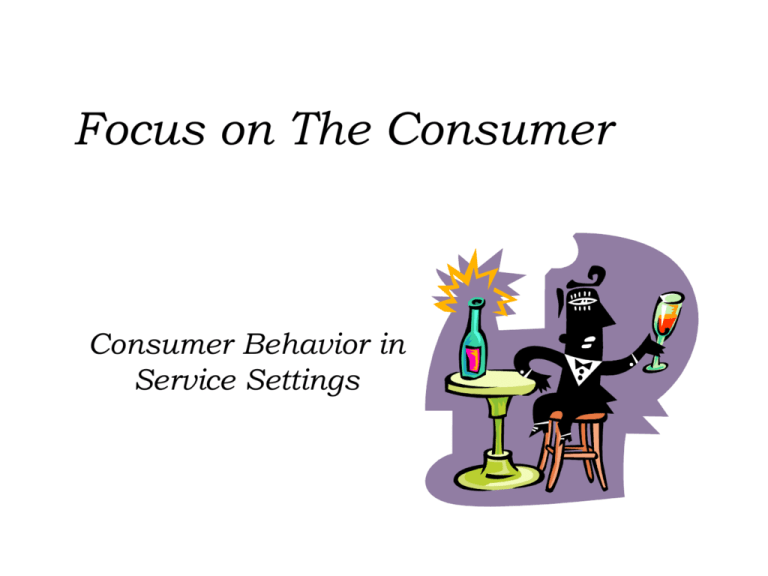 Focus on The Consumer
Consumer Behavior in
Service Settings
Who are our customers
and Where do they fit?
Who Are Our Customers and How
Should We Relate to Them?
• Where should customers fit in our service
operation?
• Do they prefer high or low levels of contact with
contact with service personnel and facilities?
• How do customers (prospects) select, purchase,
and use our services?
• What are the key characteristics of our target
market segments?
• Which customer relationships are worth developing
and preserving?
• What do we do when customers' expectations are
not met?
High-Contact and Low-Contact Services
High Contact Services
• Customers visit service facility and remain throughout
service delivery
• Active contact between customers and service personnel
• Includes most people-processing services
Low Contact Services
• Little or no physical contact with service personnel
• Contact usually at arm's length through electronic or
physical distribution channels
• New technologies (e.g. Web) help reduce contact levels
Levels of Customer Contact with
Service Organizations
Emphasizes encounters
with service personnel
High
Nursing Home
HairCut
4- Star Hotel
Management Consulting
Good Restaurant
Telephone Banking
Airline Travel (Econ.)
Retail Banking
Car Repair
Motel
Insurance
Dry Cleaning
Fast Food
Movie Theaters
Cable TV
Public Transit
Home
Banking
Mail Based Repairs
Emphasizes encounters
with equipment
Internet- based
Services
Low
Options for Delivery of Banking Services:
High to Low Contact:
• Visit bank, transact with teller
• Use ATM
• Contact bank by mail
• Telephone
– speak with bank representative
– use keys in response to voice commands (or
phone screen display)
• Home banking by computer:
– use special software
– conduct transactions by Web
Encounters with Self-Service Technologies
Satisfying Incidents for Customers
• Self-service solved urgent need
• Self-service better than alternative
– easy to use
– avoid service personnel
– saved time
– when I want
– where I want
– saved money
• Self-service did its job
Encounters with Self-Service Technologies
Dissatisfying Incidents for Customers
• Technology failure
• Process failure
• Poor design
– technology design problem
– service design problem
• Customer caused failure
Levels of Customer Participation
across Different Services
Low: Customer presence required during service delivery
—products standardized
—service regardless of individual purchase
—payment only required customer input
Moderate: Customer inputs required for service creation
—client inputs customize a standard service
—service requires customer purchase
—customer inputs needed but firm provides service
High : Customer co-produces the service product
—active participation guides customized service
—creation involves customer purchase, active participation
—customer inputs mandatory, co-produce outcome
Where does your service fit?
Service encounter:
A period of time during which customers
interact directly with a service
• Moments of truth: Defining points in service
delivery where customers interact with employees
or equipment
• Critical incidents: specific encounters that result in
especially satisfying/dissatisfying outcomes for
either customers or service employees
Managing Service Encounters-Employee's Role:
• Service success often
rests on performance of
junior contact personnel
• Must train, coach, role
model desired behavior
Customer's Role
• Thoughtless or badly behaved customers can cause
problems for service personnel (and other customers)
• Must educate customers, clarify what is expected, manage
behavior
Managing Customers as Partial
Employees to Increase
Productivity and Quality
1. Analyze customers' present roles in the
business and compare to management's ideal
2. Determine if customers know how to perform
and have necessary skills
3. Motivate customers by ensuring that they will be
rewarded for performing well
4. Regularly appraise customers'
performance; if unsatisfactory,
consider changing roles or
termination
Stages in Consumer Decision Making and
Evaluation of Services
The Purchase Process for Services
1. Pre-purchase Stage
–
–
–
Awareness of need
Information search
Evaluation of alternative service suppliers
2. Service Encounter Stage
–
–
Request service from chosen supplier
Service delivery
3. Post-purchase Stage
–
–
Evaluation of service performance
Future intentions
Categories in Consumer
Decision-Making and Evaluation of Services
Information
Search
 Use of personal sources
 Perceived risk
Purchase and
Consumption
 Service provision as drama
 Service roles and scripts
 Compatibility of customers
Evaluation of
Alternatives
 Evoked set
 Emotion and mood
Post-Purchase
Evaluation
 Attribution of dissatisfaction
 Innovation diffusion
 Brand loyalty
Decision Making Process
1. Describe the decision making process for
a good that you recently purchased (e.g.
shoes, stereo, or clothes) and compare it
with a recent service purchase (e.g.
cable TV, plumber, or insurance).
2. How was the decision making process
for the service similar and different than
for the good?
Issues to Consider in Examining the
Consumer's Service Experience
• Services as processes
• Service provision as drama
• Service roles and scripts
• The compatibility of service customers
• Customer coproduction
• Emotion and mood
The Drama of Service Delivery
• In high-contact environments, service delivery
consists of a performance--may be quite theatrical
• Service dramas unfold on a "stage"
--settings may change as
performance unfolds
• Many service dramas are tightly
scripted
• Front stage personnel are like members of a cast
• Like actors, employees may wear special
costumes, speak required lines, behave in
specific ways
• Support comes from a backstage production team
Three Overlapping Subsystems
within the Service System
1.
Service Operations (front stage and backstage)
–
–
2.
Where inputs are processed and service elements created.
Includes facilities, equipment, and personnel
Service Delivery (front stage)
–
–
3.
Where "final assembly" of service elements takes place
and service is delivered to customers
Includes customer interactions with operations and other
customers
Service Marketing (front stage)
–
Includes service delivery and all other contacts between service
firm and customers
The Service Business as a
System
Technical
core
Physical
support
Customer
Contact
personnel
Backstage
Front Stage
(Invisible) (Visible to customer)
Other
Customers
Service as Theater
"All the world's a stage
and all the men and
women merely
players. They have
their exits and their
entrances and each
man in his time plays
many parts"
William Shakespeare
As You Like It
Role and Script Theories
• Role: A set of behavior patterns
learned through experience and
communication
• Role congruence: In service
encounters,
employees and
customers must act out defined
roles for good outcomes
Service Scripts
• Service scripts consist of a set of ordered
actions, actors, and objects that, through
repeated involvement define what the
customer expects.
-
A sequence of behavior to be followed by
employees and customers during service delivery
– Some scripts (e.g teeth cleaning) are highly
routinized, others are flexible.
– Technology change may require a revised script
– Should reexamine existing scripts to find ways to
improve delivery, increase productivity, enhance
experiences
Service Script for a Haircut.
1. Recognize a need for a
haircut
2. Make an appointment
3. Arrive at the salon
4. Enter the salon
5. Greeting by receptionist
6. Possible wait time (read a
magazine)
7. Greeting by hair stylist
8. Questions about desired
style
9. Go to the hair wash station
10. Hair is cut and styled
11. Casual conversation occurs
12. Hair is dried
13. Styling is completed
14. Mirror is provided for you to
evaluate results
15. Stylist escorts you to the
cashier
16. Pay for the services
17. Tip hair stylist
18. Exit store
19. Get comments from friends
Discussion Question
• What three parts of this script are most likely to
go smoothly and conform to the expectations of
the customer? Why?
• What three parts of this script are most likely to
deviate from the expectations of the customer?
Why?
• What actions could be taken by management to
ensure that the service performance does not
deviate from the service script envisioned by the
customer? Be specific.
Types of Product Attributes
• Search attributes - features that customers
can readily evaluate prior to purchase
• Experience attributes - attributes a consumer
can determine after purchase (or during
consumption) of a product
• Credence attributes - features that
customers may not be able to evaluate
even after use
How Product Attributes Affect
Ease of Evaluation
Source: Adapted
from Zeithaml fig 3.2
High in search
attributes
Complex surgery
Legal services
Computer repair
Entertainment
Most Services
Haircut
Lawn fertilizer
Restaurant meals
Foods
Motor vehicle
Chair
Easy
to evaluate
Clothing
Most Goods
Difficult
to evaluate
High in experience High in credence
attributes
attributes
Tangible Elements and
Communications in the Service
Marketing System
• Service personnel
• Service facilities
and equipment
• Non-personal
communications
• Other people
Perceived Risks in
Purchasing and Using Services
•
•
•
•
•
•
•
Functional risk
Financial risk
Temporal risk
Physical risk
Psychological risk
Social risk
Sensory risk
Focus on The Consumer
Customer
Expectations of
Service
Possible Levels of
Customer Expectations
Components of Customer
Expectations
• Desired Service Level: wished-for level of
service quality that customer believes can
and should be delivered
• Adequate Service Level: minimum
acceptable level of service
• Predicted Service Level: service level that
customer believes firm will actually deliver
Expectations
• Desired service expectations are ideal
and do not change frequently because
what one hopes for does not change
frequently.
• Adequate service expectations are
constantly in flux, most likely rising
incrementally as service is improved in a
particular company or industry
Customer Expectations
• What is the difference between desired
service and adequate service?
• Why would a services marketer need to
understand both types of service
expectations?
Customer Delight:
Going Beyond Satisfaction
Research shows that delight is a function of
3 components
• Unexpectedly high levels of performance
• Arousal (e.g., surprise, excitement)
• Positive affect (e.g., pleasure, joy, or
happiness)
Discussion Question:
Is it possible for customers to be
delighted by very mundane services?
The Zone of Tolerance
Desired Service
Zone of
Tolerance
Adequate Service
Range within which customers are willing to
accept variations in service delivery
Important Factors
Consider a recent
service purchase
that you have
made. What
factors were most
important in your
decision?
Zones of Tolerance for
Different Service Dimensions
Desired Service
Level
of
Expectation
Zone of
Tolerance
Desired
Desired Service
Service
Adequate Service
Zone
of
Tolerance
Adequate
Adequate
Service
Service
Most Important Factors
Least Important Factors
Source: Berry, Parasuraman, and Zeithaml (1993)
Zones of Tolerance for
First-Time and Recovery Service
First-Time Service
Outcome
Process
Recovery Service
Outcome
Process
LOW
Source: Parasuraman, Berry and Zeithaml (1991)
Expectations
HIGH
Factors that Influence
Desired Service
Enduring Service
Intensifiers
•Derived service expectations
•Personal service philosophy
Desired
Service
Personal Needs
Zone
of
Tolerance
Adequate
Service
Factors that Influence
Adequate Service
Transitory Service
Intensifiers
•Emergencies
•Service problems
Perceived Service
Alternatives
Self-Perceived
Service Role
Situational
Factors
•Bad weather
•Catastrophe
•Random overdemand
Desired
Service
Zone
of
Tolerance
Adequate
Service
Factors that Influence
Desired and Predicted Service
Explicit Service
Promises
Implicit Service
Promises
Word-of-Mouth
Desired
Service
Zone
of
Tolerance
Adequate
Service
Past Experience
Predicted
Service
Factors that Influence Customer
Expectations of Services
Personal Needs
Desired Service
Beliefs about
What Is Possible
Explicit & Implicit
Service Promises
Word-of-Mouth
Past Experience
ZONE
OF
TOLERANCE
Perceived Service
Alterations
Adequate Service
Predicted Service
Situational Factors
Source: Adapted from Zeithaml, Parasuraman & Berry
Total Perceived
Quality
Expected Quality
Total Perceived Quality
Experienced Quality
Image
Image
Market Communication
Word of Mouth
Customer Needs
Technical Quality:
What
Functional Quality:
How
Frequently Asked Questions
About Customer Expectations
• What does a service marketer do if customer
expectations are "unrealistic"?
• Should a company try to delight the customer?
• How does a company exceed customer service
expectations?
• Do customer service expectations continually escalate?
• How does a service company stay ahead of competition
in meeting customer expectations
Focus on The Consumer
Customer
Perceptions of
Service
Customer Perceptions of Quality and
Customer Satisfaction
Factors Influencing
Customer Satisfaction
•
•
•
•
•
•
Product/service quality
Specific product or service features
Consumer emotions
Attributions for service success or failure
Perceptions of equity or fairness
Other consumers, family members, and
coworkers
• Price
• Personal factors
Outcomes of
Customer Satisfaction
• Increased customer retention
• Positive word-of-mouth communications
• Increased revenues
Relationship between Customer Satisfaction
and Loyalty in Competitive Industries
Source: James L. Heskett, W. Earl Sasser, Jr., and Leonard A. Schlesinger, The Service Profit Chain, (New York, NY: The Free Press, 1997), p. 83.
Service Quality
• The customer's judgment of overall
excellence of the service provided in
relation to the quality that was expected.
• Service quality assessments are formed
on judgments of:
– outcome quality
– interaction quality
– physical environment quality
The Five Dimensions of
Service Quality
Reliability
Ability to perform the promised service
dependably and accurately.
Assurance
Knowledge and courtesy of employees and
their ability to inspire trust and confidence.
Tangibles
Physical facilities, equipment, and
appearance of personnel.
Empathy
Caring, individualized attention the firm
provides its customers.
Responsiveness
Willingness to help customers and provide
prompt service.
Exercise to
Identify Service Attributes
In groups of five, choose a services industry and spend 10 minutes
brainstorming specific requirements of customers in each of the five
service quality dimensions. Be certain the requirements reflect the
customer's point of view.
Reliability:
Assurance:
Tangibles:
Empathy:
Responsiveness
:
SERVQUAL Attributes
RELIABILITY





Providing service as promised
Dependability in handling customers'
service problems
Performing services right the first time
Providing services at the promised time
Maintaining error-free records
EMPATHY





RESPONSIVENESS




Keeping customers informed as to
when services will be performed
Prompt service to customers
Willingness to help customers
Readiness to respond to customers'
requests
ASSURANCE




Employees who instill confidence in
customers
Making customers feel safe in their
transactions
Employees who are consistently courteous
Employees who have the knowledge to
Giving customers individual attention
Employees who deal with customers in a
caring fashion
Having the customer's best interest at heart
Employees who understand the needs of
their customers
Convenient business hours
TANGIBLES




Modern equipment
Visually appealing facilities
Employees who have a neat,
professional appearance
Visually appealing materials associated
with the service
The Service Encounter
• is the "moment of truth"
• occurs any time the customer interacts
with the firm
• can potentially be critical in determining
customer satisfaction and loyalty
• types of encounters:
– remote encounters, phone encounters, faceto-face encounters
• is an opportunity to:
– build trust
– reinforce quality
A Service Encounter Cascade
for a Hotel Visit
Check-In
Bellboy Takes to Room
Restaurant Meal
Request Wake-Up Call
Checkout
A Service Encounter
Cascade for an Industrial Purchase
Sales Call
Delivery and Installation
Servicing
Ordering Supplies
Billing
Critical Service Encounters
Research
• GOAL:
– understanding actual events and behaviors
that cause customer dis/satisfaction in service
encounters
• METHOD:
– Critical Incident Technique
• DATA:
– stories from customers and employees
• OUTPUT:
– identification of themes underlying satisfaction
Sample Questions for Critical Incidents
Technique Study
• Think of a time when, as a customer, you
had a particularly satisfying (dissatisfying)
interaction with an employee of
______________.
• When did the incident happen?
• What specific circumstances led up to this
situation?
• Exactly what was said and done?
Common Themes in Critical
Service Encounters Research
Recovery:
Adaptability:
employee response
to service delivery
system failure
employee response
to customer needs
and requests
Coping:
Spontaneity:
employee response
to problem customers
unprompted and
unsolicited employee
actions and attitudes
Recovery
DO
•
•
•
•
•
•
Acknowledge problem
Explain causes
Apologize
Compensate/upgrade
Lay out options
Take responsibility
DON'T
• Ignore customer
• Blame customer
• Leave customer to fend for
him/herself
• Downgrade
• Act as if nothing is wrong
• "Pass the buck"
Adaptability
DO
• Recognize the seriousness of
the need
• Acknowledge
• Anticipate
• Attempt to accommodate
• Adjust the system
• Explain rules/policies
• Take responsibility
DON'T
• Ignore
• Promise, but fail to follow
through
• Show unwillingness to try
• Embarrass the customer
• Laugh at the customer
• Avoid responsibility
• "Pass the buck"
Spontaneity
DON'T
DO
•
•
•
•
•
•
Take time
Be attentive
Anticipate needs
Listen
Provide information
Show empathy
•
•
•
•
•
Exhibit impatience
Ignore
Yell/laugh/swear
Steal from customers
Discriminate
Coping
DO
•
•
•
•
Listen
Try to accommodate
Explain
Let go of the customer
DON'T
• Take customer's
dissatisfaction personally
• Let customer's dissatisfaction
affect others
Evidence of Service from the
Customer's Point of View
 Operational flow of
activities
People



Contact employees
Customer him/herself
Other customers
 Steps in process
 Flexibility vs.
standard
 Technology vs.
human
Process
Physical
Evidence
 Tangible
communication
 Servicescape
 Guarantees
 Technology
Source: From "Managing the Evidence of Service" by M. J. Bitner from The Service Quality Handbook,
eds. E. E. Scheuing and W. F. Christopher (1993), pp. 358-70.
 Website
Who Are Our Customers and How
Should We Relate to Them?
• Where should customers fit in our service
operation?
• Do they prefer high or low levels of contact with
contact with service personnel and facilities?
• How do customers (prospects) select, purchase,
and use our services?
• What are the key characteristics of our target
market segments?
• Which customer relationships are worth developing
and preserving?
• What do we do when customers' expectations are
not met?