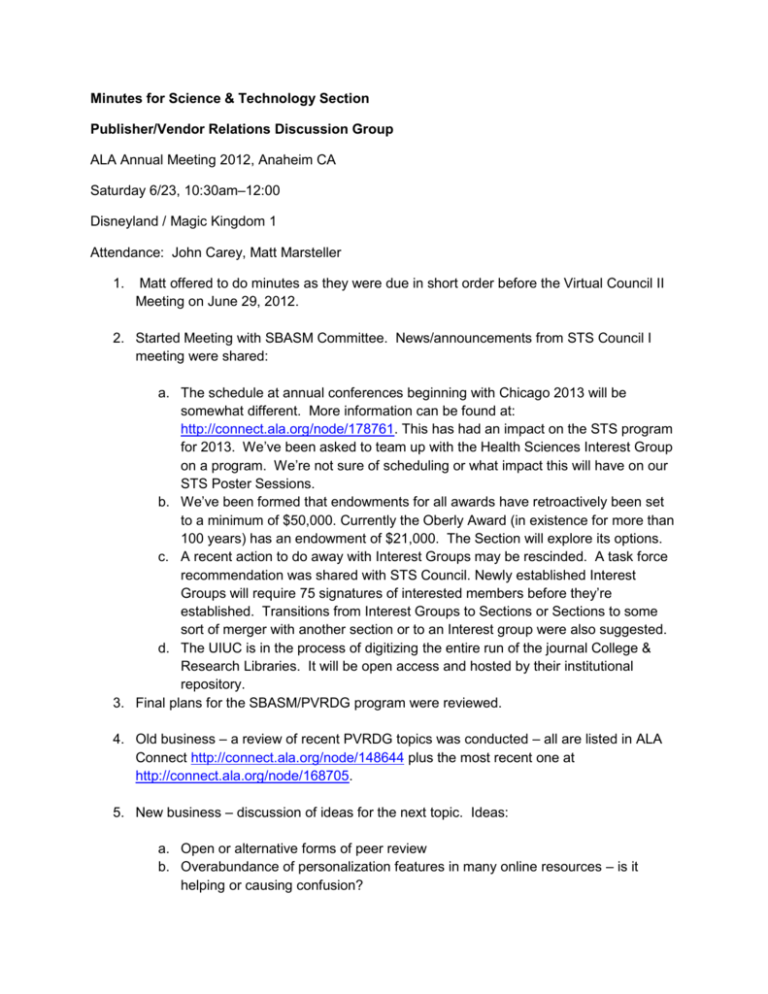 Minutes for Science & Technology Section
Publisher/Vendor Relations Discussion Group
ALA Annual Meeting 2012, Anaheim CA
Saturday 6/23, 10:30am–12:00
Disneyland / Magic Kingdom 1
Attendance: John Carey, Matt Marsteller
1.
Matt offered to do minutes as they were due in short order before the Virtual Council II
Meeting on June 29, 2012.
2. Started Meeting with SBASM Committee. News/announcements from STS Council I
meeting were shared:
a. The schedule at annual conferences beginning with Chicago 2013 will be
somewhat different. More information can be found at:
http://connect.ala.org/node/178761. This has had an impact on the STS program
for 2013. We've been asked to team up with the Health Sciences Interest Group
on a program. We're not sure of scheduling or what impact this will have on our
STS Poster Sessions.
b. We've been formed that endowments for all awards have retroactively been set
to a minimum of $50,000. Currently the Oberly Award (in existence for more than
100 years) has an endowment of $21,000. The Section will explore its options.
c. A recent action to do away with Interest Groups may be rescinded. A task force
recommendation was shared with STS Council. Newly established Interest
Groups will require 75 signatures of interested members before they're
established. Transitions from Interest Groups to Sections or Sections to some
sort of merger with another section or to an Interest group were also suggested.
d. The UIUC is in the process of digitizing the entire run of the journal College &
Research Libraries. It will be open access and hosted by their institutional
repository.
3. Final plans for the SBASM/PVRDG program were reviewed.
4. Old business – a review of recent PVRDG topics was conducted – all are listed in ALA
Connect http://connect.ala.org/node/148644 plus the most recent one at
http://connect.ala.org/node/168705.
5. New business – discussion of ideas for the next topic. Ideas:
a. Open or alternative forms of peer review
b. Overabundance of personalization features in many online resources – is it
helping or causing confusion?
c. Open science where blogs or wikis or other new communications are sharing
results before journal articles from publishers come out. Impact of institutional
repositories.
d. Institutional repositories – the library as publisher.
e. New ideas on adding value as a publisher or vendor.
f. Finding costs savings for journal publishers – use technology to lower prices?
g. Back from the brink – cases where a journal that lost business due to rising
prices had to reset or fold. Are there any examples of success in finding a higher
number of subscriptions at a lower cost per subscription?
h. Data mining features of e-resources.
i. Usage patterns of personalization features of e-resources.
6. It was decided to allow the incoming discussion group members to work with John Carey
to make the final choice (before the end of August) for the Midwinter 2013 topic.
7. The meeting was adjourned.