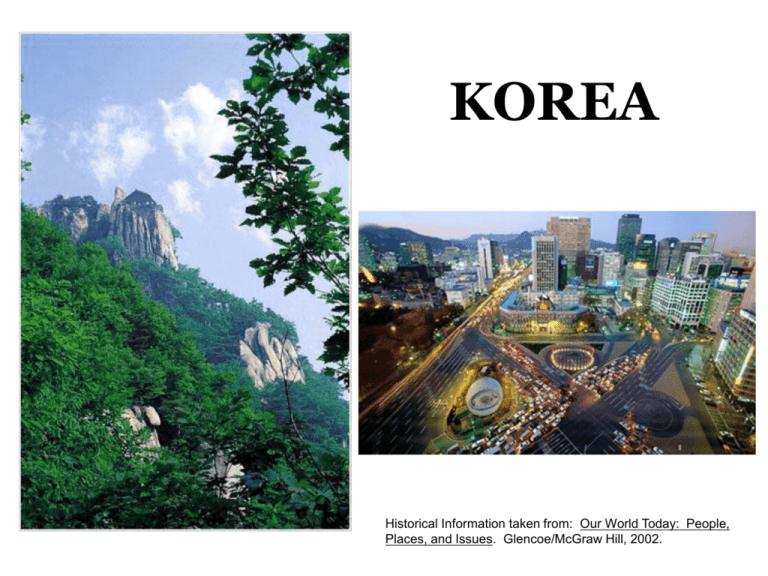 KOREA
Historical Information taken from: Our World Today: People,
Places, and Issues. Glencoe/McGraw Hill, 2002.
Japanese
Empire Flag
Japanese
Flag
Cherry Tree
North Korean Flag
South Korean Flag
Rose of Sharon Tree
K
A
N
J
I
"From the 100s B.C. until the early A.D. 300s,
neighboring China ruled Korea. When Chinese control
ended, separate Korean Kingdoms arose throughout
the peninsula" (200).
Observatory
Hangul
첨성대
Hanja
瞻星臺
Revised Romanization
Cheomseongdae
"From A.D. 668 to 935, a single kingdom called
Silla united much of the peninsula … Silla rulers
built one of the world's earliest astronomical
observatories in the A.D. 600s" (200).
"In 1910, the
Japanese
conquered
Korea and made
it part of their
empire. They
governed the
peninsula until
the end of
World War II in
1945" (201).
Japan's Imperial Reach
"Japan seizes Korea and much of Manchuria in 1905, after defeating Russia in the
Russo-Japanese War. In 1931, Japan invades and claims the rest of Manchuria.
Japan invades China in 1937, marching into French Indochina by 1940. In Europe,
Adolf Hitler's armies now occupy much of central Europe, including France. The
world is at war."
http://www-tc.pbs.org/wgbh/amex/pacific/maps/images/maps_01_03.jpg
Japan's Imperial Reach
"In a surprise attack on December 7, 1941, Japan devastates much of the U.S. Navy's
Pacific fleet at Pearl Harbor, Hawai'i. The United States declares war on Japan. By 1942,
at the height of its wartime success, Japan will have massed over five million troops,
expanding its empire to include the Philippines and much of the Southwest Pacific ."
http://www-tc.pbs.org/wgbh/amex/pacific/maps/images/maps_01_04.jpg
"After World War II, troops from the Communist Soviet
Union took over the northern half of Korea. American
troops occupied the southern half" (201).