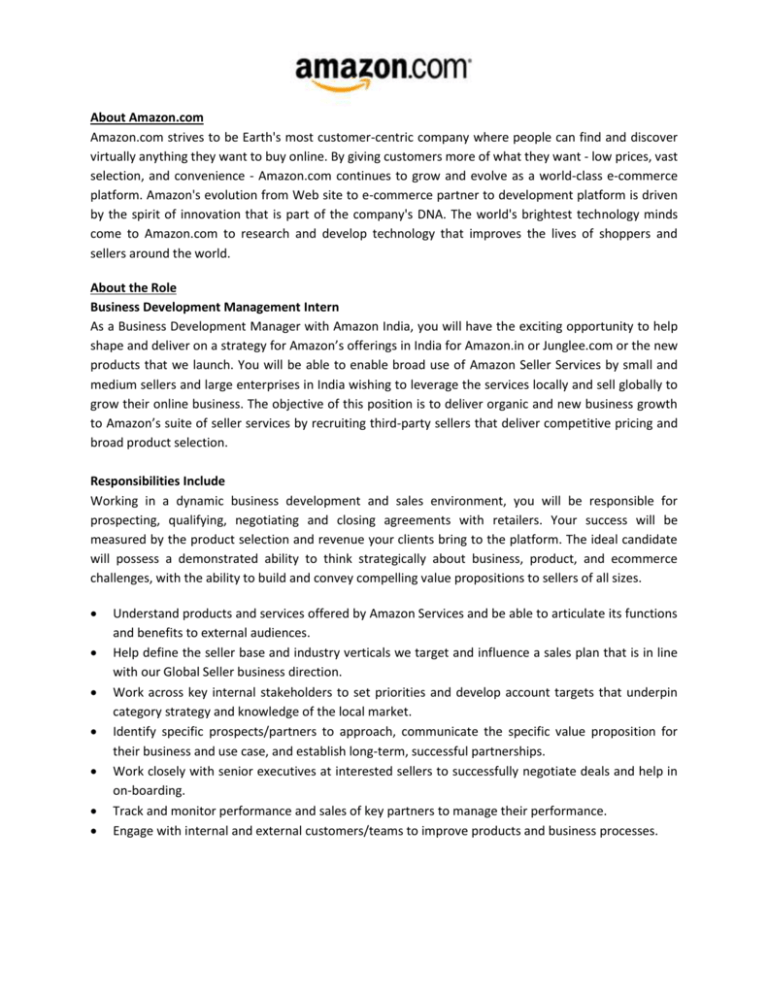 About Amazon.com
Amazon.com strives to be Earth's most customer-centric company where people can find and discover
virtually anything they want to buy online. By giving customers more of what they want - low prices, vast
selection, and convenience - Amazon.com continues to grow and evolve as a world-class e-commerce
platform. Amazon's evolution from Web site to e-commerce partner to development platform is driven
by the spirit of innovation that is part of the company's DNA. The world's brightest technology minds
come to Amazon.com to research and develop technology that improves the lives of shoppers and
sellers around the world.
About the Role
Business Development Management Intern
As a Business Development Manager with Amazon India, you will have the exciting opportunity to help
shape and deliver on a strategy for Amazon's offerings in India for Amazon.in or Junglee.com or the new
products that we launch. You will be able to enable broad use of Amazon Seller Services by small and
medium sellers and large enterprises in India wishing to leverage the services locally and sell globally to
grow their online business. The objective of this position is to deliver organic and new business growth
to Amazon's suite of seller services by recruiting third-party sellers that deliver competitive pricing and
broad product selection.
Responsibilities Include
Working in a dynamic business development and sales environment, you will be responsible for
prospecting, qualifying, negotiating and closing agreements with retailers. Your success will be
measured by the product selection and revenue your clients bring to the platform. The ideal candidate
will possess a demonstrated ability to think strategically about business, product, and ecommerce
challenges, with the ability to build and convey compelling value propositions to sellers of all sizes.







Understand products and services offered by Amazon Services and be able to articulate its functions
and benefits to external audiences.
Help define the seller base and industry verticals we target and influence a sales plan that is in line
with our Global Seller business direction.
Work across key internal stakeholders to set priorities and develop account targets that underpin
category strategy and knowledge of the local market.
Identify specific prospects/partners to approach, communicate the specific value proposition for
their business and use case, and establish long-term, successful partnerships.
Work closely with senior executives at interested sellers to successfully negotiate deals and help in
on-boarding.
Track and monitor performance and sales of key partners to manage their performance.
Engage with internal and external customers/teams to improve products and business processes.
Basic Qualifications and Skills Required
 An understanding of and passion for e-commerce.
 Work experience is preferred (2 - 4.5 years).
 Excellent analytical skills.
 Good communication, presentation and organizational skills.
 Operate in a fast-moving and sometimes ambiguous environment.
 Work autonomously taking full control and responsibility for achieving business objectives.
 Proactive attitude and willingness to roll up sleeves and dig deep to achieve goals
 Experience with B2B sales contracts
 Excellent x-group collaboration skills, ability to impact and influence outcomes in matrixed
environment
 Proven negotiating skills and influencing abilities
 Ability to think and react in a high-energy, fast-paced environment
 Excellent written and verbal communication skills
 Good organizational skills including prioritizing, scheduling, time management, and meeting
deadlines
 Detail-oriented
 B2b technology sales or business development experience
 Experience with Online ad sales
 Experience selling nascent (embryonic/start-up) products/services into new markets is desirable.
 Ecommerce/Mcommerce experience is a plus.
Stipend and Benefits
 The Internship Stipend will be INR 60,000 per month.
 Stipend is payable in accordance with the Company's standard payroll practice and subject to
applicable withholding taxes.
 Flight tickets in economy class (on ward and return for internship).
 The candidates are also eligible for 15 days accommodation and 7 days cab on request.
 Monthly food coupons.
 Free HOH (Home –Office-Home) for duration of internship.