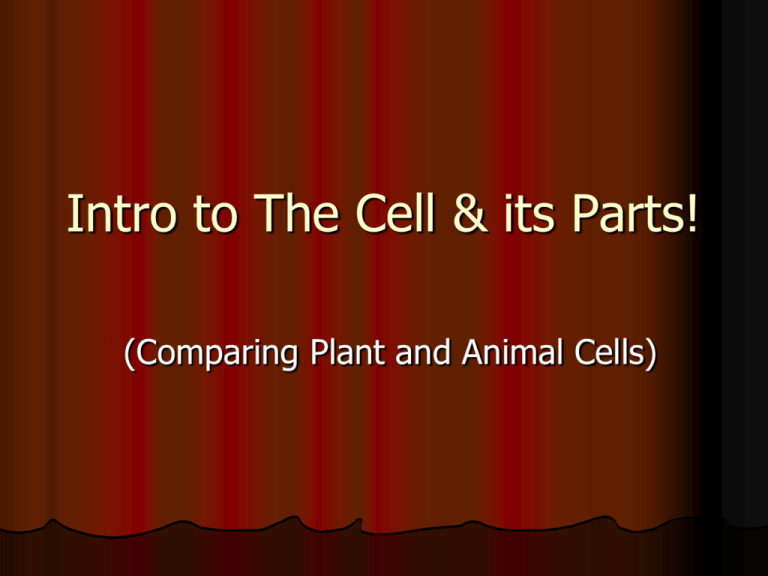 Intro to The Cell & its Parts!
(Comparing Plant and Animal Cells)
Cells

Cells are the basic units of structure &
function of all living things…if it is alive it
has cells… If it was once living it has dead
cells!
Two "Types" of Cells

There are 2 types of cells. There are only
two differences between Plant & Animal
cells…try to spot them by the end of the
show
Plant cells
Animal Cells
Cell Differentiation

There are 2 classes of cells we will learn
(plant/animal), but there are many kinds
of cells in each class. Each kind of cell has
a DIFFERENT job to do…it specializes.
Different kinds of Cells
 Supports
Cell Membrane
& protects the cell, Regulates
what enters & leaves the cell
 Lipid Bilayer = 2 layers of fat
 It's like skin with pores around your
body!
 BOTH
Nucleus
The control or information center of the
cell
 Round usually found in the center of the
cell. Contains DNA or Genetic Material.
 The cell's Brain or Boss!
 BOTH

Chromosomes
Chromosomes are inside the nucleus and
are made of genes (DNA)
 Genes decide the cells traits and activities
(heart cell, eye cell (color))

Cytoplasm
Cytoplasm gives the cell support and shape
 It is the thick jelly-like substance that fills the
area between the organelle. It holds the
ORGANelles
 Like the liquid in soup with veggies as
organelles. OR jello with fruit!
 BOTH

Mitochondria
Mitochondria breaks down food molecules
& releases energy.
 Bean shaped organelle filled with folded
membranes.
 The cell's POWER HOUSE!
 BOTH

Cell Wall
Cell Walls are only in PLANT cells!
 Protects & provides structure & shape. It
makes the cell strong & rigid.
 Thicker membrane that lies outside of the
cell membrane.
 Like cartilage in your ear and nose. What
makes plants stand up.

Chloroplasts
Chloroplasts are only in PLANT cells
 Traps sunlight and makes food for the
plant cell in a process called
Photosynthesis!
 Green, contains chlorophyll (pigment).
Long oval shape.
 Like a solar
oven.

Vacuoles
Vacuoles store water, food, & waste in the
cytoplasm.
 Fluid filled sacks.
 Large in plants, multiple small ones in
animal cells..

What's the Difference?

So what are two things that Plant cells
have that animal cells don't?
?
Chloroplasts
&
Cell Walls
This powerpoint was kindly donated to
www.worldofteaching.com
http://www.worldofteaching.com is home to over a
thousand powerpoints submitted by teachers. This is a
completely free site and requires no registration. Please
visit and I hope it will help in your teaching.