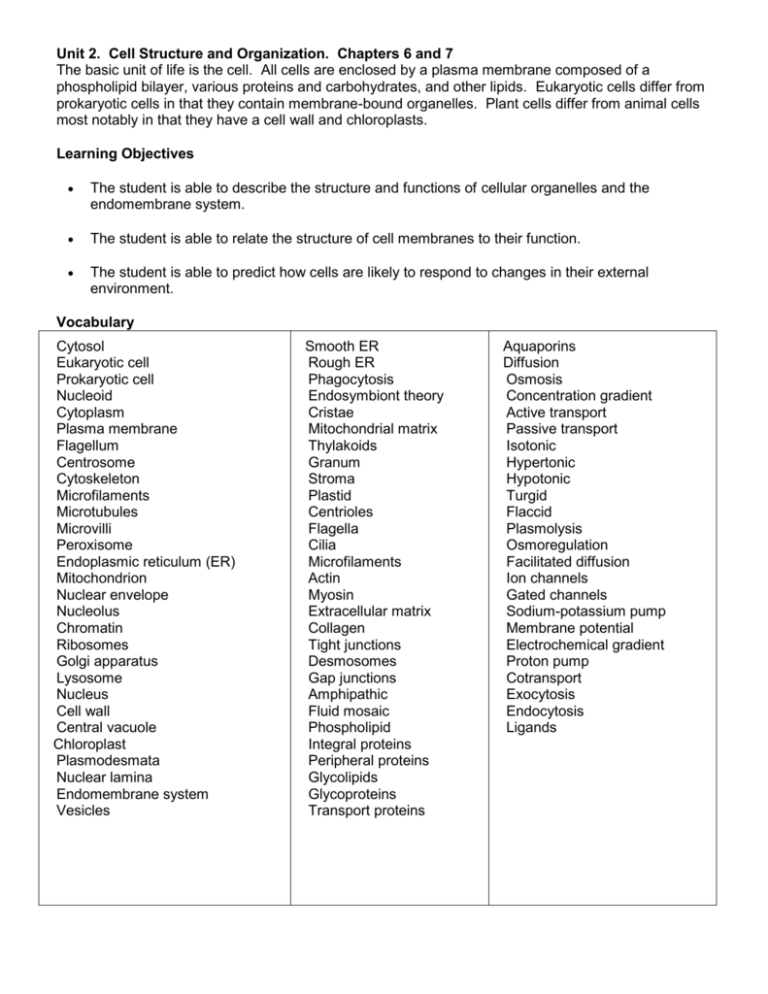 Unit 2. Cell Structure and Organization. Chapters 6 and 7
The basic unit of life is the cell. All cells are enclosed by a plasma membrane composed of a
phospholipid bilayer, various proteins and carbohydrates, and other lipids. Eukaryotic cells differ from
prokaryotic cells in that they contain membrane-bound organelles. Plant cells differ from animal cells
most notably in that they have a cell wall and chloroplasts.
Learning Objectives

The student is able to describe the structure and functions of cellular organelles and the
endomembrane system.

The student is able to relate the structure of cell membranes to their function.

The student is able to predict how cells are likely to respond to changes in their external
environment.
Vocabulary
Cytosol
Eukaryotic cell
Prokaryotic cell
Nucleoid
Cytoplasm
Plasma membrane
Flagellum
Centrosome
Cytoskeleton
Microfilaments
Microtubules
Microvilli
Peroxisome
Endoplasmic reticulum (ER)
Mitochondrion
Nuclear envelope
Nucleolus
Chromatin
Ribosomes
Golgi apparatus
Lysosome
Nucleus
Cell wall
Central vacuole
Chloroplast
Plasmodesmata
Nuclear lamina
Endomembrane system
Vesicles
Smooth ER
Rough ER
Phagocytosis
Endosymbiont theory
Cristae
Mitochondrial matrix
Thylakoids
Granum
Stroma
Plastid
Centrioles
Flagella
Cilia
Microfilaments
Actin
Myosin
Extracellular matrix
Collagen
Tight junctions
Desmosomes
Gap junctions
Amphipathic
Fluid mosaic
Phospholipid
Integral proteins
Peripheral proteins
Glycolipids
Glycoproteins
Transport proteins
Aquaporins
Diffusion
Osmosis
Concentration gradient
Active transport
Passive transport
Isotonic
Hypertonic
Hypotonic
Turgid
Flaccid
Plasmolysis
Osmoregulation
Facilitated diffusion
Ion channels
Gated channels
Sodium-potassium pump
Membrane potential
Electrochemical gradient
Proton pump
Cotransport
Exocytosis
Endocytosis
Ligands
Analysis Questions
1. Why are cells generally small in size?
2. What is/are the functions of the endomembrane system?
3. How did eukaryotic cells most likely evolve?
4. How can one distinguish plant cells from animal cells?
5. Describe the characteristics of the cytoplasm.
6. What roles do proteins play in cellular membranes? (There are at least six.)
7. Is cholesterol beneficial for plasmid membranes? Explain.
8. Explain the purpose of chemical and electrochemical gradients and how they are established.
9. Which substances are most likely to pass through a cell membrane passively? Explain.
10. If stranded at sea, would it be better for you to drink salt water, no water, or urine? Explain.
(The answer is not in the book. Draw upon what you've learned.)
11. Review the National Institutes of Health website (http://health.nih.gov/) to answer the following
question: What is the role of the protein cystic fibrosis transmembrane conductance regulator
(CFTR)? What are the consequences if CFTR does not work properly?