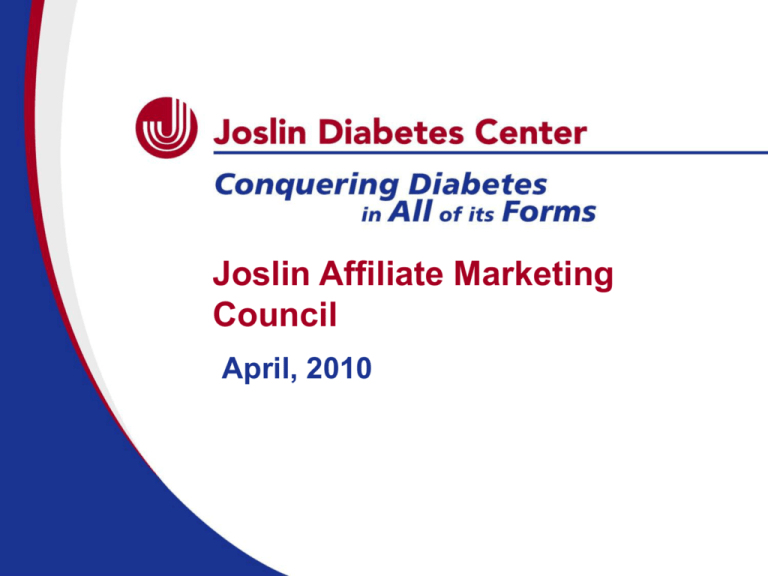 Joslin Affiliate Marketing
Council
April, 2010
How to Use GoToMeeting
• Please mute your phone

(not "hold")
• Interactive software lets you participate in
the meeting
• "Raise your hand" button
• Voting button
• Area to type in a question (or you can just
ask!)
Agenda
• April Topic – Marketing Your Educator
Program

Translation of monthly stats into hours

Thinking outside the box

Sharing best practices – what do you do now to
increase class attendance?

Building your marketing plan

What have you heard today that you will try?
Key Ed Metrics- What Do We Measure?
Percent Paid Time Spent Teaching Billable Patients

Measures the % of paid time that an educator spends "face to
face" teaching outpatients

Measure of efficiency and productivity
Goals
Affiliate
Average
Highest
Performer
Lowest
Performer
Face Time
60%
29.2%
46.1%
13.6%
Face Time
24 hours
11.7 hours
18.4 hours
5.4 hours
Key Ed Metrics- What Do We Measure?
• Hours Billed As A % of Paid Time

Assumes an FTE works 40 hours per week (173 hours per month

Expresses the number of hours billed in a month as a % of the number of hours
paid to Educators

Measure of the return on investment in educator hours– allows a comparison of
the hours actually billed per FTE Educator to the 173 hours paid per FTE
Educator
Goals
Affiliate
Average
Highest
Performer
Lowest
Performer
Hours Billed
100%
43.9%
71.4%
24.2%
Hours Billed
40 hours
17.6 hours
28.6 hours
9.7 hours
Sample Educator Schedule
Affiliate 2
13.61% Face, 26.27% Billed
Individual patient time
5 hours Face, 11 hours billed
Non-billable time
1 2-hour class for 2 people
Class time
Time
Monday
Tuesday
Wednesday
Thursday
Friday
8 - 9 AM
-
-
-
-
-
9 – 10 AM
-
-
-
-
10 – 11 AM
-
-
$42
-
11 – Noon
-
-
-
-
$42
12 – 1 PM
-
-
-
-
-
1 – 2 PM
$42
-
-
-
-
2 – 3 PM
-
-
-
-
-
3 – 4 PM
-
-
-
-
-
4 – 4:30 PM
-
-
-
-
-
Net
Revenue/Day
$42
$44
$0
$42
$42
$44
Net revenue/year assuming 46 weeks using Medicare 2010 fee schedule
GPCI adjusted
$7,855
Thinking Outside the Box
• What if you were self-employed? What would your
salary be with current class attendance?

If you make $70,000 a year ($33.65/hour)
Goals
Affiliate
Average
Highest
Performer
Lowest
Performer
Billable Hours
100%
43.9%
71.4%
24.2%
Billable Hours
40 hours
17.6 hours
28.6 hours
9.7 hours
Salary
$70,000
$30,796
$50,044
$16,973
What is effective marketing?
• Marketing is educating your patients,
referring physicians and the
community about your Joslin center,
not just "advertising"
What can we do to increase class attendance?
Idea
1.Having a persistent secretary to call and remind patients to
attend class
2.Investigate barriers to attendance and solve those issues (e.g.
transportation – is there money for cab vouchers/bus passes?)
3.patient incentives – sporting events, movie passes. Develop
a point system for patients to work towards
4.incentive for patients to bring a friend with diabetes to class
with them
5. provide food – opportunity to showcase that healthy food can
be good and promote good food choices
6.5-day pass (or some other timeframe) to gym when class is
completed
7.internal competition between educators to get more patients
scheduled for their classes
8.educators do class booking – get patients to appropriate class
(helps to diversify class offerings as well)
9.put education as the focus of printed materials rather than
stressing medical visits for materials left at PCP offices
10. publish articles/information in hospital physician newsletter
11. establish a blog and promote website
Affiliate Marketing Ideas – Univ of MD
• Top 10 Reasons to see an Educator

Health fairs and new patient folders
• A1C poster


Exam rooms
Lobby/waiting room
• Self-management brochure
• These will be posted on the Affiliate-toAffiliate Sharing page of the website

http://www.joslin.org/affiliates/affiliate_to_affiliate_sh
aring.html
Affiliate Marketing Ideas - OSF
• Refrigerator magnet
• This will be posted on the Affiliate-toAffiliate Sharing page of the website

http://www.joslin.org/affiliates/affiliate_to_affiliate_sh
aring.html
Joslin Boston
• Why you (or your patient) should see an
educator
• Theme - Team up with us to bridge the gap
in diabetes care!
Joslin Boston – for physicians
• Why Should Your Patients See a Joslin Diabetes Center
Educator?















have in depth knowledge of diabetes and its co-morbidities
bridge the gap between your recommendations and the patient's
reality
do a comprehensive assessment of the patient's education needs
individualize your recommendations
spend time getting to know your patient's goals
help your patients define realistic strategies to get to goal
interpret your recommendations into behavioral steps
teach patients in depth problem solving about food, exercise,
medications and blood glucose results
help patients access additional resources for ongoing support
provide encouragement to discouraged patients
increase patient self-reliance
refer patients back to you for medical management
keep you informed of your patient's progress
share the burden of diabetes education and management with you
and the patient
help patients prevent emergencies
Joslin Boston – for patients
• Why Should You See a Joslin Diabetes Educator?










To bridge the gap between what your healthcare provider asks you to
do and the rest of your life
To stay well despite diabetes
To help you make informed decisions and solve day-to-day problems
To figure out why your blood sugar is up and down
To learn little tips that may prevent big problems
To help you develop a personalized action plan
To learn how to use diabetes equipment like glucose meters, pens
and pumps
To clarify misunderstandings and increase your flexibility
To translate all the media messages you hear
To help you identify barriers that interfere with your successful
management of diabetes and to overcome them
How to Build your Marketing plan
• (Contractual requirement)






Identify a team
Create specific goals. Define action plans to meet these goals
Do your SWOT analysis (don't wait for annual site visit)
Analyze your competitors
Research your demographic area
Track your results
Step 1 – Internal Analysis
• Are you billing correctly?
• How are you better than your competition?
• Outline a marketing calendar of events for
the year
• SWOT analysis
• Who are your patients and where are they
coming from?
Step 2 – External Analysis
• Demographic analysis




Population
Age
Employment
Income
• Who else is treating your patients (nonendocrinologists)? (PCPs, etc)
• What is your payer mix?
• Know your direct competition

Who are they?
 Where are they?
 Do a SWOT for them and compare it to yours
A solid marketing foundation
• Strategic Marketing Plan
• Marketing team (include physicians)
• Printed materials
• Strong, user-friendly website
• Newsletter – patients, physicians, payers
• Budget
Getting the word out
• Satisfaction surveys
• Presentations
• Health fair booth representation
• Inservices
• Announcements/press releases
• Holiday recognitions
• Sponsorships
• Grand Rounds
• Community events
Monitoring success
• Track satisfaction survey responses – what
are they telling you?



Referring physicians
Patients
Payers
• Track referral patterns – who is and who is
not sending patients to you (and why)?



Physicians
Patients – ask them how they heard about you and
keep that information!
Payers
Today's ideas
• What have you heard today that you will
try?