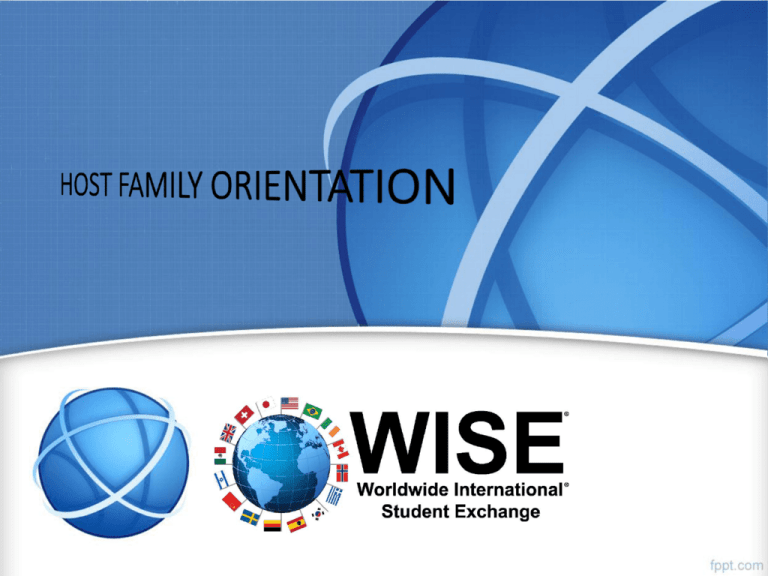 Your company information
Helping Your Student Adjust
• Consider the student a member of your family--not a guest!
• Make the student feel welcome
– Include the student in family activities
– Ask the student to share his/her culture
• Make your expectations clear
– Complete the "Home Sweet Home" rules and procedures
located in the Host Family Handbook, and review this with the
student within a few days of his/her arrival
– Assign a reasonable number of chores to the student
– Place reasonable limits on the student's computer and phone
time
Course Registration
• Make an appointment with the school counselor to schedule the student's classes
• Remind the student that grade level is determined by age, language ability, past
academic record, course availability and state-wide tests
• Prior to the meeting explain course offerings (especially electives, such as
computer, band and chorus)
– Usually on the school's website and/or in a handbook obtained from the
school
• If the student mentions needing to take certain courses or be placed in a specific
grade according to their school back home, tell the counselor
– Mainly applies to students from Spain, Mexico, Italy and Brazil
School Requirements and
Recommendations
• Requirements:
– English and either U.S. History or U.S. Government
– Maintain at least a "C" average in each class
– Attend all classes; skipping class is grounds for dismissal
•
Recommendations:
– Take both a Math and a Science course
– Honors and AP courses are not recommended, as they may be too
demanding and limit time with the host family and for extracurricular
activities
– Encourage your student to get involved shortly after arriving by trying out
for a sports team or joining a club to help make American friends
Your WISE Local Representative (LR)
and Other Resources
• Keep your LR's name, phone number and email address with you
• Contact your LR whenever you need advice, have questions or particularly if you are
having concerns about your student
• Your LR will contact you, your student and the school each month to see how things
are going
– Contact may be in person, by phone and/or email, however the LR is required
to meet with your family at least once per semester and to meet with the
student at least twice during the first semester and once during the second
semester
– Host family and student orientations count as one in-person visit
• Keep the WISE toll-free number with you at all times: 1-800-264-0948
– Someone is available 24/7.
• Keep the student's insurance information with you also
Student Health Insurance
• Students will receive an insurance card, and you will receive a packet containing
information on your student's insurance coverage, prior to the student's arrival
• Generally students are insured for a maximum coverage of $250,000, subject to
covered expenses and limitations
• Policy does not cover health exams, sports physicals, immunizations, pre-existing
conditions or routine dental and eye procedures
– Students are responsible for these expenses
• Original receipts are necessary to process claims
• Occasionally students have to pay the provider up front and be reimbursed after
the claim is processed
• Only use the emergency room for life threatening situations; if the student is not
admitted there is a $250.00 co-pay.
• Call your student's insurance company directly with questions, or call the WISE
Student Support Center at 1-800-264-0948
Culture Shock and Homesickness
It is normal!
• Signs: boredom, becoming easily upset, staying in his/her room
excessively, sleeping too much, negative feelings towards the U.S.,
overeating
• How you can help your student overcome this:
– Place reasonable limits on contact with the student's home
country, including calls, email, Facebook and other online
communication
– Keep the student busy: encourage exercise and involvement with
a school or community activity or sport
– Know that it will pass when the student gets more comfortable in
the new culture
– Discuss these feelings with your student, and be supportive
– Encourage your student to continue with the program if he/she
mentions just wanting to go home
Financial Matters
• Students and host families are not allowed to share a bank account
• Students and host families are not allowed to borrow money from each
other
• Most students bring a credit/debit card providing access to an ATM
• We strongly recommend students have $250 - $300 per month in
spending money
• Host families are responsible for breakfast and dinner on school days, but
students are responsible for school lunches (either purchasing items to
pack their lunch or buying lunch at school)
• On weekends host families are responsible for breakfasts, lunches and
dinner (with the following exceptions)
Financial Matters Cont'd
• As long as you do not eat out more than 2-3 times per week, students
are responsible to pay for meals outside the home
• Students are responsible for clothing, personal hygiene products (e.g.
soap, shampoo, etc.), entertainment, long-distance calls made on your
phone and medical costs not covered by insurance
• Students are not allowed to be enrolled on your cell phone plan
• Students should contact their parents whenever they are low on
spending money in a given month
– Contact your LR if this happens frequently
Program Rules
• Students should follow family rules: ask permission in advance; let you know
where they are, with whom, and when they will return (by curfew)
• It is against the law for students to purchase, possess or use
– Tobacco under the age of 18
– Alcohol under the age of 21
– Any controlled or illegal substances
• Students may not drive any motorized vehicle other than a driver's education
car if enrolled in an approved course
– Students may be a passenger on a 4-wheeler, jet ski, snowmobile, etc., but
they may not drive them!
Program Rules Cont'd
• Students may use firearms after they have completed a Firearms Safety
Course
– hunting trips or visits to a shooting range are okay once the course is
completed
• No hitchhiking
• No life-changing decisions
– e.g. changing religion, piercings, tattoos or marriage
• No regular, full-time job or worker's permit allowed
– But babysitting or other non-competitive jobs up to 10 hours per
week are okay
• Students must follow school rules
– No in-school or out-of-school suspension
• Students must obey ALL rules and local, state and national laws
Program Rules Cont'd
• Return to their home country
– During the year: only if there is a death or an imminent death
in immediate family
– End of program: within 2 weeks after school ends or on a date
agreed upon with the host family
• Visits from natural parents
– May only occur within the last 2 months of the student's
program
– Travel with natural parents requires an "End of Program
Release Form" requiring natural parents to take responsibility
for the student
• Invitations for students to stay with you beyond the flight date or
end of program date require an "End of Program Release Form"
signed and submitted to WISE in advance (see below)
Stay or Travel with the Host Family
Beyond the End of Program
Consequences of signing the "End of Program Release Form" when
inviting your student to stay or travel with you after June 15
• Both the host family and the natural parents release WISE and the
sending organization from any and all responsibility
• Host family accepts full responsibility for the student's travel and/or
living arrangements
• Host family takes responsibility for the health, welfare and personal
well-being of the student
• Host family may not hold WISE or the sending agent responsible for
any loss or injury suffered during the period following the end of
program
Academic and Behavioral
Warnings and Probation
• For less serious infractions, students receive a 30-day warning letter
– If they do not make sufficient progress during that time they will
be placed on probation
• All probations are in effect for the entire semester
• Natural parents will receive a copy of the warning and/or probation
letter
• WISE Staff makes the final decision regarding whether or not a
student will be dismissed and returned to their home country
Resolving Problems
• If at all possible, students and host families should try to resolve their problems
together first
• If problems persist, call your LR, who will meet with you
• If the AR feels that it is in the best interest of the student and/or your family to
move the student, all efforts will be made to keep the student in the same
school and/or community
– Do not insist that the LR move the student out of your area
• If you decide you want the student removed from your family, the Host Family
Agreement specifies that the LR has two to three weeks to locate and qualify
another family
Friends and Dating
• We encourage students to make American friends
• If you have a teenager, do not expect or require your child to take the
exchange student everywhere he/she goes and vice versa
• Students should limit their contact with other exchange students, as
it will hinder attempts to make American friends
• Students should speak English in the presence of others
• Students should avoid developing serious relationships, as it will
possibly hurt the relationship they have with your family and friends
• Students should avoid any type of sexual relationship
Sexual Abuse
U.S. Department of State regulations require the following information to be
covered in student orientations
• Any type of unwanted physical interaction
• Can involve different kinds of physical touching
– Being made to kiss someone
– Being made to touch private body parts
– Being made to engage in unwanted sex or sexual acts
– Being made to look at pornographic material
– Any other behaviors that make you uncomfortable and continue
after you have asked them to stop
Sexual Abuse (Cont'd)
– U.S. law protects the person that is abused!
– Abuser strategies
• Giving you special attention
• Asking you to break rules
• Sharing secrets with you and telling you not to say anything
• Telling you that everything is okay when you feel uncomfortable
• Manipulating you by saying, "If you really cared for me, you'd do it"
– Practice online safety
• Never share your last name, home or cell phone number, address – here
or abroad, personal email address, or provide pictures to strangers
– Do not hesitate to call your LR or the ICES toll-free number (1-800-264-0948 )
if you need help!
Students' safety and well-being are most important to us!
Have A Wonderful Year!
• As we remind students faced with cultural differences, "It's not
right, it's not wrong; it's just different!"
• It is normal for you to share many of the same emotions as
your student: anxiety, wonder and excitement
• Thank you for opening your heart and home; we hope this
experience will be rewarding and memorable for your family
REMEMBER THAT YOUR LOCAL REPRESENTATIVE
AND THE WISE STAFF ARE ALWAYS HERE TO HELP YOU!