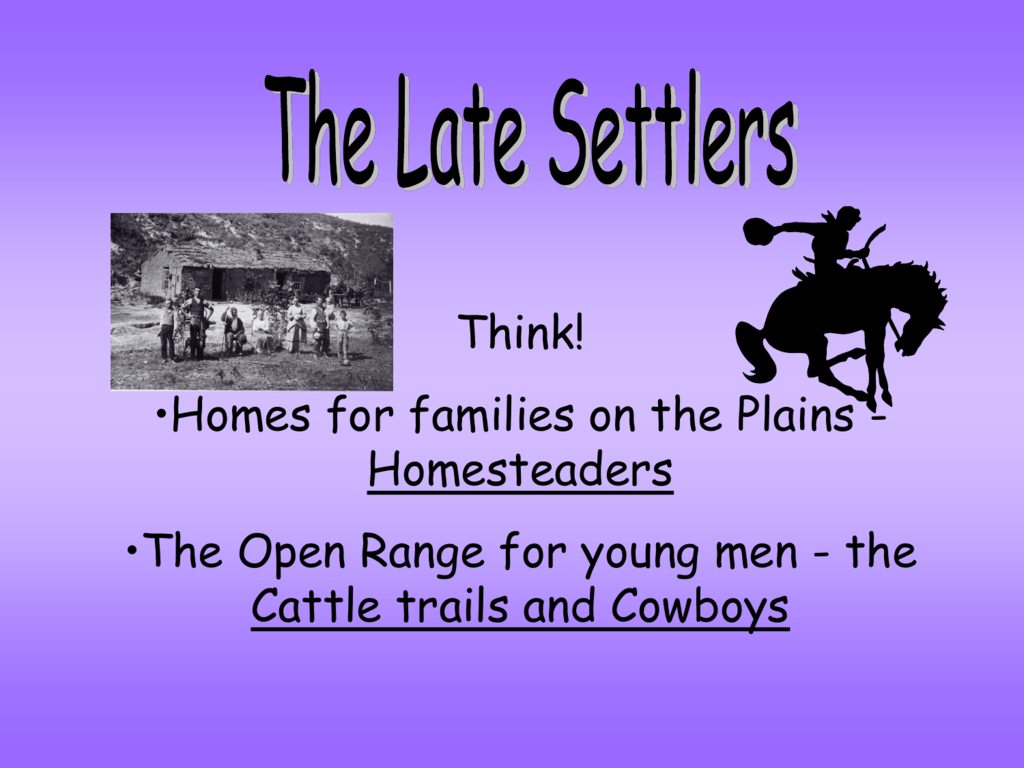 Think!
•Homes for families on the Plains Homesteaders
•The Open Range for young men - the
Cattle trails and Cowboys
How are the late settlers different
to the early settlers?
Think! - Land - the early settlers moved as far
west as they could:
•Gold miners - California
•First Farmers - Oregon
•Mormons - Great Salt Lake
The late settlers wanted a lot of land in and
around the Plains and down towards the southern
states (Texas).
(see map next page!)
Oregon - Farms
Great Salt
Lake Mormons
California - Gold
The Plains
- Plains
Indians
first, then
Homesteaders
Texas and
Plains Cattlemen
and
Cowboys
Your Task
• You need to create a mind map on the
Homesteaders
• You must include
• 1) Who became homesteaders
• 2) Why they went west
• 3) where they settled
• 4) Relationship with other settlers and
Indians
• 5) Problems they faced
• 6) How they overcame the problems
• 7) Significant Factors that helped them to
settle
Sodhouses (dirt, dried grass, infested)
Poor
quality
land prairie,
dry
Role for men
and women
Lack of
wood for
building
Back
break
-ing
farm
work
Extended families
Bad weather,
wind, rain, hot sun
Pull factors
Push factors
•Offer of land
•People came from Europe escaping
poor quality land, poverty,
unemployment, persecution (Jews
from Russia)
•Start of a new life /
adventure
•Soldiers returning from the civil war
•Advertising by railroad
•Ex-salves seeking a new life away
companies
•Letters from those
already living there
from slavery
•Economic problems, failure of crops,
people hungry
Who were the Homesteaders?
• Railroad 1869
Homestead Act 1862
• Timber Culture Act 1873
• Government Action
Wind Pump
Desert Land Act 1877
• Barbed Wire 1874
• Claim Jumping
• Prairie Fires
Staking Claim
Women Homesteaders
You have 5 mins in your pairs to discuss and
define these key words and phrases for the
Homesteaders
How did they overcome their problems?
The Solutions!
What were the other Land Acts?
Government responded to critcism of
Homestead Act
•
•
•
•
Timber Culture Act – 1873
Up to 480 acres of land as long as planted at
least 40 acres of trees
Made Homesteads bigger and more likely to
make a profit
Desert Land Act - 1877
Up to 640 acres in areas where the rainfall
was a problem
Had to irrigate land
Which Factors were most significant in helping
the Homesteaders settle on the Great Plains?
• Government?
• New Technology? New Farming Techniques?
• Better Law and Order?
• Indians being moved to Reservations?
• The Railroad?
• Hard work? Women Homesteaders?
• Anything else?