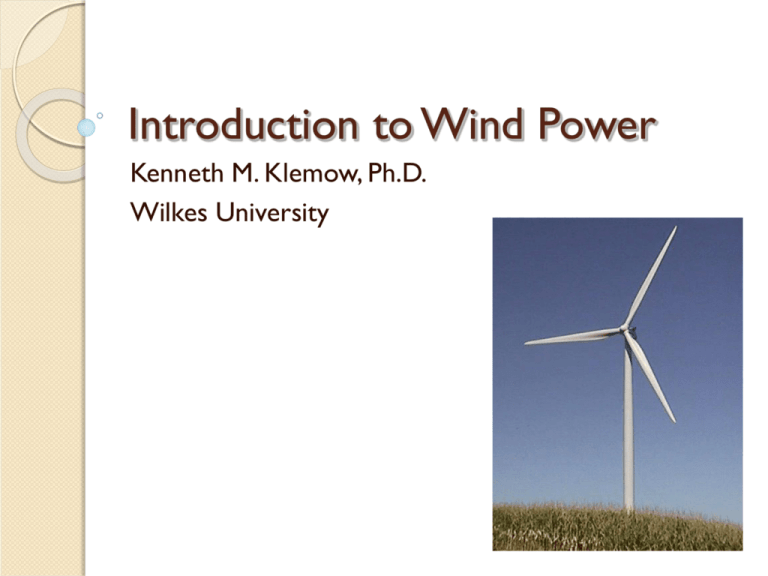 Introduction to Wind Power
Kenneth M. Klemow, Ph.D.
Wilkes University
What is wind power?

Conversion of wind energy to useful form
◦ Mechanical energy
◦ Transportation
◦ Electricity
http://www.makeenergynow.com
http://apps.carleton.edu/
Why does wind blow?
Uneven heating of earth's atmosphere
 Large-scale cells
 Air pressure differences

Where is wind available?
Modern wind power uses turbines
in arrays called windfarms
http://inhabitat.com/
Wind turbines are evolving
http://electrical-engineering-portal.com/ready-for-wind-power-its-time
Wind turbine nacelle
Connecting to grid
Global windpower capacity
Global wind as of 2009
http://www.mhi-global.com/
Wind installations 2011
http://www.windpowermonthly.com/
Wind installation U.S.
Wind Power in PA

Currently have
24 windfarms
◦ Total capacity –
1335 MW
◦ Enough to power
390,000 homes

Future capacity
◦ 4000 MW
◦ Can power 1.17
million homes
http://www.pennfuture.org/content.aspx?SectionID=192
Wind costs have declined
Benefits of wind power
No emissions of carbon into atmosphere
 No radioactive waste
 Sustainable
 Energy is free – only cost is construction
of windfarm and some maintenance

Concerns about wind energy







Intermittent source of power
Habitat fragmentation
Bird and bat mortality
Aesthetic concerns
Fires
Ice throw
Wind turbine syndrome
http://news.softpedia.com/
https://sites.google.com/site/montvill
ewind/pictures/birds-wildlife
http://irjci.blogspot.com/
Wind turbine designs are evolving
http://www.popularmechanics.com/science/energy/solar-wind/4324331
So is wind power the answer to our
energy needs?