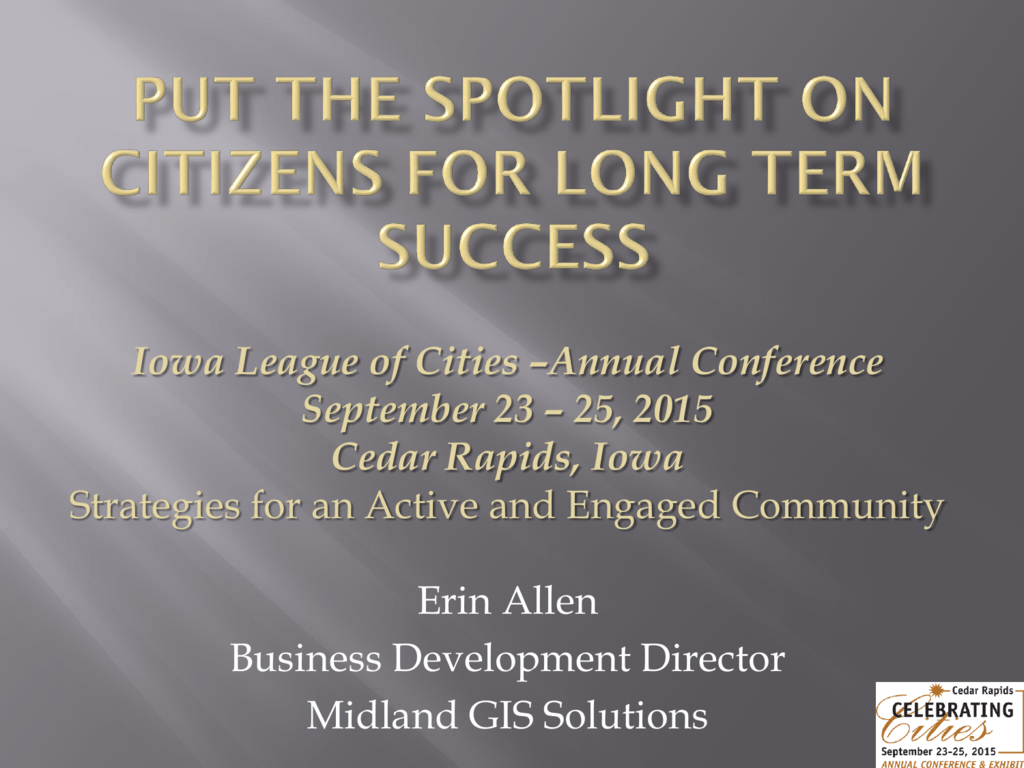 Iowa League of Cities –Annual Conference
September 23 – 25, 2015
Cedar Rapids, Iowa
Strategies for an Active and Engaged Community
Erin Allen
Business Development Director
Midland GIS Solutions





All references to citizen will be replaced with
customer.
All examples will be presented as anonymous,
unless I slip up, at which time the audience will
agree to forget what I said.
I am from Missouri, please cut me some slack.
These slides will be made available online.
There will be time for questions and discussion at
the end.
Engagement Workshop
1-Operating as a Business
2-Internal Marketing and Employee Satisfaction
3-Importance of Customer Satisfaction
4-Practices in First Class Customer Service
5-Dealing with Difficult Situations
6-Economic and Long Term Benefits
7-Steps Toward Improvement in your Community
Engagement Workshop
Consumption of those services requires customers.
13% of all movers in American between
2012-2013 moved less than 50 miles away. –
US Census Bureau
•
•
•
•
•
•
•
•
•
•
•
•
•
Engagement Workshop
Infrastructure and Utilities
Planning and Zoning
Economic Development
Public Safety and Fire
Emergency Management
Library
Parks and Recreation
Garbage/Recycling
Community Events
Airport and Transportation
Housing Assistance
Code Enforcement
Cemeteries
Customer is not a dirty word in local government
Customers are owners/stakeholders
Contingent
Citizen
Rate Payer
Tax Payer
Land Owner
Developer
Business Owner
Residential Household
Neighboring Community
Engagement Workshop
Engagement Workshop
Builds Trust
Encourages Participation
Fosters a willingness to support
Brings families back to town
NEVER HAS THE CUSTOMER BEEN MORE POWERFUL!
Engagement Workshop
If you cannot satisfy employees, you can't satisfy customers
Golden
Rule
Hierarchy
of Needs
Theory of
Motivation
Engagement Workshop
Resources
and
Support
TREAT OTHERS THE WAY YOU WOULD LIKE TO BE
TREATED!
Engagement Workshop
SelfActualization
SelfEsteem
Love (Social)
Safety and Security
Physiological
Lower
Order
Needs
John Stacy Adams - 1963
Ratio of a person's Outcomes to Inputs…..
…and how they compare to others
Engagement Workshop
Inequity
Problems
Inequity exists in a person's mind when their
perception of the ratios are out of balance.
The perception is more powerful than the
truth.
Fairness among employees can be judged in
terms of:
• Treatment
• Pay
• Benefits
• Duties
• Credit Received
• Training
• Future Opportunities
Engagement Workshop
If city leadership doesn't manage the employee's equity, the employee will.
BALANC
E
BALANCE
Less Efficient – Lack of Care - Quit – Complain – Steal – Spread Untruths – Air Grievances – Make Demands
Engagement Workshop
Resources and Support
Train and Mentor
Communicate Constantly
Recognize People Often
Internal Shadowing
Proper Tools
Career Counseling
Align Morals
Trust
Boundaries
Engagement Workshop
Engaged employees outperform unengaged
employees by 54% in retention, 89% in
customer satisfaction, & fourfold in revenue
growth. - Creating the Best Workplace on Earth, HBR
Engagement Workshop
Emphasis on Organizational Points of Contact

Office

Phone

Field

Media and Online
Golden Rule
Value Complaints
Partnerships with Local Providers
Engagement Workshop
First Impressions are paramount!
Employees only ask for the customer's name 21% of
the time. – Content Point Client Research
Engagement Workshop
How many times?







does the phone ring before being answered?
does the customer get placed on hold?
is the customer transferred?
does the customer have to leave a message?
does the customer actually get called back timely?
does the customers message get lost?
has feedback been solicited from the customer?
Engagement Workshop


There are always eyes on you
Train staff on handling off the clock inquiries


be approachable but set boundaries
Discuss off the clock behaviors
Engagement Workshop
Designate someone to handle media and online
Designate someone to speak on city's behalf
Engagement Workshop
TREAT OTHERS THE WAY YOU WOULD LIKE TO BE
TREATED!
Engagement Workshop
VALUE
COMPLAINTS
Typically only 4% of dissatisfied
customers actually communicate -
"Understanding Customers" by Ruby Newell-Legner
Using clear and concise methods,
handling complaints is one of the most
cost-effective, quick turn-around
improvements that can be made to an
organization's customer satisfaction
But…..it must be easy to do.

ASK THE CUSTIOMER
AND BE PREPARED TO
LISTEN
Engagement Workshop
Collaborate with other local providers
Municipal Utilites
School Districts
County
Hospitals
Engagement Workshop
Remain Calm
Set Boundaries
Listen
Kill them with Kindness
Work as a team and have a back up
Move difficult situations to a
meeting room or private office
• Look for the common ground
•
•
•
•
•
•
Engagement Workshop
Social Media and Online Platforms
Engagement Workshop
Types of Dissatisfied Customers and Negativity
 Terrorist
 Hostage
 Constant Complainers
 Social Complainers
 Entitled Complainers
Engagement Workshop
How to Handle it






Respond Immediately
Invite the individual offline
Buy yourself some time
Set Boundaries
FOLLOW THROUGH!
Embellish it on the
appropriate platform
Engagement Workshop
Snowball effect – getting things moving
More Consistent Revenue and Growth assists in
grant development
When the community has trust in the city, it is
easier to educate and sell them on bond issues.
Care for community and neighbors
Better Councils
70% of Americans are willing to
spend more money to receive better
customer service - American Express Survey,
2011
Engagement Workshop
1)Get your House in order



Set Expectations
Explain Limitations
Adjust your Leadership Style
 Commander, Catalyst,
Chairman, Coach

Find creative work-arounds
Engagement Workshop
2)Create a user friendly system of information seeking
3)Create a manageable system for feedback/complaints
4)Designate a Champion and empower your team
5) Communicate the improvements or goals
6) Listen
Engagement Workshop
Erin Allen
Business Development Director
Midland GIS Solutions
[email protected]
(660)562-0050
Jones, Thomas and W Earl Sasser, Jr. "Why Satisfied Customers Defect" HBR, Nov-Dec 1995.
Bernasek, Anna. The Economics of Integrity. Harper Collins: 2007.
Strebel, Paul. Trajectory Management. John Wiley & Sons, Inc.: 2004.
Berry, Leonard. Discovering the Soul of Service. The Free Press: 1999.
"5 Ways Brands Respond to Negative Social Media Comments." Retrieved, September 14,
2015 from http://www.seeksocialmedia.com/respond-negative-social-media-comments/
"We are Citizens, Not Customers.: Retrieved August 31, 2015 from
http://www.publicworks.org/we-are-citizens-not-customers/
A Portion of the presentation is based on personal experiences, education, and previous
research projects not necessary to be cited in this forum. Please ask if you would like more
information.
Special mention should be made to Dr James Walker and Dr. Terry Coalter, the two most
passionate, intelligent educators I have ever met. The positive difference they have made in
my career is immeasurable.