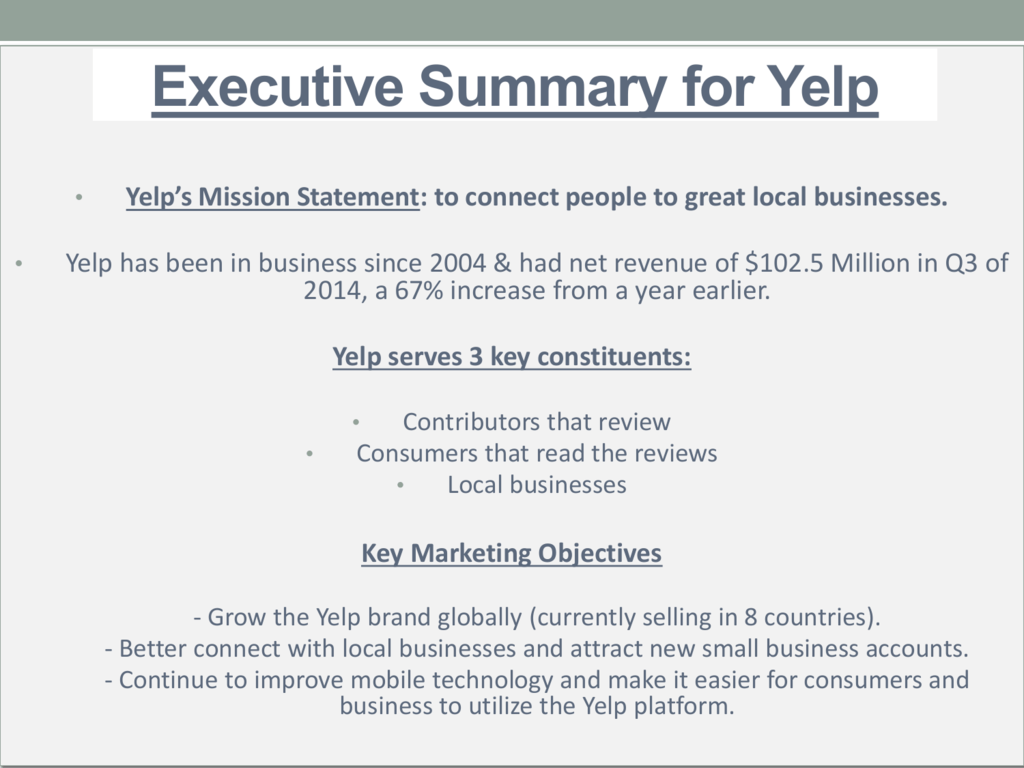 Executive Summary for Yelp
•
•
Yelp's Mission Statement: to connect people to great local businesses.
Yelp has been in business since 2004 & had net revenue of $102.5 Million in Q3 of
2014, a 67% increase from a year earlier.
Yelp serves 3 key constituents:
•
•
Contributors that review
Consumers that read the reviews
•
Local businesses
Key Marketing Objectives
- Grow the Yelp brand globally (currently selling in 8 countries).
- Better connect with local businesses and attract new small business accounts.
- Continue to improve mobile technology and make it easier for consumers and
business to utilize the Yelp platform.
Market Demand & Growth
International Reviews
International Visitors
8
35
7
30
6
25
5
20
4
M
3
M
15
10
2
1
5
0
0
Q3 '13
Q3 '14
-Yelp's international reviews
grew by 97% from Q3 of
2013 to Q3 of 2014.
Q3 '13
Q3 '14
-Yelp saw a 40% increase in unique
international visitors over that
same time- frame.
Drivers of Revenue
The industry is highly competitive with low barriers of entry. The
industry's revenue drivers include:
Local Advertising
›85%
›Local
Advertising is
the main
driver of
revenue.
Brand Advertising
›10%
›Second
Largest Driver
of Revenue
Other
›5%
›Gift
Certificates
and other
initiatives.
Industry Attractiveness
Profit Potential
High
Low
Low
Segment C Businesses that are
Segment A: large geographcal
seeking low-cost, easy to use,
and diverse consumers who use
and effective advertising
ratings and reviews sites to
solutions to target a large
search for local businesses.
number on intent-driven
consumers.
Segment B: Customers who
are new in town or traveloriented community.
Industry Attractiveness
High
S.W.O.T. Analysis
STRENGTHS
•
•
•
Yelp is user friendly and convenient.
Yelp offers a platform for users to
share information.
High Growth Rates and Profitability
•
•
Global Markets
•
New Acquisitions
•
New Products & Services
Considering the popularity of Yelp,
the crowd of consumers will attract
more consumers.
OPPORTUNITIES
WEAKNESSES
•
•
•
•
•
Too many investments in research
and development.
Yelp is not a global web application.
Negative reviews given by customers.
This effects business relationship in a
negative way.
•
Small business units.
Competitors within the social review
industry such as Google.
Yelp services can easily be imitated,
•
External Business Risks
•
Financial Capacity
•
Government Regulations
•
Increasing Costs
THREATS
Strategic Market Plans (Direction)
Improve Overall Market Share.
Grow Small Business Account Relationships.
Geographic expansion & Increased emphasis
on Mobile technology.
Market Attractiveness- Huge opportunities here and
abroad.
Competitive Position- Yelp is one of a few firm's stealing
market share here in the US.
Positioning and Pricing Strategy
Area of Performance
Advantage
Low Cost Content Supply
Enables Yelp to have a
higher gross profit
margin.
Traffic to desktop and mobile
devices.
46% Increase in brand
advertising to grow
revenue.
• Yelp is well positioned with its food delivery services and other value
added services. Additionally, Yelp can offer goods at a lower price
than its competitors by packaging value-added services with other
key products.
• Yelp can also gain a prominent position in the market by engaging in
partnerships with top companies. This will allow Yelp to continue to
expand internationally.
Customer Needs
Retail TouchPoints (RTP): Today's consumer are empowered by the
amount of liberation and resources they have access to via the web
and mobile devices.
Search Media Strategy Benefits:
•
Create open up-to-date communication channel with audience to
better understand customer needs.
•
•
Gain more visibility and increase traffic to your website throughSEO (Search Engine Optimization) and SMO.
•
•
Build infrastructure to react promptly and courteously.
Learn tools to instantly promote and launch new products and
specials, last minute and web only deals.
Stay connected with customer 24 hours a day and have the tools to
spread your message around the globe.
Marketing & Sales Budget
2013 & 2014
Through Q 3
2013
2014
Net Revenue
$162.3m
$267.6m
Marketing & Sales
Expense
$93.123m
$147.470m
57%
55%
Marketing & Sales
Expense as % of
Revenues
Net Revenues grew by 65% from Q3 of 2013 through Q3 of
2014 while proportionate dollars spent on Marketing &
Sales declined by 2%.
Marketing Profitability
Impressive Year-Over-Year Growth in
Several Key Metrics
Reviews
64%
Unique Monthly
Visitors
67%
Claimed Local
Businesses
97%
Active Local
Advertisers
118%
• User generated reviews give Yelp a network
overtime it should get established in many
more markets; in doing this, it will be able
to sell its advertising to local businesses
profitably.
Yelp's Network Effect- breadth &
depth of customer reviews.
"Plus/Delta " Analysis
Marketing Planning Process/Outcomes:
In terms of working together well, we did a good job of splitting up the work equally
and communicating with each other every step of the way.
1. We also made a point to verify the differences in the marketing planning process.
Some components of the marketing strategy were very similar to one another. We
made a point to make sure the differences were clearly seen from the very
beginning.
2. Visuals were held in a high level of importance, and I think we worked well together
in choosing the appropriate graphs or charts in illustrating this.
3. Working together as a team can be difficult in an online class, but in my opinion, I
believe we did a great job in compiling significant information and presenting our
parts in a cohesive and well designed manner. All of this shows in the outcome in
every step of our marketing plan.
In terms of things that we would probably have done differently next time:
1. Chosen a different industry, in order to gather more information for our power points.
2. Give more time to review over our work before it is submitted. I only say this
because even though our work submitted for every part of the project has received
good feedback; as a group we would feel more confident submitting an assignment
after revising it several times.