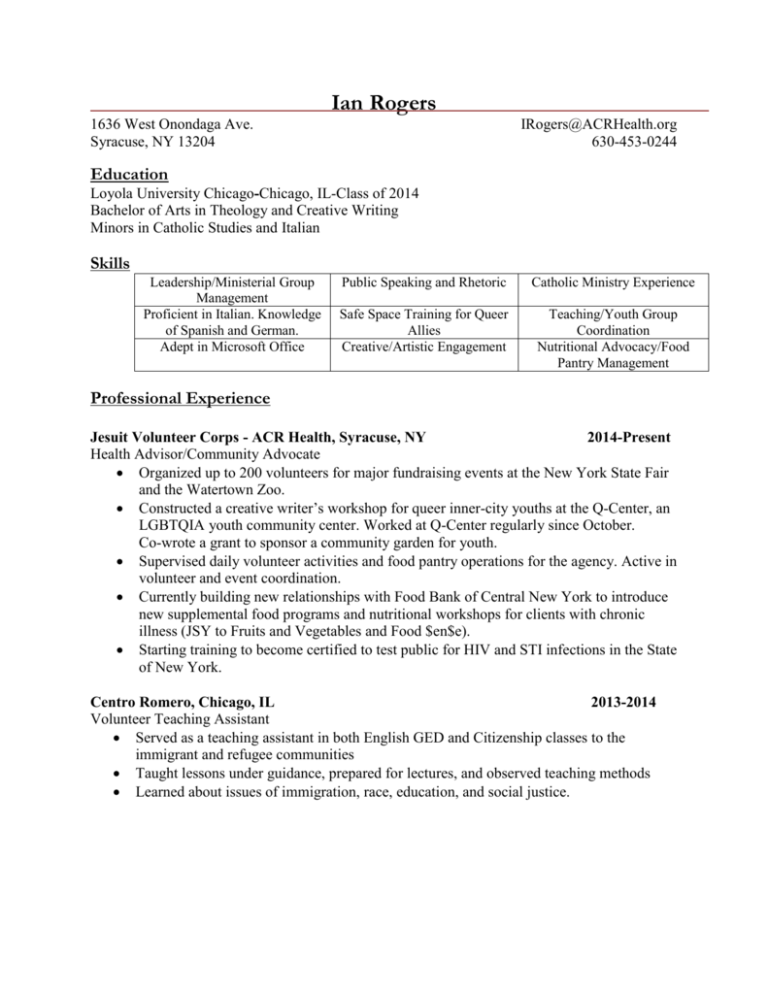 Ian Rogers
1636 West Onondaga Ave.
Syracuse, NY 13204
IRogers@ACRHealth.org
630-453-0244
Education
Loyola University Chicago-Chicago, IL-Class of 2014
Bachelor of Arts in Theology and Creative Writing
Minors in Catholic Studies and Italian
Skills
Leadership/Ministerial Group
Management
Proficient in Italian. Knowledge
of Spanish and German.
Adept in Microsoft Office
Public Speaking and Rhetoric
Catholic Ministry Experience
Safe Space Training for Queer
Allies
Creative/Artistic Engagement
Teaching/Youth Group
Coordination
Nutritional Advocacy/Food
Pantry Management
Professional Experience
Jesuit Volunteer Corps - ACR Health, Syracuse, NY
2014-Present
Health Advisor/Community Advocate
 Organized up to 200 volunteers for major fundraising events at the New York State Fair
and the Watertown Zoo.
 Constructed a creative writer's workshop for queer inner-city youths at the Q-Center, an
LGBTQIA youth community center. Worked at Q-Center regularly since October.
Co-wrote a grant to sponsor a community garden for youth.
 Supervised daily volunteer activities and food pantry operations for the agency. Active in
volunteer and event coordination.
 Currently building new relationships with Food Bank of Central New York to introduce
new supplemental food programs and nutritional workshops for clients with chronic
illness (JSY to Fruits and Vegetables and Food $en$e).
 Starting training to become certified to test public for HIV and STI infections in the State
of New York.
Centro Romero, Chicago, IL
2013-2014
Volunteer Teaching Assistant
 Served as a teaching assistant in both English GED and Citizenship classes to the
immigrant and refugee communities
 Taught lessons under guidance, prepared for lectures, and observed teaching methods
 Learned about issues of immigration, race, education, and social justice.
Arts and Artisans, Chicago, IL
2013-2014
Sales Associate
 Engaged customers to provide excellent service.
 Promoted products in a professional manner
 Maintained a clean and well-ordered work area as well as developed product placement
plans and tactics
 Packaged and unpackaged supplies, art pieces, and high-end furniture.
John Felice Rome Center Tutoring, Rome, Italy
2012
English Tutor
 Taught English in Italian to a local university student studying to pass the TOEFL exam.
 Created lesson plans utilizing famous American writers such as Flannery O'Connor and
Ernest Hemingway as well as engrossed student in English conversation.
 Met with local Italian high school students to mutually improve English/Italian skills
Loyola University Chapel, Chicago, IL
2010-2012
Wedding Sacristan and Acolyte
 Administered to bride and groom as a sacristan and server, setting-up the wedding and
cleaning up the church after the ceremony
 Guided priest throughout the Mass, aiding him in whatever he needed.
 Memorized Catholic liturgical practices
Ministry and Volunteer Experience
Loyola University Catholic Studies Department, Chicago, IL
2014-Present
The 1st Annual John Courtney Murray Student Forum, Student Leader
 Organize the first Catholic student forum at Loyola University centered around the
problem of disposable culture and ideas, people, and the environment.
 Co-write a Passion Play based on Girardian theology and cycles of violence.
 Delivered a presentation on how disposable culture affects our perception of art and
literature; titled "Would Flannery O'Connor Write a Blog?"
Loyola University Campus Ministry, Chicago, IL
2013-Present
Christian Life Community Coordinator
 Arranged weekly prayer meetings centered around the pillars of spirituality, community,
and service
 Wrote my own prayers as well as researched prayers of the Ignatian Catholic tradition to
present to the group.
 Attended weekly leadership meetings which taught methods of Ignatian prayer such as
the daily examen, lectio divina, and other elements from the Spiritual Exercises
 Lead leafleting around the neighborhood for Project Merry Christmas, a food can drive
which feeds a community in Vanceburg, KY for five months out of the year. Active in
organizing other types of social activism throughout the year.
Alternative Break Immersion: Dorothy Day House, Washington DC
2013
Participant
 Cooperated with local, grass-roots pacifist movements protesting nuclear armament and
U.S. war-making at the White House, as well as killer drone strikes at C.I.A.
Headquarters in Langley, Virginia
 Toured local ministries dedicated to serving victims of war and torture, as well as ending
U.S. sponsored mercenary camps such as School of Americas and affiliates.
 Provided food for the homeless around downtown Washington DC as well as served the
Catholic Worker by completing a variety of house projects and chores throughout senior
spring break.
Advocate at Loyola University Chicago, Chicago, IL
2010-2012
Safe Space Coordinator
 Conducted teaching opportunities to students and faculty about the LGBTQIA
community and how to construct safe spaces throughout the campus and the greater
Chicago community.
 Established Loyola's first LGBTQIA retreat and was its principle leader, planned and
booked its events to support the mission of the group.
 Attended weekly general and leadership meetings to build safe spaces and queer
consciousness among Advocate's members.