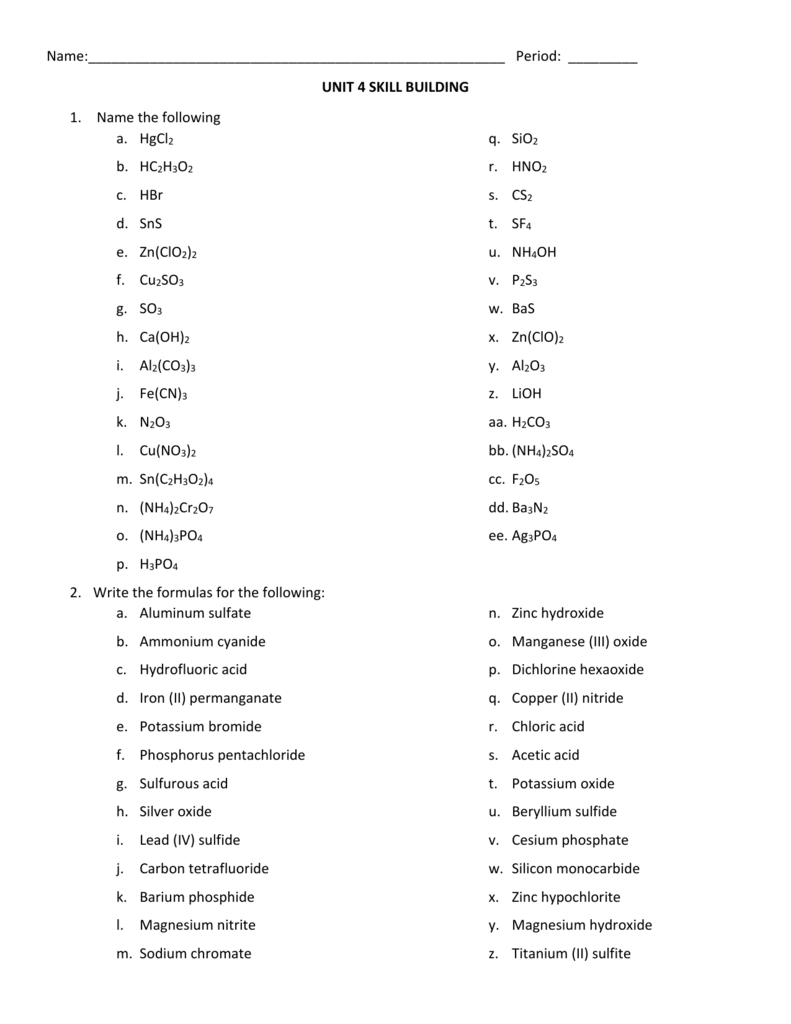 Name:______________________________________________________ Period: _________
UNIT 4 SKILL BUILDING
1. Name the following
a. HgCl2
q. SiO2
b. HC2H3O2
r. HNO2
c. HBr
s. CS2
d. SnS
t. SF4
e. Zn(ClO2)2
u. NH4OH
f. Cu2SO3
v. P2S3
g. SO3
w. BaS
h. Ca(OH)2
x. Zn(ClO)2
i.
Al2(CO3)3
y. Al2O3
j.
Fe(CN)3
z. LiOH
k. N2O3
aa. H2CO3
l.
bb. (NH4)2SO4
Cu(NO3)2
m. Sn(C2H3O2)4
cc. F2O5
n. (NH4)2Cr2O7
dd. Ba3N2
o. (NH4)3PO4
ee. Ag3PO4
p. H3PO4
2. Write the formulas for the following:
a. Aluminum sulfate
n. Zinc hydroxide
b. Ammonium cyanide
o. Manganese (III) oxide
c. Hydrofluoric acid
p. Dichlorine hexaoxide
d. Iron (II) permanganate
q. Copper (II) nitride
e. Potassium bromide
r. Chloric acid
f. Phosphorus pentachloride
s. Acetic acid
g. Sulfurous acid
t. Potassium oxide
h. Silver oxide
u. Beryllium sulfide
i.
Lead (IV) sulfide
v. Cesium phosphate
j.
Carbon tetrafluoride
w. Silicon monocarbide
k. Barium phosphide
x. Zinc hypochlorite
l.
y. Magnesium hydroxide
Magnesium nitrite
m. Sodium chromate
z. Titanium (II) sulfite
aa. Barium phosphite
dd. Ammonium carbonate
bb. Lithium nitrate
ee. Carbonic acid
cc. Chromium (III) dichromate
3. What is a binary compound?
4. What is the difference between ionic and covalent compound?
5. If the anion comes from the periodic table, what is done to its name?
6. When writing a formula for an ionic compound, what is the basis for determining how many of each
we need for the formula?
7. What is the difference between an atom and ion?
8. How can an atom become an ion?
9. Explain why each of the following pairs is not likely to form an ionic bond?
a. Chlorine and bromine
b. Potassium and helium
c. Sodium and lithium
10. Why must roman numerals be used when naming certain ionic compounds?
11. What does a metal atom need to do in order to form a cation?
12. What does a nonmetal atom need to do in order to form an anion?