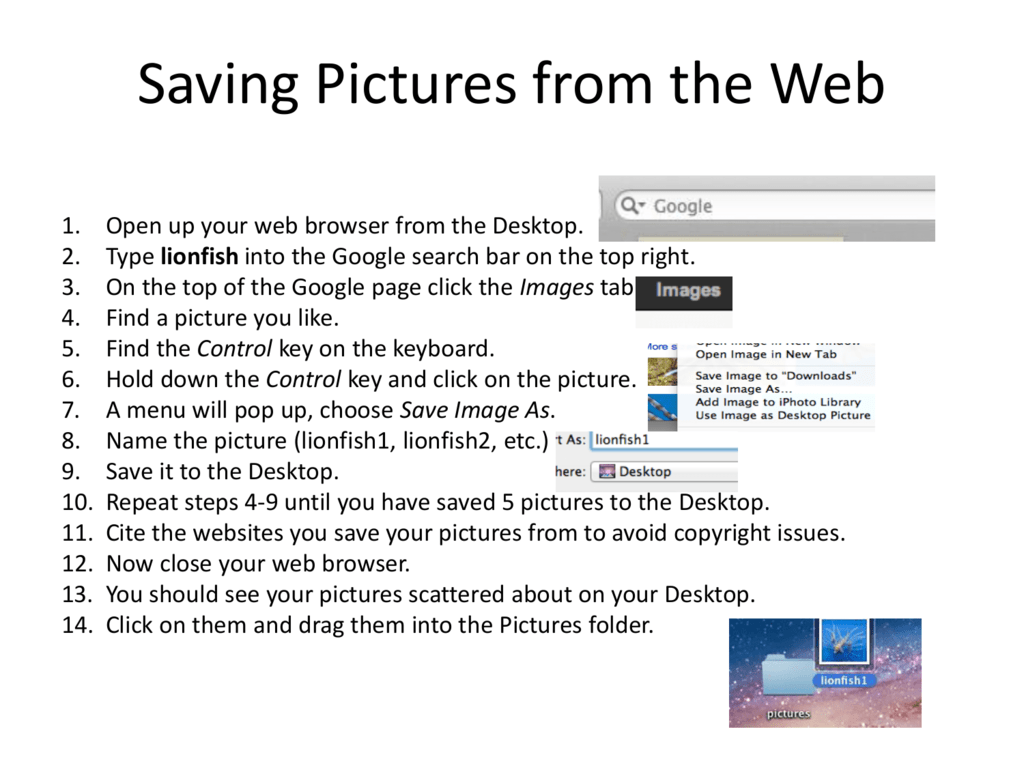 Saving Pictures from the Web
1.
2.
3.
4.
5.
6.
7.
8.
9.
10.
11.
12.
13.
14.
Open up your web browser from the Desktop.
Type lionfish into the Google search bar on the top right.
On the top of the Google page click the Images tab.
Find a picture you like.
Find the Control key on the keyboard.
Hold down the Control key and click on the picture.
A menu will pop up, choose Save Image As.
Name the picture (lionfish1, lionfish2, etc.)
Save it to the Desktop.
Repeat steps 4-9 until you have saved 5 pictures to the Desktop.
Cite the websites you save your pictures from to avoid copyright issues.
Now close your web browser.
You should see your pictures scattered about on your Desktop.
Click on them and drag them into the Pictures folder.
Voice Thread Center Directions
1.
2.
3.
4.
5.
6.
7.
8.
9.
10.
11.
12.
13.
14.
Go to www.voicethread.com. In the top right click Sign In.
Click Create an account and login.
Click on the Create tab.
Click Upload to get pictures.
Click My Computer.
Click Desktop on the right, then pictures folder, then choose a
picture and press Open.
Repeat steps 4-6 to upload remaining pictures from Desktop folder.
Once you have uploaded all pictures, click Comment. Close any popup that comes up by the house.
Click the Comment button under your picture.
Click Record. Press Allow when the window pops up.
Record a short comment about the picture. Press the red button to
stop your recording.
Choose Save if you like your recording. If not, choose Cancel.
Click the arrow to record for each of your pictures.
When it is time to stop, click the arrow next to my email, then click
Sign Out.
QR Code Center Directions
1. Open up Microsoft Word. [Specific how-to instructions go here.]
2. Think of a riddle for your group. At the top of the page, title your page and include your teacher's name. "A
group from Mr./Ms. XXXXX's class"
3. The goal is to try to get your teacher to guess who is in which group. Each group member will have one line
of the riddle.
Example:
1. I am tall and love to play football.
2. I love to read mysteries and have brown hair.
3. I have 3 brothers at Promise Road and I wear glasses.
4.
5.
6.
7.
8.
Now take a couple of minutes to format your riddle. Change the font, the font size, center your writing, etc.
When your riddle looks how you want, minimize Word by clicking the XXXXXXX button at the top.
Now open your web browser and go to the QR Code Generator link. [Specific how-to instructions go here.]
In the box for text, type in the answer to your riddle. Example:
Click Generate.
9.
10.
11.
12.
13.
14.
Copy and save your QR code to the Desktop. [Specific how-to instructions go here.]
Go back to your Word document.
At the top choose Insert. Go down to Photo and choose Picture from File.
Choose your screen shot from the Desktop.
You can resize the QR code as bigger or small as you want.
Raise your hand so a teacher can check your work and show you how to print.