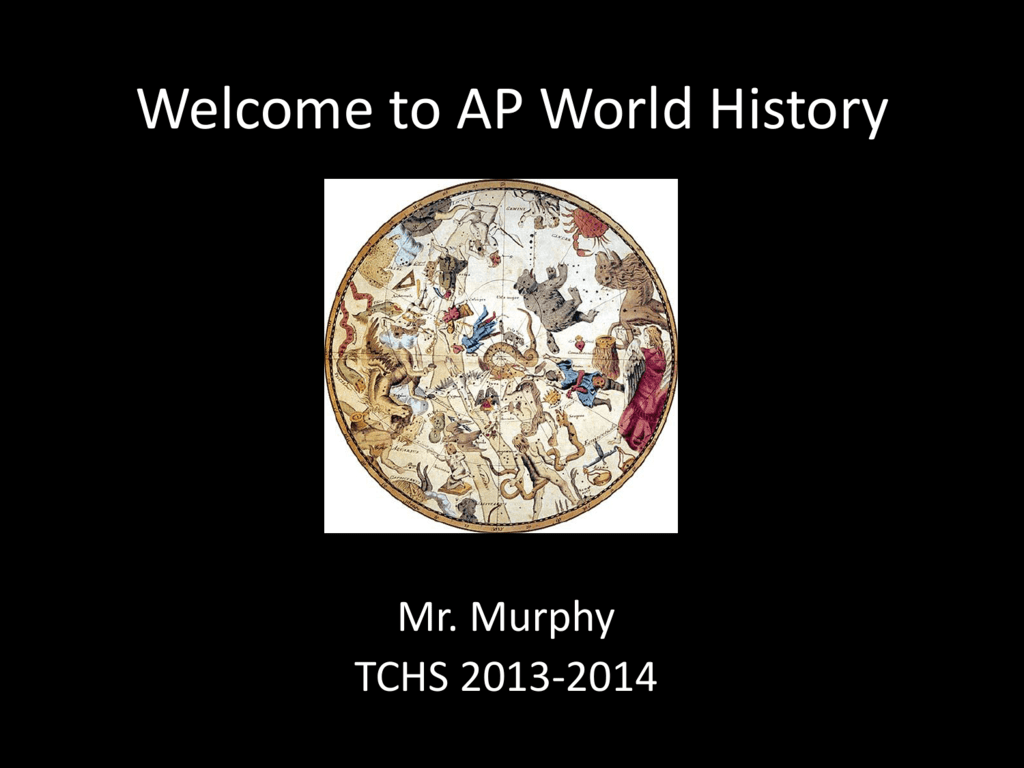 Welcome to AP World History
Mr. Murphy
TCHS 2013-2014
What is the AP
(Advanced Placement)?
•
The AP, or Advanced Placement, is a
college-level course. Through college-level
coursework and exams, students can earn
college credit by taking the AP Exam.
•
The AP Exam is given at the end of the year
and depending on your grade and the
university you attend, your test score can
count for college credit.
Why take the AP?
•
You can get a head-start on
college!
•
If you pass the AP Exam, you
won't have to take or pay (and
college is expensive) for the
courses you've taken.
•
It looks great on college
applications.
•
You will gain skills that will
help you be successful in college.
What should I expect this year in AP
World History?
• - Expect to work incredibly hard.
• - Expect to improve your writing skills and sharpen
your problem-solving techniques.
• - Expect to engage in intense discussions, solve
problems collaboratively, and learn to write clearly
and persuasively.
• - Expect to learn test-taking strategies that will help
you be successful on the AP Exam.
• - Expect to learn… A LOT.
What does the AP Test look like?
• Three hours and five minutes
• 70 multiple choice questions
– Worth 50% of the AP Exam grade
– 55 minutes long
• 3 essay questions
– Worth 50% of the AP Exam grade
• DBQ- Document Based Essay Question
– 40 minutes long
• Continuity and Change Over Time Essay
– 40 minutes long
• Comparative Essay
– 40 minutes long
• The AP World History Exam will take place on Thursday, May 15th
Where can I find good resources to prepare
for this course?
• collegeboard.com website
– - Find World History under Courses and Exams
– - Here you can find outlines, sample questions
and past essay questions and scoring guidelines
• The Class website
http://982000493791090370.weebly.com/
What are good study guides I can find?
•
•
•
•
- Cracking the AP World History Exam by Princeton Review
- 5 Steps to a 5 AP World History by Peggy Martin
- Kaplan AP World History by Jen Laden and Patrick Whelan
- iTunes
– Good podcasts, lectures, study cards, and other
resources you can download for free.
Also…
• - This course will be your primary resource to
passing the AP Exam. However, I cannot cover it all,
so you must read your book.
• - There are many good resources outside of this
class. Many of them you can get for free by going to
the public library or by going on the internet.
AP World History
1) Course was created in an effort to look at the world as an
interrelated system, rather than looking at how Europe
imposes itself upon the rest of the world (Euro-centric)
2) Follows current historical scholarship
3) Examines 5 different geographical regions, 6 different
time periods, and 5 different themes (SPICE)
4) Focuses more on comparisons, connections, trends,
themes rather than details.
THE WHERE
1) Americas
11
Five Regions
2) Africa 3) Europe
4) Asia 5) Oceania
Each region will be 20% of the course
THE WHEN
Time Periods
1) 8,000 BCE – 600 BCE
2) 600 BCE – 600 CE
3) 600 CE – 1450 CE
4) 1450 CE – 1750 CE
5) 1750 CE – 1900
6) 1900 - present
13
CED Periods/Eras
Era
Dates (c.)
% of ?s
8,000 –
600 BCE
5%
2. Organization and Reorganization of
Human Societies
600 BCE –
600 CE
15%
3. Regional and Transregional
Interactions
600 – 1450
20%
4. Global Interactions
1450 – 1750
20%
5. Industrialization and Global Integration
1750 – 1900
20%
1900 – present
20%
1. Technological and Environmental
Transformations
6. Accelerating Global Change and
Realignments
THE WHAT
Themes
1) Social
1) Gender, family, race, ethnicity, classes
2) Political
1) Governance, empires, nations, revolts and revolutions
3) Interactions with the environment
1) Disease, migration, settlements, technology
4) Cultural
1) Religion, philosophies, science, arts, architecture
5) Economic
1) Agriculture, production, trade, commerce, labor, industry
16
So what is AP World History?
• Global and Comparative Integration
– Spatial: Compare regional events to global.
– Temporal: Compare events through multiple eras
Historical Thinking Skills
Name of Skill
(Prerequisite)
Content Knowledge
Description
Deep Knowledge of a great deal of information— names,
chronology, facts, events, etc.
1.Crafting Historical Arguments From Historical Evidence
2Chronological Reasoning
3Comparison and Contextualization
4. Historical Interpretation and Synthesis
In conclusion…
• - Please remember that we will be working
hard this year.
• - You will need to devote a lot of your time to
your homework and to studying outside of
this class.
• - The AP Exam is 286 days away! We have a lot
of work to do until then.
• - Any questions?