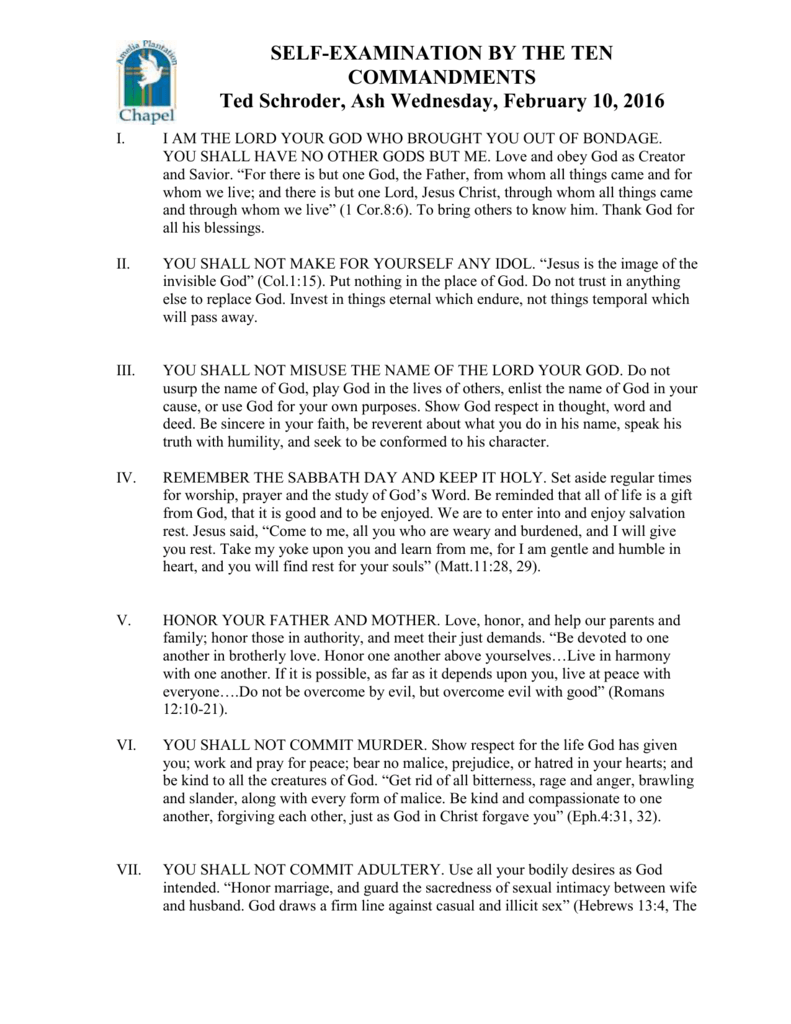 SELF-EXAMINATION BY THE TEN
COMMANDMENTS
Ted Schroder, Ash Wednesday, February 10, 2016
I.
I AM THE LORD YOUR GOD WHO BROUGHT YOU OUT OF BONDAGE.
YOU SHALL HAVE NO OTHER GODS BUT ME. Love and obey God as Creator
and Savior. "For there is but one God, the Father, from whom all things came and for
whom we live; and there is but one Lord, Jesus Christ, through whom all things came
and through whom we live" (1 Cor.8:6). To bring others to know him. Thank God for
all his blessings.
II.
YOU SHALL NOT MAKE FOR YOURSELF ANY IDOL. "Jesus is the image of the
invisible God" (Col.1:15). Put nothing in the place of God. Do not trust in anything
else to replace God. Invest in things eternal which endure, not things temporal which
will pass away.
III.
YOU SHALL NOT MISUSE THE NAME OF THE LORD YOUR GOD. Do not
usurp the name of God, play God in the lives of others, enlist the name of God in your
cause, or use God for your own purposes. Show God respect in thought, word and
deed. Be sincere in your faith, be reverent about what you do in his name, speak his
truth with humility, and seek to be conformed to his character.
IV.
REMEMBER THE SABBATH DAY AND KEEP IT HOLY. Set aside regular times
for worship, prayer and the study of God's Word. Be reminded that all of life is a gift
from God, that it is good and to be enjoyed. We are to enter into and enjoy salvation
rest. Jesus said, "Come to me, all you who are weary and burdened, and I will give
you rest. Take my yoke upon you and learn from me, for I am gentle and humble in
heart, and you will find rest for your souls" (Matt.11:28, 29).
V.
HONOR YOUR FATHER AND MOTHER. Love, honor, and help our parents and
family; honor those in authority, and meet their just demands. "Be devoted to one
another in brotherly love. Honor one another above yourselves…Live in harmony
with one another. If it is possible, as far as it depends upon you, live at peace with
everyone….Do not be overcome by evil, but overcome evil with good" (Romans
12:10-21).
VI.
YOU SHALL NOT COMMIT MURDER. Show respect for the life God has given
you; work and pray for peace; bear no malice, prejudice, or hatred in your hearts; and
be kind to all the creatures of God. "Get rid of all bitterness, rage and anger, brawling
and slander, along with every form of malice. Be kind and compassionate to one
another, forgiving each other, just as God in Christ forgave you" (Eph.4:31, 32).
VII.
YOU SHALL NOT COMMIT ADULTERY. Use all your bodily desires as God
intended. "Honor marriage, and guard the sacredness of sexual intimacy between wife
and husband. God draws a firm line against casual and illicit sex" (Hebrews 13:4, The
Message). "Do you not know that your body is a temple of the Holy Spirit, who is in
you, whom you have received from God? You are not your own; you were bought at
a price. Therefore honor God with your body" (1 Cor.6:19, 20).
VIII.
YOU SHALL NOT STEAL. Be honest and fair in your dealings; seek justice,
freedom, and the necessities of life for all people; and use your talents and
possessions as ones who must answer for them to God. We are not owners but
stewards of all that we have. Jesus said, "No one can serve two masters. Either he will
hate the one and love the other, or he will be devoted to the one and despise the other.
You cannot serve both God and Money" (Matt.6:24).
IX.
YOU SHALL NOT BE A FALSE WITNESS. Speak the truth, and not mislead others
by our silence. Jesus said to Pontius Pilate: "For this reason I was born, and for this
reason I came into the world, to witness to the truth. Everyone on the side of truth
listens to me: (John 18:37, 38). "No more lies, no more pretense. Tell your neighbor
the truth. In Christ's body we're all connected to each other, after all. When you lie to
others, you end up lying to yourself" (Eph.4:25, The Message).
X.
YOU SHALL NOT COVET ANYTHING THAT BELONGS TO YOUR
NEIGHBOR. Resist temptations to envy, greed, and jealousy; rejoice in other
people's gifts and graces; and do our duty for the love of God, who has called us into
fellowship with him. Jesus said, "Be on your guard against all kinds of greed; a man's
life does not consist in the abundance of his possessions" (Luke 12:13-21).
A PRAYER (after William Barclay)
God, help us to give to you and to your obedience the first and highest place in our lives.
Help us never to give any temporal thing the first place in our lives, and never to allow the desire
for money, fame, power, success to take the place in our hearts and lives which you should have.
Grant that we may never make a statement in your name which is not absolutely true, and grant
that we may never make a promise or a pledge and break it.
Help us to use your day to help us live better on the other six days of the week.
Help us to remember, where it is due, the debt of love and gratitude, of obedience and respect
which we owe to our parents, and never fail, where it is possible, to value our families.
Save us, from the anger, bitterness, and hatred, which would make us wish to hurt or injure any
living creature.
Keep us in purity of thought, word and action, that we may keep our bodies, our minds, and our
hearts wholesome and pure.
Keep us from ever taking that which we have no right to take, and make us so honest that we will
never stoop to dishonesty, however slight.
Keep us from all lies and from all untrue words, and especially from sullying someone's good
name.
Teach us to be content with what we have, and to serve you with gladness wherever life has
placed us.
Help us to follow your commandments so that we may flourish in your kingdom. Amen.