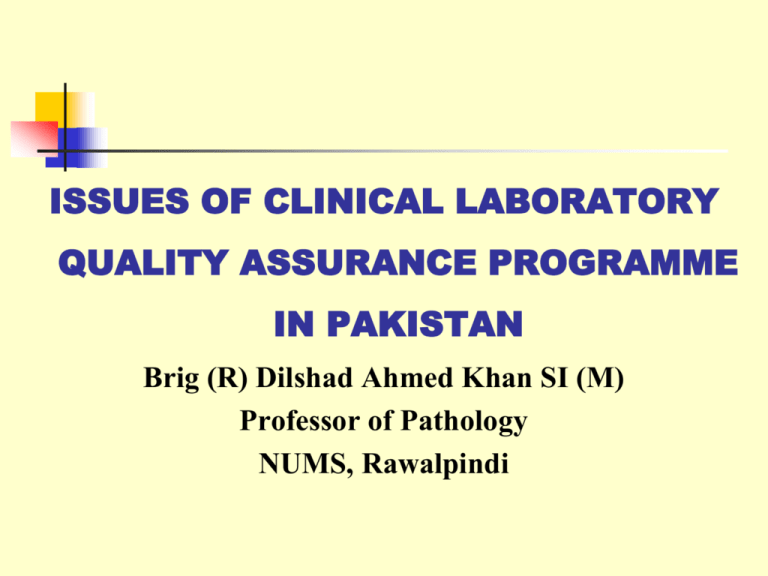 ISSUES OF CLINICAL LABORATORY
QUALITY ASSURANCE PROGRAMME
IN PAKISTAN
Brig (R) Dilshad Ahmed Khan SI (M)
Professor of Pathology
NUMS, Rawalpindi
Quality Assurance Programme

Quality Control - The aim of quality control is simply to
ensure that the results generated by the test are correct &
verify that the testing system is working properly.

Quality Assurance - Ensures that the final results reported by
the laboratory to the patient are correct: that the right test is
carried out on the right specimen, right interpretation/result is
delivered to the right person at right time
Factors That Affect Quality
of Patient's Results

The condition of the specimens

Reagents & Equipment

Internal quality controls program

Participation in external quality program

The interpretation & reporting of results
Unreliable QA Program ?
Potential consequences of unreliable QA Performance
include:
Patient misdiagnosis

Delays in treatment

Increased costs
QA Performance Failure

Pre-analytical:-
–
Errors before the sample reaches the laboratory

Analytical:-
–
Errors during the analysis of the sample

Post-analytical:-
–
Errors occurring after the analysis
Pre – Analytical Issues
Sample
Collection
Sample
haemolysis/
Incorrect
specimen
container
Sample
Transport
Delay in
samples
delivery/
Temperature
Incorrect
specimen
storage
Sample left
overnight at
room temp/
long term
storage at 4c
Improper Collection of Blood
Samples
 Sample haemolysis
LDH, potassium or inorganic phosphate
 Effects of exercise
creatine kinase / CRP
 Collection timing
24 hour urine
Incorrect Specimen Container
– Serum or plasma
• PTH, ACTH
– Fluoride tubes for glucose
• to inhibit glycolysis
– EDTA tube
• Unsuitable for calcium assay
Incorrect Specimen Storage
– Sample left overnight at room temperature
• Falsely elevated K, Pi and red cell enzymes
• short –term refrigeration
• medium term freezing at –20oC
• long term freezing at -80oC
– Delay in sample delivery
• Falsely lowered levels of unstable analytes
Internal Quality Control

Daily running of two control sera

Calculation of their mean and standard deviation

Plotting them on control charts

Daily checking and Interpretation of graphs
Example
Mean result (x) = 100 mmol/L
Standard deviation (SD) = 1.0 mmol/L
Number of results (n) = 100
Mean +/- 1SD
Frequency
-1SD
x
+1SD
68%
99
100 101
Values fall randomly about a mean value.
Mean +/- 2SD
Frequency
-2SD
x
+2SD
95%
98
100
102
Values fall randomly about a mean value.
Accuracy ?
How correct your
result is.
Precision ?
The reproducibility
of your results.
Which is more Precise ?
Performing better ?
Potassium mean 5 ; SD = 0.1 mmol/L
Sodium mean 140; SD = 2.0 mmol/L
Example
Potassium %CV = (0.1 / 5.0) x 100%
Sodium %CV = (2.0 / 140) x 100%
= 2.0%
= 1.4%
Sodium has the better CV and in this example is
performing better than potassium.
Westgard Rules

Westgard provides multiple QC rules:

Defines acceptability of analytical process

minimises false rejections

maintains high error detection
Westgard Rules
19
Levey Jennings Chart
+2SD
143
+1SD
141.5
X
X
X
X
Mean
X
X
X
X
X
X
X
140
X
X
X
-1SD
X
-2SD
X
X
138.5
137
Levey Jennings Chart
+2SD
143
X
X
X
+1SD
141.5
X
X
X
Mean
X
X
X
X
X
X
140
X
-1SD
X
-2SD
X
X
X
138.5
137
Levey Jennings Chart
+2SD
143
+1SD
X
X
X
X
Mean
X
X
X
X
X
X
X
X
X
141.5
X
X
140
X
X
-1SD
138.5
-2SD
137
Levey Jennings Chart
143
+2SD
X
X
+1SD
X
X
X
Mean
X
X
X
X
X
X
X
X
X
X
141.5
X
X
140
-1SD
138.5
-2SD
137
Shift ?

Inaccurate calibration/recalibration

Sudden failure or change in the light source

Change in reagent formulation

Change of reagent lot

Sudden change in incubation temperature (enzymes )

Failure in the sampling system

Failure in reagent dispense system
Levey Jennings Chart?
X
+2SD
143
X
X
X X
+1SD
141.5
X
X
Mean
140
X
X
-1SD
X
X
138.5
X
X
-2SD
X
X
X
X
137
Trend ?

Gradual deterioration of control materials

Deterioration of the instrument light source

Gradual accumulation of debris in sample/reagent tubing

Aging of reagents

Gradual deterioration of incubation chamber

Gradual deterioration of light filter integrity
Root cause analysis
External Quality Assurance?
Proficiency testing is the system designed to
objectively assess the quality of results obtained by
laboratories, by means of an external agency.
Benefits of EQA

Provide an inter-laboratory comparison

Allows participants to identify problems with their
testing process (Accuracy)

Investigate factors in performance of tests
(methods, Instrument, Reagents etc)

Supplement internal quality control procedures

Identifies improvement opportunities
External QA Programme
 International
 Regional
 National
International External QC

REQAS
(Rs 75,000/year)

BIORAD
(Rs 80000/year)

CAP
(Rs 100000/year)
National External Quality
Assurance Programme in Pakistan

E Q A pre-requisite for any country

Designed specifically for the country's needs

Economical

Useful in establishing national quality goals

Fulfilling the requirement of accreditation by PNAC
(NEQAPP Rs 2000/year)
NEQAPP

Clinical chemistry PT programme Started in 1996

60 labs invited for the scheme

47 labs enrolled

Each lab allotted a confidential code number

QC sera sent every three months

Results
List of Analytes











Albumin
Bilirubin
Cholesterol
Creatinine
Glucose
Lithium
Magnesium
Osmolality
Inorganic phosphate
Potassium
Total protein











Sodium
Triglycerides
Urea
Uric acid
Acid Phosph. (Total)
ALT
AST
Alkaline phosphatase
Amylase
CK
LDH
Cumulative statistics:
Percentage bias
Glucose
Inorganic PO4
EQA: Causes of Poor
Performance

Methodological/reagents reasons (33%)

Technical/intruments reasons (19%)

Clerical reasons (12%)

Blunders (11%)

Un-explained reasons (25%)
Expand Scope of NEQAPP

Expand NEQAPP to all disciplines of Pathology

Funding for necessary infrastructure

Enhance QA of labs on national level
PC-1 for NEQAPP

Submitted in early 2005

Prepared By:


Checked By:


Brig Dilshad Ahmad Khan
Brig Farooq Ahmad Khan
Approved by:

Maj Gen Masood Anwar, HI(M)
PC-1 for NEQAPP

Team of PNAC visited AFIP

PNAC requested Surg Gen for cooperation

Sectoral committee of PNAC for clinical labs

PC-1 for NEQAPP was approved in 2009
Expand NEQAPP Programme offered in 2010

Clinical Chemistry

Immunoassay/ Tumour Marker

Haematology

Microbiology

Histopathology
160
No. of participating Labs
No. of participating Labs
140
120
100
80
60
120
40
20
88
96
2010
2011
130
137
145
2013
2014
2015
47
0
1996
2012
New Participants
1 Questionnaire
2. Preparation of Panels
3. Panel Distribution
4. Data Collection
5. Data Analysis
6. Final Report
Enrollment Documentation
ENROLMENT DOCUMENT: - To be returned to NEQAPP, AFIP
Rawalpindi With Following Information:
LAB NAME
E-MAIL
PATHOLOGIST
TELEPHONE NO
ADRESS
PROGRAMME
When the details have been entered in the enrolment document it
should be sent to NEQAPP, AFIP or Register on website for
registration (www. Neqapp.net)
Pre-requisites- NEQAPP

List of analytes

Methods

Instruments/equipments

Reagents
Clinical Chemistry
Immunoassay
Instrument Code
Reagent Suppliers Source
PT Samples

Lyophilized human serum

Similar to patient specimens

Appropriate concentration levels

Good long term stability

Easy to transport

Reconstitution errors
General Chemistry Program :
Specimen Design
High Pool
Specify lowest and highest specifications
4
Level
6
3
+
Low Pool
2
1
Low Pool
Level 1
Lyophilized human
serum
High Pool
General Cycle of an EQA
Laboratory
monitors or takes
corrective action
Initial documentation
Laboratory analyzes samples
and sends results to EQAS
PT provider sends
report to laboratory
Input and validation
of data results
Report generated
showing individual
laboratory & all data
Statistical
data
processing
Return of Results

Reconstituted samples on or before the recommended date for
analysis and forward your results on the return sheets provided to
arrive at NEQAPP Coordinator by the FINAL DATE.

Results will normally be processed within 10 days of the FINAL
DATE. Reports usually take 2 weeks to print and dispatch
Late Results

Results received after the FINAL DATE will be processed
retrospectively.
NEQAPP Results Date
CLINICAL CHEMISTRY & IMMUNOASSAYS
Scheme
Mar
Jun
Sep
Dec
General Chemistry
X
X
X
X
Endocrinology
X
X
X
X
Tumour Marker
X
X
X
X
Reports

Identity
of
participants
is
usually
kept
confidential

Your lab analytes mean are compared with
group mean

Allowable Limits of Performance (SDI)

Show statistical data and summaries

Pass/Fail
Cat 1-Labs with all analytes
passed
Cat 2-Labs with >80% analytes
passed
Cat 3-Labs with <80% Analytes
Passed
Clinical Chemistry
Immunoassay
n=35
Reports provide

Data of your lab performance as well as
comparison with other laboratories

Analytes that have performed poorly can
be identified

Report will assist in determining the cause
and corrective action
Conclusions

Efforts are required to education about QA.

More labs should participate in the
to improve the quality of patients results.

Need for realization of NEQAPP problem.

Official backing/sponsors are required.