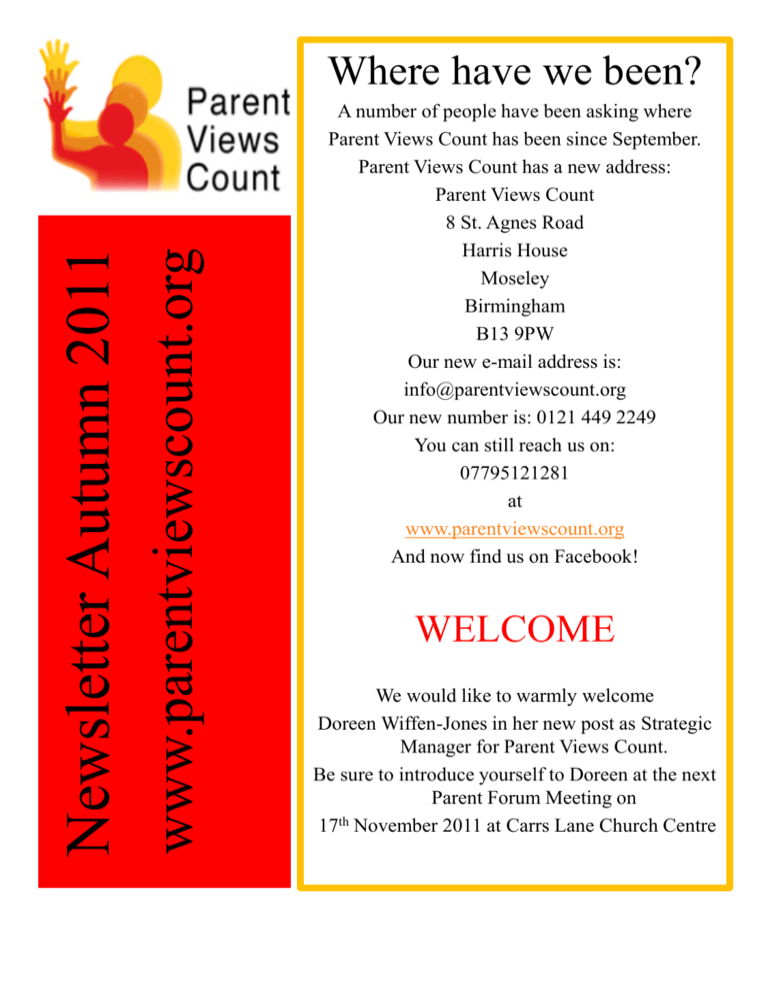 www.parentviewscount.org
Newsletter Autumn 2011
Where have we been?
A number of people have been asking where
Parent Views Count has been since September.
Parent Views Count has a new address:
Parent Views Count
8 St. Agnes Road
Harris House
Moseley
Birmingham
B13 9PW
Our new e-mail address is:
info@parentviewscount.org
Our new number is: 0121 449 2249
You can still reach us on:
07795121281
at
www.parentviewscount.org
And now find us on Facebook!
WELCOME
We would like to warmly welcome
Doreen Wiffen-Jones in her new post as Strategic
Manager for Parent Views Count.
Be sure to introduce yourself to Doreen at the next
Parent Forum Meeting on
17th November 2011 at Carrs Lane Church Centre
Parent Forum Meeting
Some expenses incurred for
attending PVC Parent Forum
meetings can be reimbursed.
If you have any questions
about claiming expenses
please contact PVC.
To claim back expenses on
the day of the Parent Forum
meeting please ask for a
member of staff at the front
desk before you leave.
If you are experiencing
difficulties attending the
Parent Forum meetings
please contact us.
If you are interested in
becoming involved in
Parent Views Count or
would like more information
please contact us
info@parentviewscount.org
or on
0121 449 2249
07795121281
Thursday, 17th November 2011
Venue:
Carrs Lane Church Centre
Carrs Lane
Birmingham
Time:
10:00am-1:00pm
Come and share your views on the Short
Breaks your child accessed over the summer
and hear from Short Breaks service
providers about the services they provided
over the summer and the October half-term,
as well as what we can expect in 2012.
There will also be an opportunity to speak
with Service Providers at a
'Marketplace Event'
Your Views Count!
Have Your Say!
BCC is currently holding public consultations on budget cuts.
You can find the 'Business Plan and Budget 2012+' document on the
following link: http://www.karmadillo.co.uk
You can also send in your views via post to:
Budget Views, Room B119, Council House, Victoria Square,
Birmingham, B1 1BB
e-mail to:
budget_views@birmingham.gov.uk
Or complete the on-line survey at
https://www.surveymonkey.com/s/budget2012
Birmingham is changing the way services are delivered - IMPORTANT CHANGES!
Birmingham is changing the way services are delivered to children, young people and their families, in partnership
with health, the police, and the voluntary sectors. Integrated Access Teams will provide a single point of contact for
professionals and members of the public who want to seek support or raise concerns about a child. Integrated Access
Teams will provide an accessible and responsive service, screening assessments to determine appropriate action,
advice about support available and referrals to the most appropriate services. The referral should be made to the
Integrated Access Team in the area where the child lives.
Please check the map carefully as some areas traditionally in
'South' are now in 'East'.
Once the referral has been accepted, there are 4 possible outcomes:
1. A referral to the Children's Social Care First Response Team
2. A referral to Integrated Family Support Teams who will bring
together professionals from a range of children's services.
They will work together in a coordinated way to meet the
needs of the child and the family where additional support is
required.
3. Advise that a Common Assessment Framework needs to be
undertaken within a universal setting
4. Advice and signposting to universal settings.