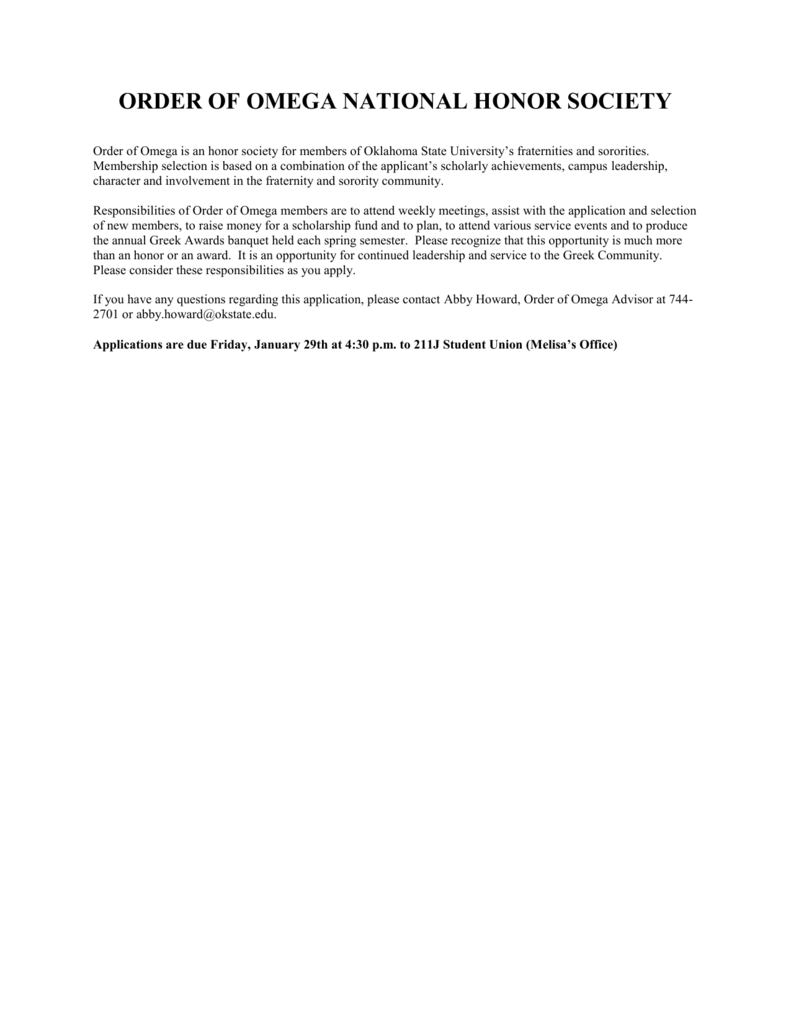 ORDER OF OMEGA NATIONAL HONOR SOCIETY
Order of Omega is an honor society for members of Oklahoma State University's fraternities and sororities.
Membership selection is based on a combination of the applicant's scholarly achievements, campus leadership,
character and involvement in the fraternity and sorority community.
Responsibilities of Order of Omega members are to attend weekly meetings, assist with the application and selection
of new members, to raise money for a scholarship fund and to plan, to attend various service events and to produce
the annual Greek Awards banquet held each spring semester. Please recognize that this opportunity is much more
than an honor or an award. It is an opportunity for continued leadership and service to the Greek Community.
Please consider these responsibilities as you apply.
If you have any questions regarding this application, please contact Abby Howard, Order of Omega Advisor at 7442701 or [email protected]
Applications are due Friday, January 29th at 4:30 p.m. to 211J Student Union (Melisa's Office)
ORDER OF OMEGA
National Greek Honorary
Membership Application
Top 3% of the Greek Community
Purpose: First, to recognize those students who have attained a high standard of leadership in inter-Greek
activities, to encourage them to continue along this line, and to inspire others to strive for similar
conspicuous achievement.
Second, to bring together the most representative fraternity and sorority members, and to create an
organization which will help to mold the sentiment of their institution on questions of local and
intercollegiate affairs.
Third, to bring together members of the faculty, alumni, and student members of the institution's
fraternities and sororities on a basis of mutual interest, understanding, and helpfulness.
Qualifications:
1. Must be an active member of a Greek letter social organization.
2. Must express character, scholarship, intelligence, and service in inter-Greek affairs.
3. Must have completed one full academic year of residence at OSU.
4. Must have completed at least 60 hours of coursework.
5. Must have an overall grade point average of 3.0 or higher.
6. Must pay a $50 initiation fee at the time of Initiation.
7. Must commit to attending all required events including initiation, meetings, and other events. Initiation is
set for Thursday, February 18th at 7:30 p.m. and meetings will take place on Thursdays at 7:30 p.m.
Name
ID#
Local Address
Phone
Major
Chapter
Email Address
Overall Grade Point Average
Classification: Senior
Anticipated graduation date
Junior
Please type, double space and no front and back, the following information on no more than two attached
pages; ANY MORE THAN TWO PAGES WILL NOT BE CONSIDERED. Make no reference to your name or
chapter name in filling out the additional pages. List activities by semester and please list length of
involvement. If you include VR or Freshman Follies, please indicate if you made the show.
I.
II.
III.
IV.
V.
VI.
Greek Activities (Be sure to include any offices held)
A.
Chapter (Please indicate if an executive position)
B.
IFC/Panhellenic/Pan-Hellenic/MGC
Awards and Scholarships
A.
Honorary Organizations
B.
Honors and Awards
Campus Activities
A.
Leadership Positions/Campus Organizations
B.
Athletics/Intramurals
C.
Publications, Speech, Music, and Drama
Other
A.
Volunteer Service
B.
Work Experience (hours/week)
Please provide a short paragraph (150 words or less) indicating why you want to be a member of the
Order of Omega
Please attach an official transcript to this application
I hereby certify that the above information is correct, and I give permission to the officers of Order of Omega to
check my permanent college records for verification.
Signature
Please return all completed applications to 211J Student Union by Friday, January 29th at 4:30 p.m.
Any questions? Call the Office of Fraternity & Sorority Affairs at 744-2701.