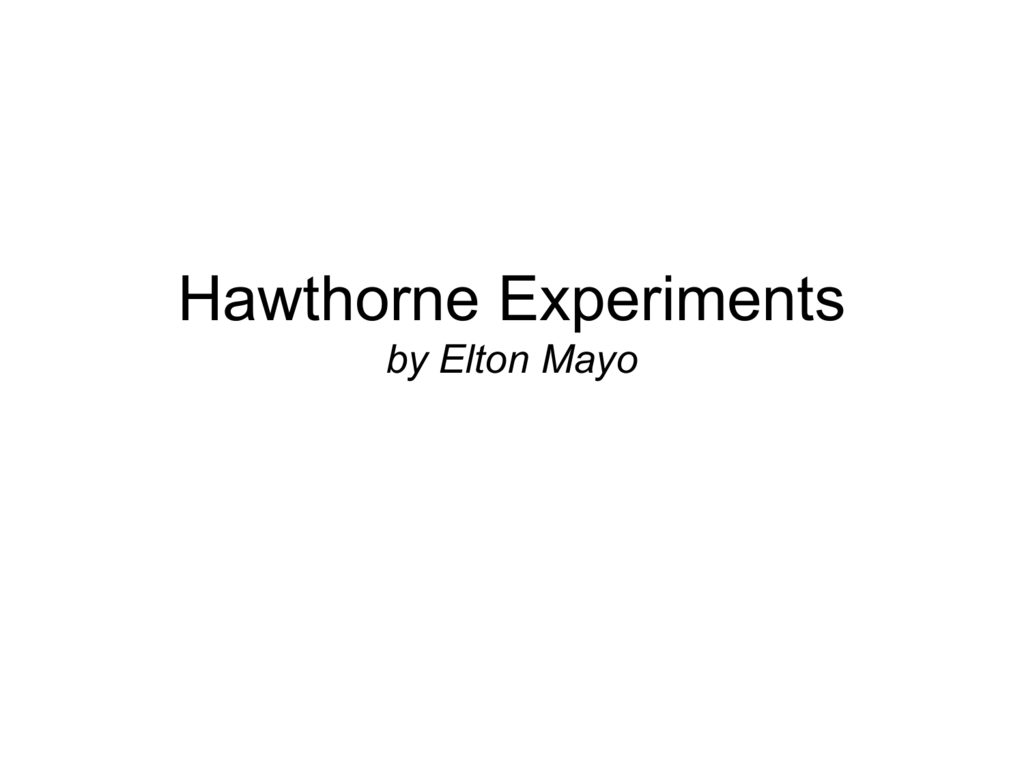 Hawthorne Experiments
by Elton Mayo
Illumination Studies – 1924-1927
• Funded by General Electric
• Conducted by The National Research Council (NRC) of the National
Academy of Sciences with engineers from MIT
• Measured Light Intensity vs. Worker Output
• Result – Each change (including decreases) resulted in higher
output and reported greater employee satisfaction
• Conclusions:
– Light intensity has no conclusive effect on output
– Productivity has a psychological component – Researchers
interaction with the workers influenced higher performance
• Concept of "Hawthorne Effect" was created
Relay Assembly Test Experiments 1927-1929
•
Western Electric wanted more information
•
Harvard researchers brought in to analyze the results – Elton Mayo & Fritz Roethlisberger
•
Group of 6 Women – (5) Assemblers and (1) Layout Operator
•
One Observer – Explained every incremental change and recorded results
•
Manipulated factors of production to measure effect on output:
–
–
–
–
Pay Incentives
Length of Work Day & Work Week
Use of Rest Periods
Company Sponsored Meals
•
Management Visits / Special Attention
•
Result – Most changes resulted in higher output and reported greater employee
satisfaction
•
Conclusions:
– Experiments yielded positive effects even with negative influences – workers'
output will increase as a response to attention
– Strong social bonds were created within the test group. Workers are influenced
by need for recognition, security and sense of belonging
Relay Assembly Room #2 - 1928-1929
• Measured output changes with pay incentive changes
– Special observation room
– Relay Assemblers changed from Departmental Incentive to
Small group – 1st Session
– Adjusted back to Large Group Incentive – 2nd Session
• Results
– Small Group Incentive resulted in new Highest sustained
level of production – 112% over standard output base
– Output dropped to 96.2% of base with return to large group
incentive
• Conclusion: Pay incentives were a relevant factor in
output increases but not the only factor.
Mica Splitting Test Group - 1928-1931
• Measured output changes with changes in work
conditions only:
–
–
–
–
Special Observation Room
Length of Work Day
Use of Rest Periods
Workers stayed on established Piece-rate compensation
• Result - Productivity increased by 15% over
standard output base
• Conclusions:
– Productivity is affected by non-pay considerations
– Social dynamics are a basis of worker performance
Plant Interview Program – 1925-1932
•
1925-1927 – Objective Questions
– Work Conditions
– Work Relationships
– Yes/No Answers
•
1928-1932 – Conversational / Non-directive
– Attentive Sympathetic Listening
– Concern for personal needs
– Increased in time from 30-90 minutes
•
Result – Remarkable positive employee perceptions:
– Working Condition Improved (no real changes)
– Better Wages (no real changes)
•
Conclusions:
– New Supervisory Style improved worker morale
– Complaints reflected personal and/or social barriers that needed attention
in order to raise productivity
Bank Wiring Observation Group – 1931-1932
•
14 Male Workers
•
Few Special Conditions
–
–
–
–
Segregated work area
No Management Visits
Supervision would remain the same
Observer would record data only – no interaction with workers
•
New incentive pay rate was established for the small group
•
Any increases in output would be included in departmental pay incentives
•
Result – No appreciable changes in output
•
Conclusions:
– Well established performance norms existed in the group
– Informal Social Organization dictated little deviation from established
production standards – Systemic Soldiering
– Informal Social Organizations protect workers from managers who
• Raise production standards
• Cut pay rates
• Challenge workplace norms
Sources of Information
•
Wren, Daniel A., and Arthur G. Bedeian. The Evolution of Management Thought. 6th ed. Hoboken, NJ: John Wiley
& Sons, Inc., 2009. Print.
•
"History of Management." ManagementGuru supports management studies and is maintained by Dr.Makamson.
Web. 16 Nov. 2009. <http://www.mgmtguru.com/mgt301/301_Lecture1Page10.htm>.
•
"Baker Library Chronicles Human Relations Movement." Harvard Business School. Web. 16 Nov. 2009.
<http://www.hbs.edu/news/releases/092407_hawthorne.html>.
•
"ProvenModels hawthorne effect - Elton Mayo." ProvenModels - Management Models | Management Theory |
Business Models | Michael Porter | Henry Mintzberg | Management Model | Business School. Web. 15 Nov. 2009.
<http://www.provenmodels.com/6/hawthorne-effect/elton-mayo>.