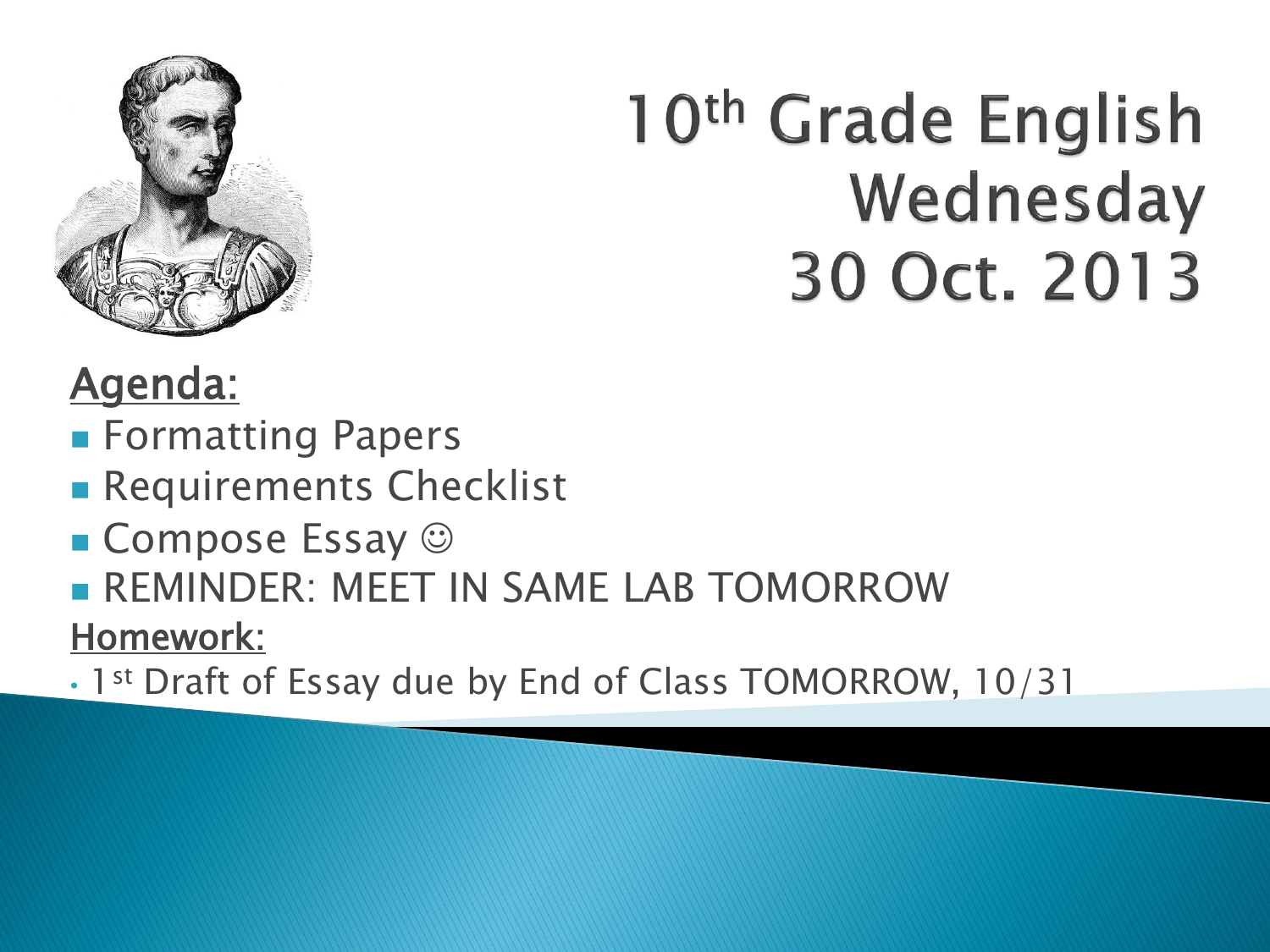 Agenda:
 Formatting Papers
 Requirements Checklist
 Compose Essay 
 REMINDER: MEET IN SAME LAB TOMORROW
Homework:
• 1st Draft of Essay due by End of Class TOMORROW, 10/31
1.
2.
3.
I can compose a thoughtful and interesting
conclusion.
I can craft my five paragraph essay.
I can format my paper according to MLA
guidelines.






Size 12, Times New Roman Font
Double Spaced (including heading)
Heading goes on left side with your name, my
name, the name of our class, and the date in MLA
format
Title should be centered
Paragraphs should be left justified, tab once at
the start of each paragraph.
Last name and page number should be in the
upper right hand corner on the 2nd page, and
every page thereafter.
 See Example Formatting Paper
Act I: Cassius manipulates Brutus beginning on Page 635
Act II:

Brutus talks himself into the conspiracy p 650

Cassius and Brutus clash over 3 key points. They try to
convince people to choose their side p 654

Portia convinces Brutus to tell her his secret p 657

Calphurnia convinces Caesar to stay at home p 661

Decius convinces Caesar the dream is a good sign 663
Act III: Antony powerfully uses language to manipulate the
crowd p 682
Logos: III.ii.89-98, III.ii. 241-253
Ethos: III.ii. 74-75
Pathos: III.ii. 175-184
Prompt #1: In Julius Caesar by William Shakespeare,
language is a powerful weapon, and in the hands of a
skilled person, it is used to manipulate others as
evidenced by the speeches of Cassius, Decius, and
Antony.
Prompt #2: In Julius Caesar by William Shakespeare, logos
proves to be the single most effective rhetorical strategy
as evidenced by the logical appeals of Cassius, Portia,
and Antony.
Prompt #3: In Julius Caesar by William Shakespeare, Antony's
funeral speech proves to be the most effective speech in
the entire play thanks to his persuasive strategies
appealing to logos and pathos.
◦ Topic sentence relating to the thesis statement.
CX:
◦ What's the context of the quote? How would
you quickly "set it up" so the reader
understands its place in the plot and its larger
context in the play?

Cd:

Cm:
◦ The actual quote you're using.
◦ The commentary and analysis of how this
supports the "thesis", which says, essentially,
that X theme is evident in the play.