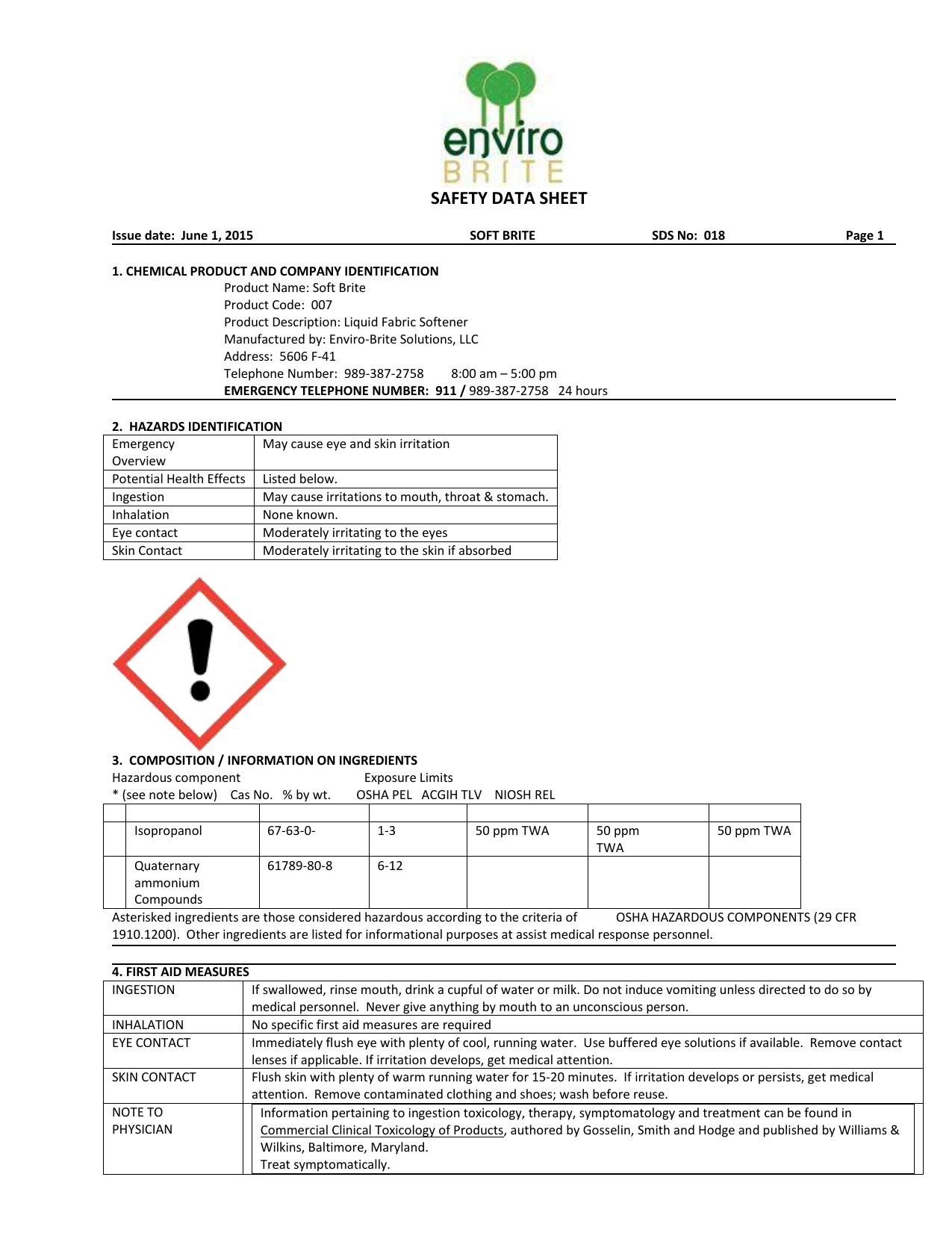 SAFETY DATA SHEET
Issue date: June 1, 2015
SOFT BRITE
SDS No: 018
Page 1
1. CHEMICAL PRODUCT AND COMPANY IDENTIFICATION
Product Name: Soft Brite
Product Code: 007
Product Description: Liquid Fabric Softener
Manufactured by: Enviro-Brite Solutions, LLC
Address: 5606 F-41
Telephone Number: 989-387-2758
8:00 am – 5:00 pm
EMERGENCY TELEPHONE NUMBER: 911 / 989-387-2758 24 hours
2. HAZARDS IDENTIFICATION
Emergency
May cause eye and skin irritation
Overview
Potential Health Effects Listed below.
Ingestion
May cause irritations to mouth, throat & stomach.
Inhalation
None known.
Eye contact
Moderately irritating to the eyes
Skin Contact
Moderately irritating to the skin if absorbed
3. COMPOSITION / INFORMATION ON INGREDIENTS
Hazardous component
Exposure Limits
* (see note below) Cas No. % by wt.
OSHA PEL ACGIH TLV NIOSH REL
Isopropanol
67-63-0-
1-3
50 ppm TWA
50 ppm
TWA
50 ppm TWA
Quaternary
61789-80-8
6-12
ammonium
Compounds
Asterisked ingredients are those considered hazardous according to the criteria of
OSHA HAZARDOUS COMPONENTS (29 CFR
1910.1200). Other ingredients are listed for informational purposes at assist medical response personnel.
4. FIRST AID MEASURES
INGESTION
If swallowed, rinse mouth, drink a cupful of water or milk. Do not induce vomiting unless directed to do so by
medical personnel. Never give anything by mouth to an unconscious person.
INHALATION
No specific first aid measures are required
EYE CONTACT
Immediately flush eye with plenty of cool, running water. Use buffered eye solutions if available. Remove contact
lenses if applicable. If irritation develops, get medical attention.
SKIN CONTACT
Flush skin with plenty of warm running water for 15-20 minutes. If irritation develops or persists, get medical
attention. Remove contaminated clothing and shoes; wash before reuse.
NOTE TO
Information pertaining to ingestion toxicology, therapy, symptomatology and treatment can be found in
PHYSICIAN
Commercial Clinical Toxicology of Products, authored by Gosselin, Smith and Hodge and published by Williams &
Wilkins, Baltimore, Maryland.
Treat symptomatically.
SOFT BRITE
SDS No. 018
Page 2
5. FIRE FIGHTING MEASURES
Flash Point / Method
None / N.A.
Extinguishing Media
Special Fire Fighting
Procedures
Fire and Explosion
Hazards
Flammable
Not flammable or
Limits
Combustible
Use dry chemical, Co2, water spray or Alcohol Foam
None.
None.
6. ACCIDENTAL RELEASE MEASURES
Small Spills: Flush to sanitary sewer. Mop up residual and rinse area thoroughly with water.
Large Spills: Dike or dam spill. Soak up with earth, sand or other inert absorbent material. Ventilate area during clean up.
7. HANDLING AND STORAGE
Handling
Avoid contact with skin, eyes and clothing. Do not taste or swallow. Remove and wash contaminated clothing and
Precautions footwear before reuse. Wash thoroughly after handling. Product residue may remain on or in empty containers. Handle
empty containers with same precautions. For industrial and institutional use only. Keep container tightly closed when not
in use.
Storage
Protect from freezing. Store upright in a cool dry place. Keep out of reach of children.
Precautions
8. EXPOSURE CONTROLS/PERSONAL PROTECTION
Hygienic Practices Observe label precaution. Handle in accordance with good industrial hygiene.
Engineering
Provide adequate ventilation to maintain worker exposure below exposure limits. Local exhaust is suggested for
Controls
use, where possible, in enclosed spaces.
Personal Protective Equipment
Respirator
Goggles/face shield
Apron
Gloves
Boots
No special requirements under normal use.
No special requirements under normal use.
No special requirements under normal use.
No special requirements under normal use.
No special requirements under normal use.
9. PHYSICAL AND CHEMICAL PROPERTIES
Appearance
opaque liquid Boiling Point
Odor
Freezing Point
PH
Specific Gravity
Solubility in Water
VOC content
1.2-1.5
1.01/gal
Complete
None
Not determined
Not established
Vapor Pressure
Vapor Density
Evaporation Rate
Not established
Not established
Not determined
10. STABILITY AND REACTIVITY
CHEMICAL STABILITY: Stable
CONDITIONS TO AVOID:
INCOMPATIBILITY WITH OTHER MATERIALS: Strong oxidizers.
HAZARDOUS DECOMPOSITION PRODUCTS: May produce oxides of Carbon.
HAZARDOUS POLYMERIZATION: Will not occur
11. TOXICOLOGICAL INFORMATION
This product contains a known or suspected Carcinogen.
X This product does not contain any known or anticipated carcinogens according to the criteria Of the
NTP annual report on carcinogens and OSHA 29 CFR 1910, Z
Acute
None known.
Chronic
None known.
12. ECOLOGICAL INFORMATION
Biodegradability X Considered Biodegradable
BOD Value
Ecotoxicity
Not established
No data available
SOFT BRITE
SDS No. 018
Page 3
13. DISPOSAL CONSIDERATIONS
Waste Disposal Method Empty containers may be triple rinsed, then offered for recycling or disposed of in a sanitary landfill.
RCRA Classification
None
Container is a recyclable LDPE plastic
14. TRANSPORT INFORMATION
Regulatory
UN number
Information
Dot Class
N.A.
Dot Class
N.A.
Proper Shipping name
Class
Packing
Group
Additional Information
15. REGULATORY INFORMATION
Regulatory Status
EPA Registered
None
FDA Regulated
None
Kosher
None
SARA Title III Material None
NSF Registered
None
EPA
/
DFE
tion
System (WHMIS) Pending
16. OTHER INFORMATION
NFPA Classification
2 Blue
Health Hazard
1 Red
Flammability
0 Yellow Reactivity
-- White Special Hazard
This information refers only to the specific material designated and does not relate to the involving of other material.
This information is based on data believed to be reliable, and the Product is intended to be used in the manner that is
customary and reasonable. Since actual use and handling is beyond our control, no warranty, express or implied, is
made and no liability is assumed by Enviro-Brite Solutions LLC in connection with the use of this information.