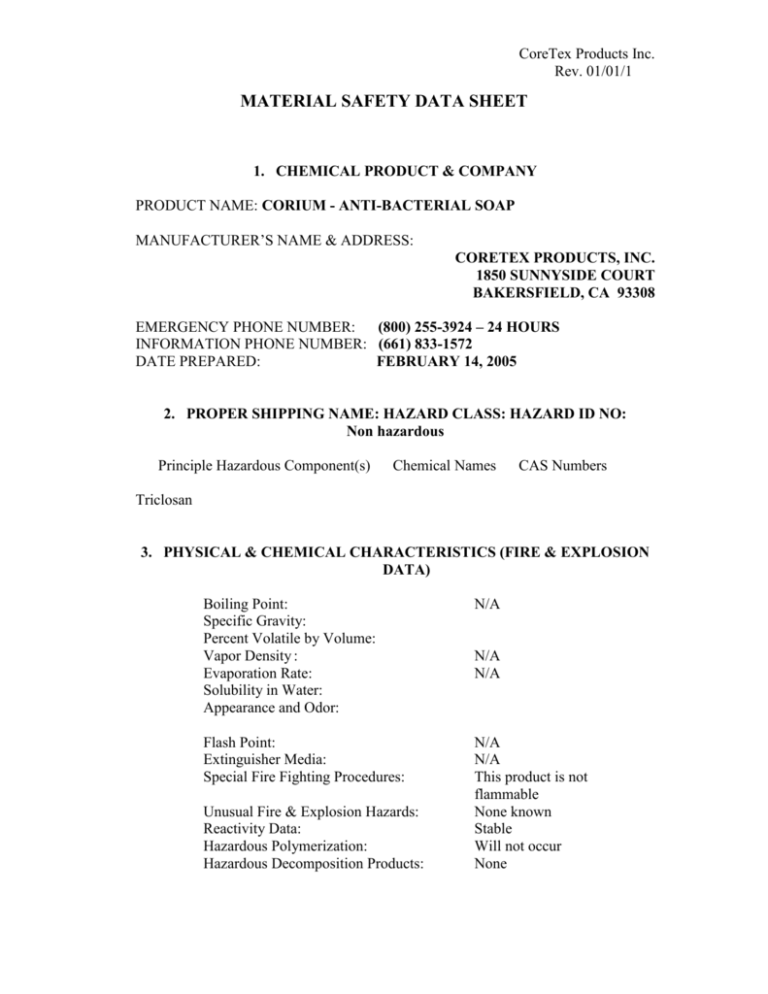 CoreTex Products Inc.
Rev. 01/01/1
MATERIAL SAFETY DATA SHEET
1. CHEMICAL PRODUCT & COMPANY
PRODUCT NAME: CORIUM - ANTI-BACTERIAL SOAP
MANUFACTURER'S NAME & ADDRESS:
CORETEX PRODUCTS, INC.
1850 SUNNYSIDE COURT
BAKERSFIELD, CA 93308
EMERGENCY PHONE NUMBER:
(800) 255-3924 – 24 HOURS
INFORMATION PHONE NUMBER: (661) 833-1572
DATE PREPARED:
FEBRUARY 14, 2005
2. PROPER SHIPPING NAME: HAZARD CLASS: HAZARD ID NO:
Non hazardous
Principle Hazardous Component(s)
Chemical Names
CAS Numbers
Triclosan
3. PHYSICAL & CHEMICAL CHARACTERISTICS (FIRE & EXPLOSION
DATA)
Boiling Point:
Specific Gravity:
Percent Volatile by Volume:
Vapor Density :
Evaporation Rate:
Solubility in Water:
Appearance and Odor:
N/A
Flash Point:
Extinguisher Media:
Special Fire Fighting Procedures:
N/A
N/A
This product is not
flammable
None known
Stable
Will not occur
None
Unusual Fire & Explosion Hazards:
Reactivity Data:
Hazardous Polymerization:
Hazardous Decomposition Products:
N/A
N/A
CoreTex Products Inc.
Rev. 01/01/1
4. HEALTH HAZARDS
Threshold Limit Value:
Signs & Symptoms of Exposure:
Medical Conditions Generally
Aggravated by Exposure:
Chemical Listed as Carcinogen
or Carcinogen:
OSHA Permissible Exposure
Limit:
None
1. Acute overexposure: eye irritation
from fumes or vapors.
2. Chronic overexposure: N/A
Sensitive or broken skin; impaired
circulatory disorders.
N/A
N/A
5. EMERGENCY AND FIRST AID PROCEDURES
1. Inhalation:
2. Eyes:
N/A
Wash thoroughly with water. If irritation persists, seek
medical attention.
If irritation develops, wash skin and rinse thoroughly.
Do not induce vomiting. For child ingestion or ingestion of
large quantity, seek medical attention.
3. Skin:
4. Ingestion:
6. SPECIAL PROTECTION INFORMATION
Respiratory Protection:
Ventilation:
Protective Gloves:
Eye Protection:
Other Protective Clothing or Equipment:
N/A
Normal Ventilation
N/A
N/A
N/A
7. SPECIAL PRECAUTIONS AND SPILL/LEAK PROCEDURES
Precautions to be taken in Handling & Storage:
Other Precautions:
Steps to be taken in case Material is Released or Spilled:
Waste Disposal Methods:
Avoid Eye Contact
None
No special precautions.
Collect and place in suitable
container.
Dispose of in accordance
with all local, state and
federal regulations.