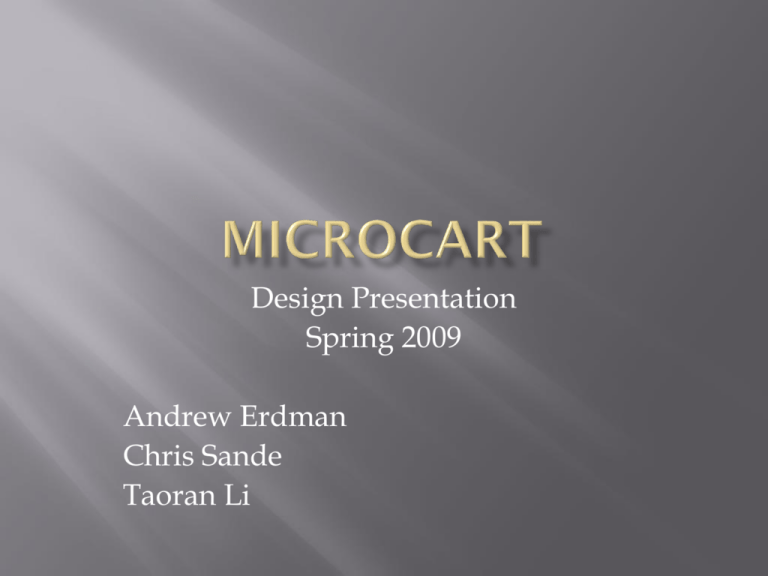 Design Presentation
Spring 2009
Andrew Erdman
Chris Sande
Taoran Li







Problem Statement
Goals
Functional Requirements
Model
Plan of Action
Schedule
Risks

International Aerial Robotics Competition
(IARC)

Level 1 competition
 Autonomous flight
 Autonomous hover
 Navigation up to 3 km

MicroCART is a long-term ongoing project

Long Term



Complete the requirements for IARC Level 1
Produce an autonomous helicopter
Short Term


Development of a Simulink model of the system
Test system hardware and software







The aircraft should be fully autonomous
The aircraft should operate without tethers
The aircraft should be capable of autonomous
hover at a GPS point
The aircraft should be able to relay state
information to a ground station
The aircraft should be able to receive GPS
waypoints from a ground station
The aircraft should be able to be manually
controlled by an operator
The helicopter is not designed for flight in rain,
snow, or high wind conditions



Mathematical model should be accurate
Model should take into account flapping and
thrust
Model should take into account external forces


Virtual Reality Simulation from model
Model should be user friendly




Non-linear state space equation and
linearization
Matlab/ Simulink to develop the model of the
vehicle.
C code generation based on the model
Validation and implementation using X-plane
software

Estimation of the hovering equilibrium points

Finding parameters for stable hovering

Simulation of the helicopter's behavior

Valuable testing tool


Continue with the development of the
Simulink model initiated this semester
Improve existing code
GPS
 Control


Test systems


Flight tests
Mechanical




Updates from GPS are available every second.
Software needs to be able to interpolate
between seconds and guess instantaneous
position/speed more accurately.
Add code to know when GPS data is reliable.
Add code to convert location info to X-Y
coordinates with a relative starting position.
Get altitude data from GPS.




Need to use control constants from modeling
simulation to control the aircraft.
Add code to flight control software to make use
of all available sensors (not just IMU).
Use filtered output from sensors.
Test PID values.





Need to locate an experienced RC helicopter
pilot for live flight testing.
Test craft's capability to hover in one position.
Test for ability to fly from waypoint to
waypoint, starting with helicopter at altitude.
Test for stability while in flight.
Compare simulated data to actual data.


Test sensor data to look for electrical noise
issues.
Test cable routing to make sure no damage can
occur.