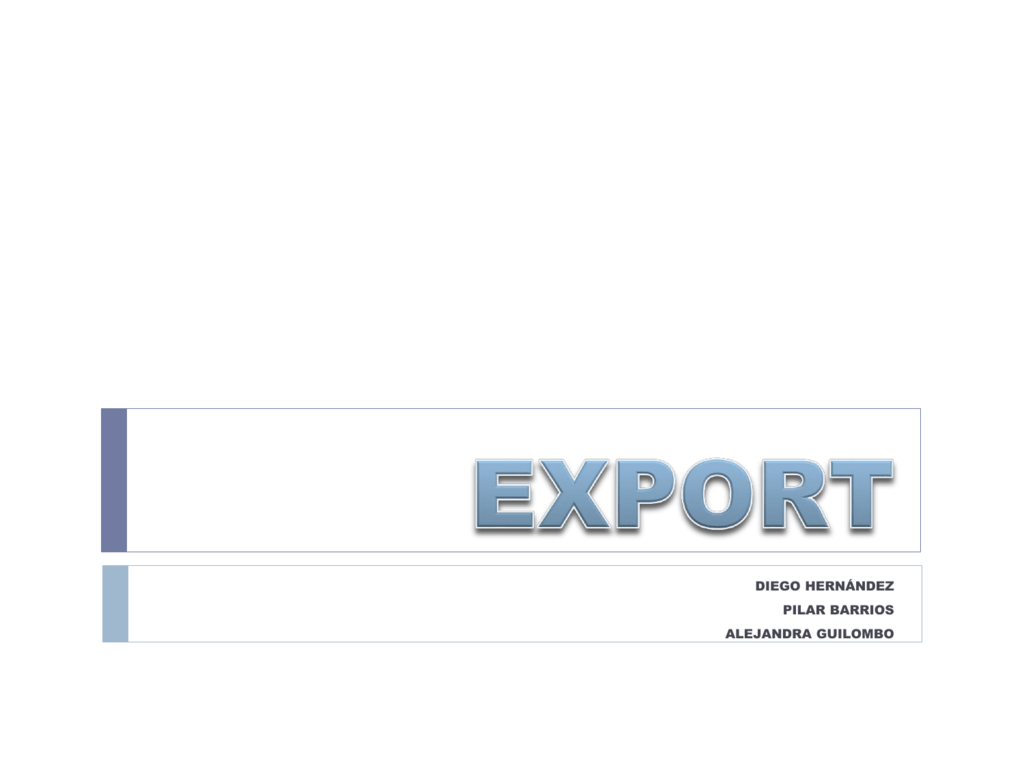 DIEGO HERNÁNDEZ
PILAR BARRIOS
ALEJANDRA GUILOMBO
 Is the sending of goods or
products from
that country own mentions it
to another for use or final
consumption.
TRADITIONAL AND NON-TRADITIONAL (MINOR EXPORT).
•The classification of exports
in traditional and nontraditional
•Colombia
Was established in the
70' by the Economic
Commission for Latin
America and the
Caribbean (ECLAC) to
show how policy was
fulfilled import
substitution and export
diversification.
Were considered as
traditional exports coffee,
oil, gold and bananas; and
all other non-traditional.
 Traditional:
products are often exported and the
country depends on them.
 Non-traditional: these are products that
are exported infrequently and the country
non depends on them.
Example:
• The oil.
Example:
•Cars
•Drinks
•Cigarrettes
Restricted exports:
Non-restricted
export:
Those exports are limited by the state
for security reasons.
Those performed without restrictions
of the State, but must comply with due
process corresponding customs.
•
Exporter: (Individuals or Businesses).
•
Banks.
Ministry of Foreign Trade.
•
•
•
Customs Administration.
Customs Transport Agent.
Need to integrate the world
market by the globalization of
the economy.
Ensuring the survival of the
company's long-term.
Diversifying products and
markets to compete
internationally.
Ability to compete in
international market for quality
and price.
Exploit comparative advantages.
INDIRECT EXPORTING
Refers to a firm´s products eventually being sent overseas without the
firm´s ultimate involvement.
Many small and medium-sezed firms dont have the cost efficiencies, scale
economies, or foreing market knowledge to export directly.
A COMBINATION EXPORT
MANAGER
:
• Is an independent firm
that acts as the export
department of teh
company.
•Sells the company´s
products together with
alied.
A MANUFACTURER´S EXPORT
AGENT:
•Doen't make sales in the name of each
manufacturer.
•This firm works on a straight commision
basis.
•A manufacturer's agent doesn't assume
responsability for advertising and
financing.
DIRECT EXPORTING
Happens when a company internalizes
the export function and takes
responsability to sell its products,
without an intermediary, to an importer
or buyer located in a market abroad.
May create a separate export
department to enable its own staff to
concentrate on developing new markets
abroad.
Companies that want to separate
international marketing from its
domestic counterpart may form a
separate export sales subsidiary.
Constituent Elements of the Customs Tariff
1 - Nomenclature
4 - Items
2 - Tariff
3 - Legal System
5 - Subheadings
6 - Internal
7 - Subinternas
Types of Legal Note
1 - Defining Notes
2 - ampliative Notes
Notes Restrictive
4 - Qualifying Notes
5 - Notes exclusive
6 - Inclusive Notes
7 - Explanatory
Notes
Direct contact with customers, greater control over
operations.
Improved bargaining
power
Improved margin
management capabilities
Increased flexibility and
adaptability to emergency
requirement changes in
destination markets
Increased difficulty in accessing markets.
• Increased costs of
research and market
intelligence
• Increased costs of
knowledge in strategic
business management
• Increased risks
associated with the
export process, such
payments






http://www.portafolio.co/columnistas/clasificacion-lasexportaciones
http://www.monografias.com/trabajos24/exportaciones/export
aciones.shtml#clasif
ANIF
Magazine semana
DANE
Managing International Strategic Planning and Implementation.