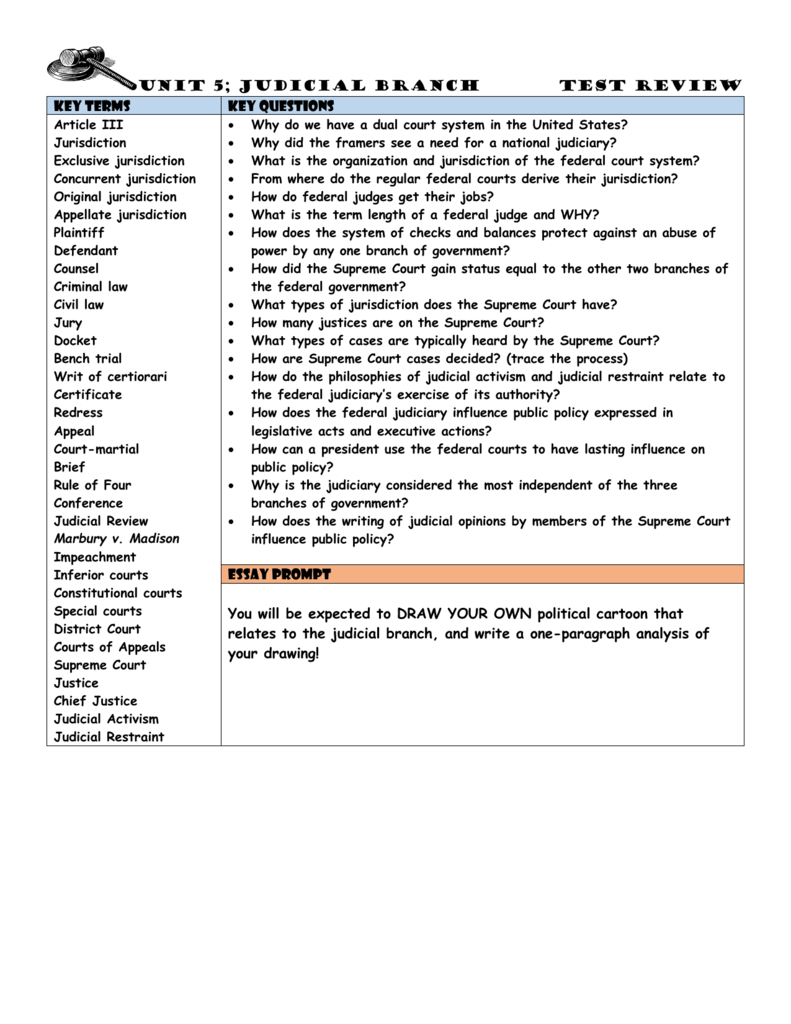 Unit 5; Judicial Branch
Key Terms
Key Questions
Article III
Jurisdiction
Exclusive jurisdiction
Concurrent jurisdiction
Original jurisdiction
Appellate jurisdiction
Plaintiff
Defendant
Counsel
Criminal law
Civil law
Jury
Docket
Bench trial
Writ of certiorari
Certificate
Redress
Appeal
Court-martial
Brief
Rule of Four
Conference
Judicial Review
Marbury v. Madison
Impeachment
Inferior courts
Constitutional courts
Special courts
District Court
Courts of Appeals
Supreme Court
Justice
Chief Justice
Judicial Activism
Judicial Restraint

















Test Review
Why do we have a dual court system in the United States?
Why did the framers see a need for a national judiciary?
What is the organization and jurisdiction of the federal court system?
From where do the regular federal courts derive their jurisdiction?
How do federal judges get their jobs?
What is the term length of a federal judge and WHY?
How does the system of checks and balances protect against an abuse of
power by any one branch of government?
How did the Supreme Court gain status equal to the other two branches of
the federal government?
What types of jurisdiction does the Supreme Court have?
How many justices are on the Supreme Court?
What types of cases are typically heard by the Supreme Court?
How are Supreme Court cases decided? (trace the process)
How do the philosophies of judicial activism and judicial restraint relate to
the federal judiciary's exercise of its authority?
How does the federal judiciary influence public policy expressed in
legislative acts and executive actions?
How can a president use the federal courts to have lasting influence on
public policy?
Why is the judiciary considered the most independent of the three
branches of government?
How does the writing of judicial opinions by members of the Supreme Court
influence public policy?
Essay Prompt
You will be expected to DRAW YOUR OWN political cartoon that
relates to the judicial branch, and write a one-paragraph analysis of
your drawing!