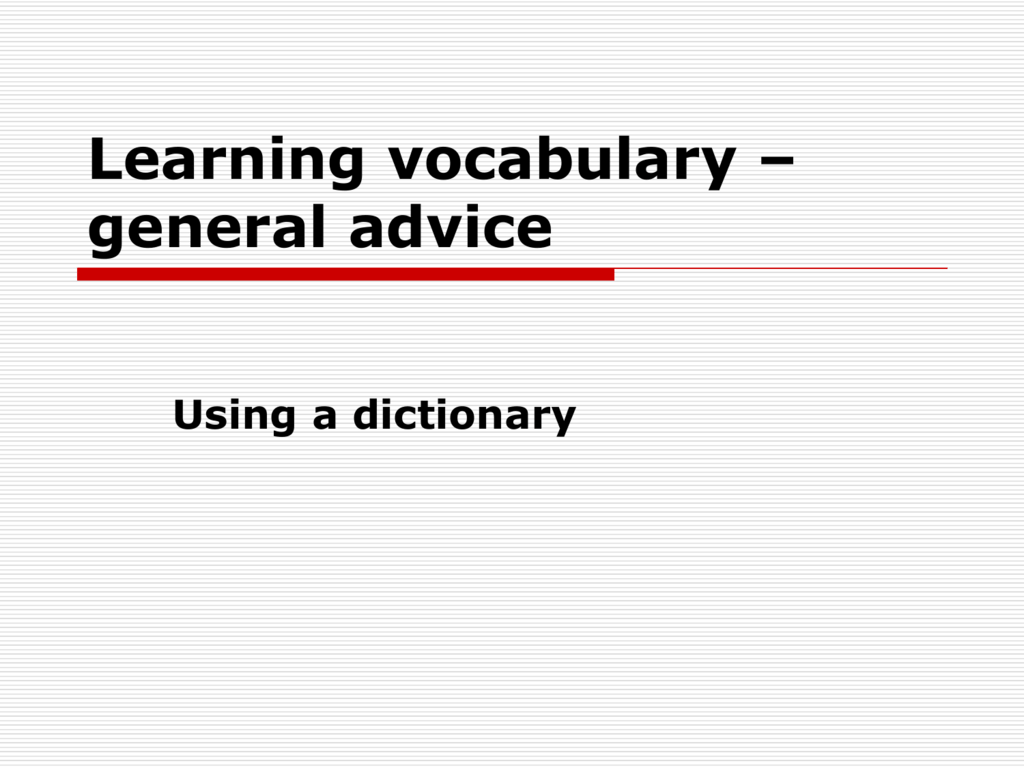 Learning vocabulary –
general advice
Using a dictionary
What do you need to learn?
To sum up...
 many words you don't need at all
 other words that you simply need to
understand when you read or hear
them
 words that you need to be able to use
yourself
What does knowing a new word
mean?
You also need to know:
a. what words it is usually associated
with
b. whether it has any particular
grammatical characteristics
c. how it is pronounced
Try to learn new words NOT in
isolation:
a. adjectives with nouns: royal family, rich
vocabulary
b. verbs with the structure and nouns: to
express an opinion, to add to our
knowledge of the subject
c. nouns in phrases: in contact with,
shades of opinion
d. words with their prepositions: at a
high level, thanks to your help
e. irregular verbs, uncountable nouns
f. special pronunciation problems
Can you learn just by reading or
listening to English?
Give each of the items on the list below a
mark from 0 to 4 describing how important
this way of learning vocabulary could be for
you personally:
newspapers, TV (cable, subtitled), cinema,
magazines, video/DVD, radio, academic or
professional literature, fiction, simplified
readers, music, talking to native speakers
What should you do when you
come across new words?
-
-
don't look up every
new word or
expression
look up something that
is really important for
understanding the text
Learning vocabulary – aids to
learning
1. learning words together that are
somehow associated in meaning
2. pictures and diagrams
3. word trees
4. word forks
5. matrices
Words with associated meanings
purr
whiskers
scratch
tail
tomcat
Pictures and diagrams
Pictures and diagrams
Word trees
Word forks
Matrices (esp. for collocations)
The names of English language words
The names of English language words
Word relating to nouns:
countable
uncountable
subject
object
The names of English language words
Words relating to verbs:
irregular
regular
intransitive
transitive
The names of English language words
Words relating to the construction of
words:
prefix
suffix
opposite or antonym
synonym
The names of English language words
Words relating to pronunciation:
syllable
stress
onomatopoeia
The names of English language words
Words and their associations:
register
slang
colloquial
pejorative
collocations
Using your dictionary
...more than just meaning:
- synonyms and differences (mislay,
lose)
- antonyms (friend – enemy, foe)
- collocations (auburn – hair)
- pronunciation
- word stress
Using your dictionary
- word-class (abbreviations: n, adj...)
and more specific details (C, U, tr,
intr...)
- more than one meaning!