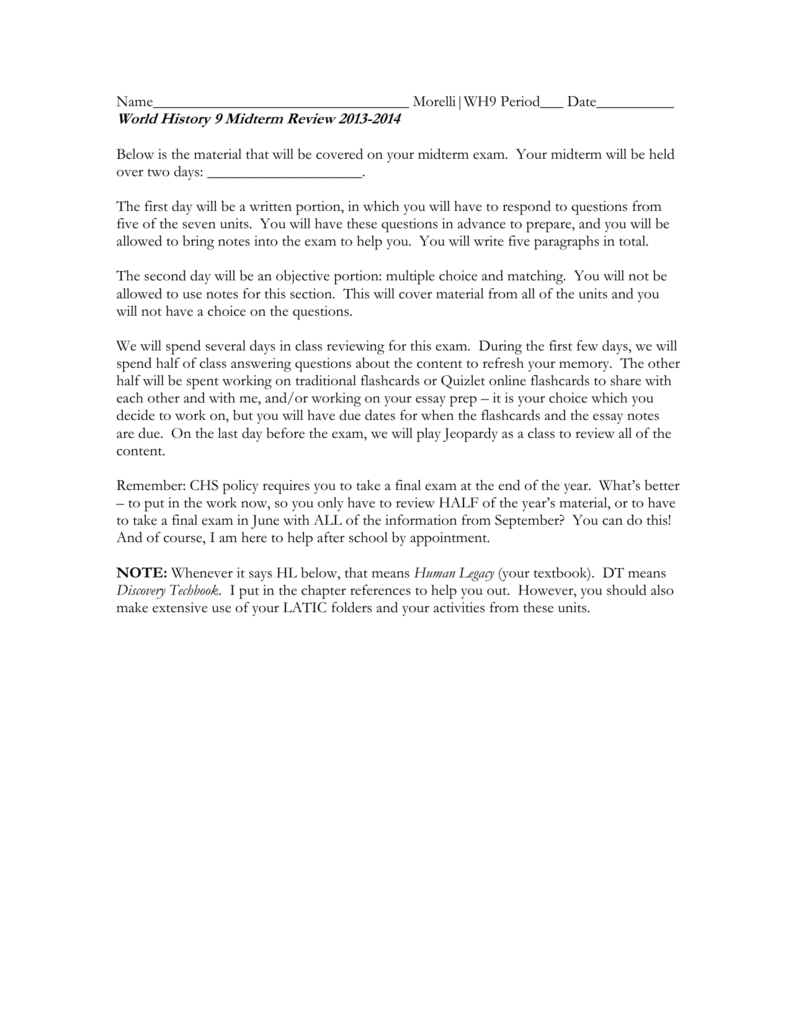 Name_________________________________ Morelli|WH9 Period___ Date__________
World History 9 Midterm Review 2013-2014
Below is the material that will be covered on your midterm exam. Your midterm will be held
over two days: ____________________.
The first day will be a written portion, in which you will have to respond to questions from
five of the seven units. You will have these questions in advance to prepare, and you will be
allowed to bring notes into the exam to help you. You will write five paragraphs in total.
The second day will be an objective portion: multiple choice and matching. You will not be
allowed to use notes for this section. This will cover material from all of the units and you
will not have a choice on the questions.
We will spend several days in class reviewing for this exam. During the first few days, we will
spend half of class answering questions about the content to refresh your memory. The other
half will be spent working on traditional flashcards or Quizlet online flashcards to share with
each other and with me, and/or working on your essay prep – it is your choice which you
decide to work on, but you will have due dates for when the flashcards and the essay notes
are due. On the last day before the exam, we will play Jeopardy as a class to review all of the
content.
Remember: CHS policy requires you to take a final exam at the end of the year. What's better
– to put in the work now, so you only have to review HALF of the year's material, or to have
to take a final exam in June with ALL of the information from September? You can do this!
And of course, I am here to help after school by appointment.
NOTE: Whenever it says HL below, that means Human Legacy (your textbook). DT means
Discovery Techbook. I put in the chapter references to help you out. However, you should also
make extensive use of your LATIC folders and your activities from these units.
Late Middle Ages and Renaissance (HL Chapter 15,
DT Chapter 17.2, Chapter 18.1 and 18.2)
DUE _____________
Black Death
Mongols
Individualism
Humanism
Secular
Italian City-States
Signoria
Republicanism
Renaissance
Machiavelli
The Prince
Michelangelo
Sistine Chapel
Patrons of artists
Andreas Vesalius
Printing Press
Johannes Gutenberg
Leonardo da Vinci
1. What were the social and economic effects of the Black Death for Europe?
2. What was the role of religion in the Middle Ages? How did that start to change
during the Renaissance?
3. Why did the Renaissance start in Italy? Consider both geography and the Black
Death.
4. Explain how both the Islamic world and the Greeks and Romans influenced the
Renaissance.
5. What were the major cultural contributions of the Renaissance? [Hint: go back to
your activities for this one!]
The Protestant Reformation (HL Chapter 15,
DT Chapter 20.1)
Protestant Reformation
Papacy
Leo X
Indulgences
Tetzel
Martin Luther
Diet of Worms
Charles V
Henry VIII
Anne Boleyn
DUE _____________
annulment
Katherine of Aragon
Counter-Reformation
Council of Trent
Jesuits (Society of Jesus)
1. What is the difference between the Protestant Reformation and the CounterReformation?
2. What were the major abuses of the Catholic Church in the late Middle Ages?
3. What is the story of Martin Luther? Why did he break away from the Church? Did
he intend to?
4. Why did Luther's ideas become popular in Germany and all over Europe?
5. What happened at Luther's trial at the Diet of Worms? Why did the German princes
ensure that Luther was not executed?
6. Why did Henry VIII decide to break from the Catholic Church? What happened with
his love triangle between Katherine of Aragon and Anne Boleyn?
Trade in the Atlantic World:
Exploration/Encounters/Invasions
(HL Chapter 16, DT Chapter 19)
Christopher Columbus
Vasco da Gama
Caravel
Astrolabe
Compass
DUE _____________
Hernando Cortes
Aztec Empire
Francisco Pizarro
Inca Empire
conquistador
encomienda
Treaty of Tordesillas
Triangle Trade
Middle Passage
Columbian Exchange
1. Explain how the Age of Exploration led directly to the Atlantic Slave Trade.
2. Why did Europeans begin exploring in the first place?
3. Once the Spanish arrived in the Americas, what happened between the Native
Americans and the Europeans? Be prepared to consider examples of how these
interactions could be considered exploration, encounters, or invasions.
Asian Empires: Mongols, Ottomans, Mughals
(Mongols: HL Chapter 11, DT Chapter 13.2)
(Ottomans: HL Chapter 17)
(Mughals: HL Chapter 17)
Mongols
Genghis Khan
Kublai Khan
Yuan Dynasty
Pax Mongolia
1.
2.
3.
4.
5.
6.
7.
8.
9.
Marco Polo
Ottoman Empire
sultan
Janissaries
Devshirme
DUE _____________
Suleiman the Magnificent
Mehmet the Conqueror
Istanbul/Constantinople
Hagia Sophia
Akbar the Great
Din-i-llahi
Shah Jahan
Taj Mahal
Mughal Empire
Explain why the Mongols' military tactics made them so successful.
What happened to the Mongol Empire after Genghis Khan died? Why?
Compare and contrast Kublai Khan with Genghis Khan.
What was life like for people who lived in the Mongol Empire?
Why was Constantinople such an important goal/prize for the Ottomans? Consider
both religion and geography in your answer.
Why was the Devshirme system such a successful way of running the military for the
Ottomans?
What was life like for people who lived in the Ottoman Empire? Give details to
explain.
Who is Suleiman the Magnificent? Why was he so magnificent?
Explain how Akbar the Great's religious and social policies differed from other
Muslim empires.
Ming/Qing China and Feudal Japan
(HL Chapter 17, DT Chapters 13.3 and 14.2)
Yongle
Zheng He
Matteo Ricci
Qianlong
Kangxi
Daimyo
Samurai
Shogun
Haiku
Bushido
DUE _____________
Tokugawa Ieyasu
Kabuki
1. How did the Mongol Empire end and the Ming Dynasty begin?
2. What technology allowed Zheng He to complete his voyages? Where did he go and
why did he stop?
3. What were Ming foreign relations like? How was this related to Ming economy and
society?
4. Which dynasty defeated and replaced the Ming Empire? How?
5. Compare and contrast Ming and Qing foreign relations and accomplishments.
6. Explain the Japanese feudal system. Who was most powerful and most valued and
why?
7. How did the shoguns rise to power?
8. How did the Japanese treat Christians in Japan, and why?
The Scientific Revolution and the Enlightenment
(HL Chapter 19, DT Chapter 20.2 and 20.3)
DUE _____________
Rationalism
Individualism
Relativism
Montesquieu
Scientific Revolution
Salons
Geocentricity
Brahe
Kepler
Bacon
Descartes
Rousseau
Locke
State of Nature
Social Contract
Enlightenment
Induction
Deism
Copernicus
Galileo
Heliocentricity
Newton
Deduction
1. What was the Old View of Science? How did Aristotle and Ptolemy help shape it?
2. What is the significance of Copernicus' breakthrough? Why did he wait until he was
dead to publish his findings?
3. Who deserves more credit for the Scientific Revolution, Galileo or Copernicus?
Why?
4. Why did Galileo get in so much trouble with the Church? What happened to him?
5. Compare and contrast inductive and deductive reasoning
6. How did the Scientific Revolution grow out of the Renaissance?
7. How did the Enlightenment grow out of the Scientific Revolution?
8. How did Enlightenment ideas spread? Why were salons so important?
Absolute Monarchies (HL Chapter 18)
Divine Right of Kings
Absolute Monarchy
Louis XIV
Versailles
Wars of Aggression
Intendant System
Charles I
Parliament
English Civil War
Oliver Cromwell
DUE _____________
William and Mary
English Bill of Rights
Glorious Revolution
constitutional monarchy
1. Why did absolute monarchy NOT mix well with the Enlightenment ideas floating
around Europe, particularly France, in the 1700s?
2. How did Louis XIV "keep his friends close and his enemies closer"? Why was the
Sun King such a good example of absolute monarchy?
3. Compare and contrast absolutism in France with absolutism in England. Why did
Parliament make a difference in England?
4. Why did the English Civil War happen? Who won? What happened next?
5. Why did the Glorious Revolution happen in England?
6. Compare and contrast absolute monarchy with constitutional monarchy.